By Aalok Sensharma
Updated: Sat, 12 Mar 2022 12:04 AM IST
Minute Read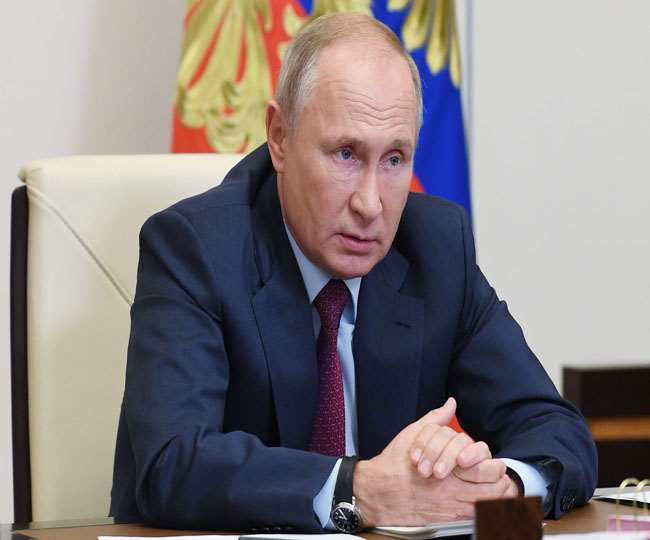 Moscow/ Kyiv/ Washington | Jagran News Desk: In the wake of intensifying Russian assault on Ukraine, the US president Joe Biden on Friday announced a new package of sanctions against Russia by the US and G-7 nations. This includes revoking Moscow's "most favoured nation" trade status. Airfields in the western cities of Lutsk and Ivano-Frankivsk also come under attack, Reuters reported.
Earlier, the Foreign Ministers of Ukraine and Russia on Thursday held a high-level meeting in Turkey in a bid to end the conflict between the two countries which has entered day 16. The talks, however, ended in a stalemate. Following the meet, Ukraine's Dmytro Kuleba said Russia has not accepted Kyiv's demand to open a humanitarian corridor at Mariupol, but agreed to hold another meeting with Russia's Sergey Lavrov.
Meanwhile, the United Nations Security Council (UNSC) will meet on Friday to discuss Russia's claims about the "biological activities" of the United States (US) in Ukraine. Ukraine has also been advised by the World Health Organisation (WHO) to destroy high-threat pathogens housed in the country's public health laboratories to prevent "any potential spills".
Here are the top updates from the big story:
- According to satellite imagery and US intelligence assessments published in the US media, the Russian forces have moved closer to the capital Kyiv.
- President Vladimir Putin has backed allowing volunteers, including from abroad, to fight alongside Russian-backed forces in eastern Ukraine, Reuters reported.
- Russia has requested a meeting of the UNSC today to discuss its claims of biological weapons in Ukraine.
- Russia says it is opening a criminal case against Meta for "calling for the murder" of Russians, saying the parent company of Facebook and Instagram had relaxed its rules on violent messages aimed at Russia's Army and leaders: AFP News Agency
- Embassy of India in Russia issues guidelines for Indian students studying in Russia. "Reassure all students that at present we see no security reasons for them to leave," it says.
- There are certain positive shifts, negotiators on our side tell me," Russian President Vladimir Putin said in meeting with his Belarusian counterpart Alexander Lukashenko, adding that talks continued "practically on a daily basis": Reuters
- Russian officials, including minister Shoigu, announced hasty recruitment of 16,000 ex-ISIS fighters to be used against Ukrainian civilians...: Head of the Ukraine president's office, Mikhail Podolyak
- Russian President Vladimir Putin holds talks with Belarusian President Aleksandr Lukashenko to discuss Ukraine and western sanctions: Reuters
- Today we disbursed €300 million in emergency Macro-Financial Assistance to Ukraine. This is the 1st payment of a €1.2 billion package. So more will come: Ursula von der Leyen, President of European Commission
- The US Senate has given final congressional approval to a USD 13.6 billion emergency package of military and humanitarian aid for Ukraine and its European allies, reports The Associated Press.
- The US will give another USD 50 million through the UN's World Food Program to assist with humanitarian aid, says US Vice President Kamala Harris.
- The Sony Music has said it has suspended all its operations in Russia. "Sony Music Group calls for peace in Ukraine and an end to the violence. We have suspended operations in Russia and will continue our support of global humanitarian relief efforts to aid victims in need," it said.
- Meanwhile, the WHO has also directed Kyiv to destroy high-threat pathogens housed in Ukraine's public health laboratories to stop a possible "spill".
- The UN will meet on Friday to discuss Russia's claims about the alleged "biological activities" of the US on the Ukrainian territory. However, the US has rejected the accusations of the Russians.