'Respect their sovereignty': India slams Turkey for unilateral military offensive in Syria
Updated: Thu, 10 Oct 2019 05:14 PM IST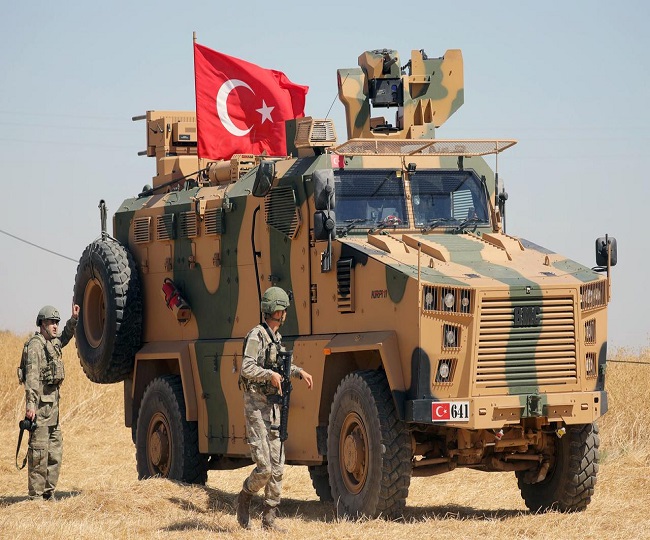 New Delhi | Jagran News Delhi: India on Thursday expressed its concern at the unilateral military offensive by Turkey in north-east Syria called upon it to exercise restraint and respect the sovereignty of Syria.
"We are deeply concerned at the unilateral military offensive by Turkey in north-east Syria. Turkey's actions can undermine stability in the region and the fight against terrorism. Its action also has the potential for causing humanitarian and civilian distress," External Affairs Ministry spokesperson Raveesh Kumar was quoted by news agency ANI as saying.
"We call upon Turkey to exercise restraint and respect the sovereignty and territorial integrity of Syria. We urge the peaceful settlement of all issues through dialogue and discussion," he added.
Also Read | Modi-Jinping Meet: Tough talks on Kashmir bring wrinkle in Xi's red carpet; trade, defence to top agenda
Turkey on Wednesday launched an assault on Kurdish positions in northern Syria with air strikes near the border. This came days after US President Donald Trump announced that it was pulling the US troops back from the border area.
Turkey President Recep Tayyip Erdogan announced the start of the attack on Twitter and labelled it as 'Operation Peace Spring'.
"Our mission is to prevent the creation of a terror corridor across our southern border, and to bring peace to the area," said Erdogan in Tweet on Wednesday.
The assault started with jets and artillery targeting Kurdish positions followed by a ground operation late in the evening. At least 15 people, eight civilians and seven Kurdish fighters, were killed in the attack.
Also Read | Pakistani drone enters Punjab's Ferozepur for third consecutive day, forces on high alert
Meanwhile, US President Donald Trump asked Turkey to 'act rationally' and warned of tougher moves than sanctions if it doesn't do the operations in as humane a way as possible.
"I will tell you that I do agree on sanctions, but I actually think much tougher than sanctions if he doesn't do it in as humane a way as possible. (Senator) Lindsey Graham and I feel differently. I think Lindsey would like to stay there for the next 200 years and maybe add a couple hundred thousand people every place. But I disagree with Lindsey on that," Trump said.
Trump also insisted that the US has not abandoned its Kurdish allies who played a huge role in their fight against ISIS.
(With agency inputs)
Posted By: Aalok Sensharma