Protests against George Floyd's death go global; curfew in several US cities as mayhem continues, thousands arrested
Curfew has been imposed in as many as 40 cities, along with Washington DC, in wake of the continued potentially violent protests.
Publish Date: Mon, 01 Jun 2020 08:27 AM IST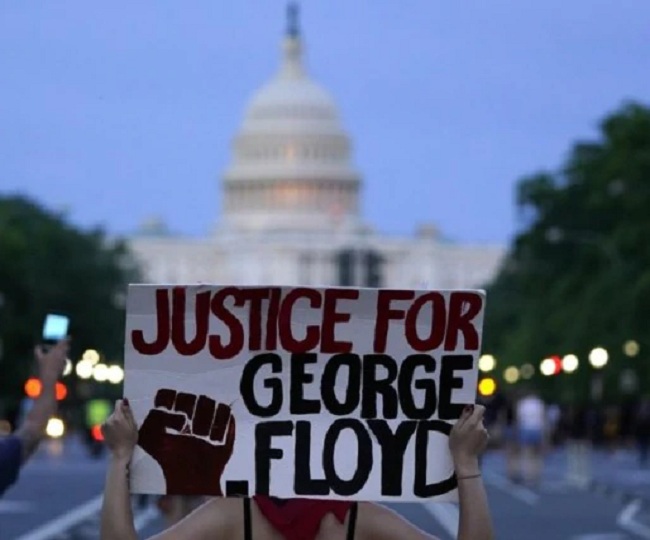 New Delhi | Jagran News Desk: The death of African-American man George Floyd in Minneapolis police custody is drawing attention around the globe. Anti-US protests deploring the man's death erupted in London, Germany, Canada, Italy and several other Western countries on Sunday and newspaper headlines heaped scorn on American police over the incident last week in Minneapolis.
Meanwhile, curfew has been imposed in as many as 40 cities, along with Washington DC, in wake of the continued potentially violent protests which have continued for almost a week now.
According to CNN, 40 cities have imposed curfews and approximately 5,000 National Guard members have been activated in 15 states and Washington, DC with another 2,000 prepared to activate if needed.
At least five people have been killed as protests in parts of the country turned violent on Sunday. Gunfire rang out from Detroit to Indianapolis, where authorities said people were slain in shootings connected to the protests.
According to The Washington Post, police have arrested over 2,500 people in two dozen US cities over the weekend. Nearly a fifth of those arrests were in Los Angeles, where the governor declared a state of emergency and ordered the National Guard to back up the city's 10,000 police officers as dozens of fires burned across the city.
Cars and businesses were torched, the words I can't breathe were spray-painted all over buildings, a fire in a trash bin burned near the gates of the White House, and thousands marched peacefully through city streets to protest the death of George Floyd, a black man who died Monday after a white Minneapolis police officer pressed his knee on his neck until he stopped breathing.
His death is one of a litany of racial tragedies that have thrown the country into chaos amid the coronavirus pandemic that has left millions out of work and killed more than 100,000 people in the US, including disproportionate numbers of black people.
People set fire to police cars, threw bottles at police officers and busted windows of storefronts, carrying away TVs and other items even as some protesters urged them to stop.
Few corners of America were untouched, from protesters setting fires inside Reno's city hall, to police launching tear gas at rock-throwing demonstrators in Fargo, North Dakota. In Salt Lake City, demonstrators flipped a police car and lit it on fire. Police said six people were arrested and a police officer was injured after being struck in the head with a baseball bat.
US President Donald Trump appeared to cheer on the tougher tactics Saturday night, commending the National Guard deployment in Minneapolis, declaring No games! and saying police in New York City must be allowed to do their job!
On Sunday, he praised the National Guard for doing a "great job" in responding to protests that turned violent and blamed "ANTIFA-led anarchists" for instigating the chaos.
"Other Democrat run Cities and States should look at the total shutdown of Radical Left Anarchists in Minneapolis last night. The National Guard did a great job, and should be used in other States before it is too late!" he said.
Trump said the United States will be designating ANTIFA as a terrorist organisation.
Presumptive Democratic presidential nominee Joe Biden condemned the violence as he continued to express common cause with those demonstrating after Floyd's death.
The act of protesting should never be allowed to overshadow the reason we protest, Biden said in a statement Saturday night.
Posted By: Abhinav Gupta