Pakistan Plane Crash | Pilots were discussing COVID situation, says report; minister accuses them of being 'unfocused'
Pakistan Plane Crash: The aviation minister accused the pilots of being overconfident and said that they are not following the due procedure.
Publish Date: Wed, 24 Jun 2020 03:51 PM IST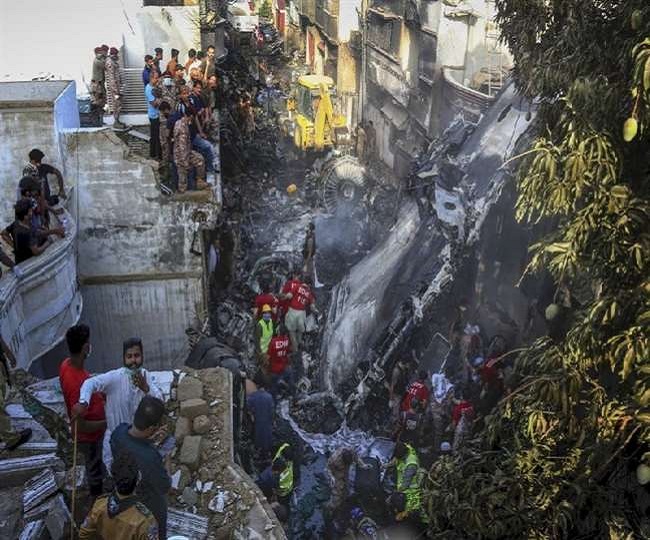 New Delhi | Jagran News Desk: The crash of domestic Pakistan International Airlines (PIA) flight last month, which killed 97 of the 99 passengers and crew on-board, was due to human error of pilots and the air traffic control, according to the preliminary report presented by Pakistan's Minister for Civil Aviation Ghulam Sarwar Khan in the Parliament on Wednesday.
The domestic flight from Lahore to Karachi crashed in a residential area near the Jinnah International Airport in Karachi on May 22. The Airbus A320 aircraft had 91 passengers and a crew of eight when it crashed in the Jinnah Garden area near Model Colony in Malir, minutes before landing. Two passengers miraculously survived the crash.
The aviation minister accused the pilots of being overconfident and said that they are not following the due procedure. "The pilot and the ATC did not follow the procedure. The plane was 100 per cent okay," said the minister as reported by IANS, eliminating the possibility of technical faults in the aircraft.
The aviation minister further said that the pilots were not "focused" because of the coronavirus pandemic. "In the last half hour, the pilots' discussion was about coronavirus, they were not focused as their families were affected," said the Minister as reported by IANS, adding that the pilot and co-pilot were both fit and experienced.
The final report on the crash will be presented in one year, added the Aviation Minister. In the past 72 years, there have been 12 such incidents, said Khan. No investigation report was issued, no one knew who was responsible, admitted the minister in the National Assembly.
According to the preliminary report, the pilots had not mentioned any technical fault in the plain during the final approach, although the aircraft was flying at 7,220 feet (2,200 m) when 10 miles (16 km) distant from the runway.
"The plane should have been at an altitude of 2,500 feet," Khan said as reported by news agency Reuters, adding that "air traffic control drew the pilot's attention to the irregularity, and advised against the landing, urging another go-around instead. But, despite this, the pilot ignored the controller's instruction," the minister said.
"When they were in landing position, they were warned by the controllers, but he said, 'I'll manage'… and then they started discussing corona again," he added.
(With Agencies Inputs)
Posted By: Talib Khan