North Korea after Kim Jong Un: Is the world set to see its first female dictator ever as his sister Kim Yo Jong?
Publish Date: Tue, 28 Apr 2020 11:49 AM IST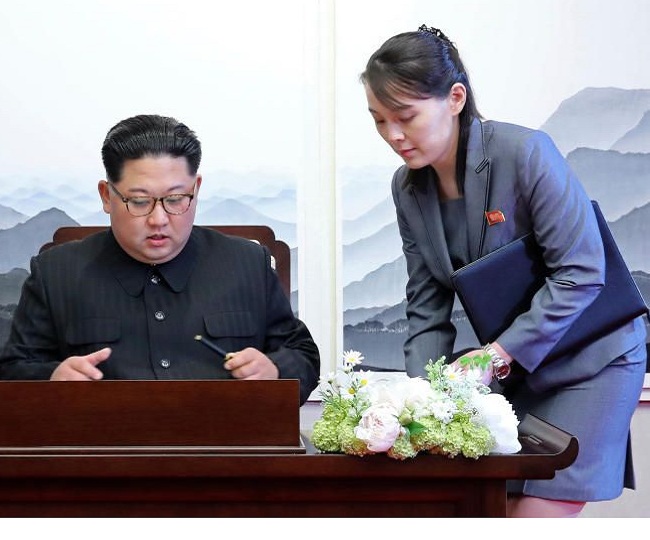 New Delhi | Jagran News Desk: The times of this 21st century pandemic have been unprecedented, with over three million confirmed COVID-19 infections worldwide but not one from North Korea – the country whose survival is dependent the most on China, from where the contagion coronavirus originated. The assertion of North Korea not reporting any coronavirus case is doubted by international health experts.
Amid these extraordinary times, the world was left stunned when North Korean leader Kim Jong Un, for the first time since assuming power in 2011 missed the April 15 commemoration of his grandfather, North Korea founder Kim Il Sung.
The American media, through its wires in South Korea, broadcasted the news about Kim Jong Un's deteriorating health after a recent heart surgery to the point of his anticipatory death. The legitimate question was just one, who will run the reins of North Korea after Kim Jong Un? Kim Yo Jong, the North Korean leader's sister.
Of all the family members who could eventually inherit the dictatorial regime from North Korean leader Kim Jong Un, his sister seems like the obvious choice.
Who is Kim Yo Jong
Kim Yo Jong, believed to be a 1988 or 1989 born, is one of several children of the late North Korean leader Kim Jong Il. She is believed to be one of Kim Jong Un's closest and most trusted aides.
According to North Korea Leadership Watch, Kim Yo Jong was born and raised mostly in Pyongyang, but spent about four years of elementary school in Switzerland (Kim Jong Un also did his primary and middle schooling from Switzerland).
According to the Seoul-based NK news, at present, Kim Yo Jong hold one of country's most influential portfolios as the Vice Director of the Workers' Party of Korea Propaganda and Agitation Department, the agency primarily responsible for censorship in the country. In April, before the surgery of her brother Kim Jong Un, she was reappointed as an alternative member to the powerful decision-making body, the Politboro of the Central Committee.
She first came to limelight when she was photographed at her father's funeral in 2011, a week after Kim Jong Un took over the reins of North Korea.
She first garnered international attention when she attended the 2018 Winter Olympics in Pyongchang, in South Korea and was seated just behind the US Vice President Mike Pence.
Can a Woman lead North Korea?
Since North Korea's establishment in 1948, the country has been run by three men, Kim Il Sung, his son Kim Jong Il, and his grandson, Kim Jong Un. There has never been a Woman leader in a terrifically patriarchal society like North Korea.
"It's definitely possible that she would face some serious challenges to her legitimacy and power if she took over, even with the Kim family name," Mintaro Oba, a former U.S. State Department official who specialized in the Koreas, was quoted as saying by TIME magazine.
North Korea's "cult-driven system" makes it necessary to have a clan member in charge, and Kim Jo Yong "has shown that she knows how to exercise authority," a North Korea watcher from Fletcher School told Indian Express.
So can bloodlines trump the patriarchy in a feudal setting, only time will tell.
Posted By: Abhinav Gupta