'Menacing blow': Fact-checkers support Maria Ressa, Santos Jr. and Rappler after Filipino court's verdict against them
Ressa, who co-founded the online website Rappler in 2012, has extensively covered Philippines crackdown on illegal narcotics whose level of bloodshed has been compared to Colombia of 1980s, which has left thousands of suspected petty drug peddlers dead. (Image Instagrammed by @maria_ressa)
Updated: Wed, 17 Jun 2020 08:20 PM IST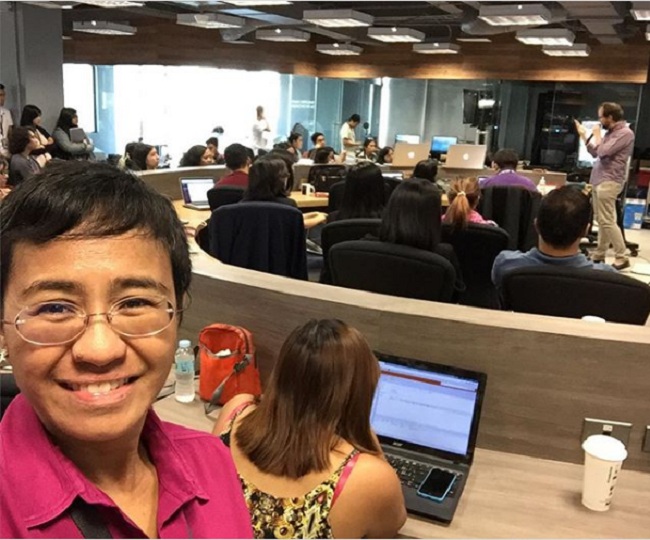 New Delhi | Jagran News Desk: One of South-East Asia's most prominent journalists, Maria Ressa of Philippines, a former CNN investigative reporter in South-East Asia and co-founder-CEO of online website 'Rappler' got convicted of the crime of cyber libel on Monday by a court in Manila. The second convict in the Cyber Libel case included former Rappler writer Reynaldo Santos Jr.
Ressa, who co-founded the online website Rappler in 2012, has extensively covered Philippines crackdown on illegal narcotics whose level of bloodshed has been compared to Colombia of 1980s, which has left thousands of suspected petty drug peddlers dead. Rappler's coverage soon drew the ire of Filipino President Rodrigo Duterte.
In his State of the Nation address in 2017, President Duterte alleged that Rappler was foreign-owned and violated the Filipino constitution, which said that mass media organizations should be wholly-owned by only country's legal nationals.
Rappler denied Duterte's allegations, Maria Ressa was served a threatening order from the Security and Exchange Commission to revoke the publication's operating license, and the government banned a Rappler reporter from covering the presidential palace.
Since then, from tax evasion to foreign ownership, Ressa has been slapped with at least eight criminal charges and has been arrested twice. According to an NBC news report, if found guilty for all of the criminal charges brought against her, she could face up to 100 years in prison. In one of the cases, in which she and Reynaldo Santos Jr have been convicted, both journalists can face prison term of between six months to six years on charges of 'cybercrime' for an article published on the online news platform Rappler in 2012. The article had alleged corruption between a businessman and a judge.
Rappler claims that the disputed article was published on May 29, 2012. The Philippines' cybercrime law was enacted months later, on Sept. 12, 2012. However, prosecution alleged in the Court, that an updated version of the article was published after the law was enacted and hence Maria Ressa and Santos must be held guilty.
As of present, both Ressa and Santos have been released on bail pending appeal. "We are meant to be a cautionary tale. We are meant to make you afraid," Ressa said after the verdict, "Don't be afraid," she added.
Other media outlets, reportedly critical of President Duterte, too have met consequences, albeit not as bad as Maria Ressa. Last month, country's largest broadcaster, ABS-CBN, was shut down because it was reportedly not allowed to renew its legislative franchise. Months before that country's largest newspaper, the Philippine Daily Inquirer, was threatened with closure when like Ressa, its owners were charged with tax evasion.
Who is Maria Ressa?
Born in the Philippines, Ressa grew up in the US and pursued Journalism from Princeton University. She returned to the country in the 1980s after the fall of Ferdinand Marcos.
A former CNN journalist, Ressa founded Rappler in 2012, which is popular for openly criticising President Duterte's administration and its war on drugs, which has claimed thousands of lives in the South East Asian country. In 2018, she was declared Person of the Year by Time magazine for her work against disinformation and fact checking.
Reactions after the Cyber Libel verdict against Maria Ressa
The National Union of Journalists of the Philippines said the verdict on Monday "basically kills freedom of speech and of the press," according to New York Times.
The Foreign Correspondents Association of the Philippines (FOCAP) described the latest development as "a menacing blow to press freedom."
Posted By: Talib Khan