John B. Goodenough, M. Stanley Whittingham and Akira Yoshino jointly win 2019 Nobel Prize for Chemistry
John B. Goodenough, M. Stanley Whittingham and Akira Yoshino joint winners of the 2019 Nobel Prize for Chemistry. [Pic credit: @NobelPrize]
Updated: Wed, 09 Oct 2019 04:19 PM IST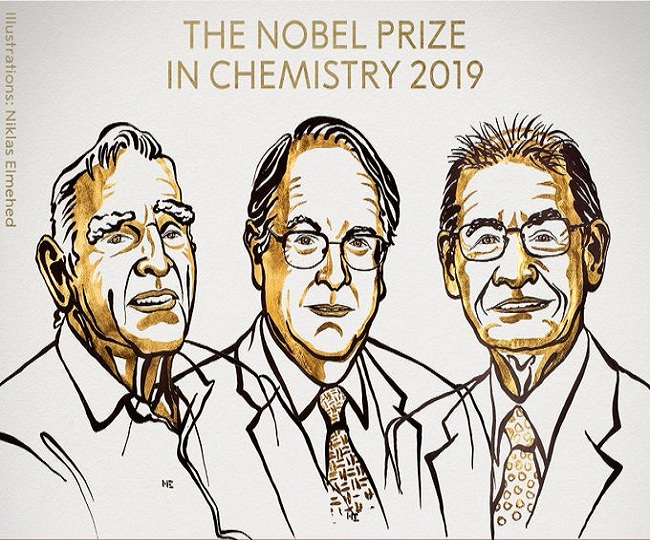 New Delhi | Jagran News Desk: The Nobel Prize committee on Wednesday announced John B. Goodenough, M. Stanley Whittingham and Akira Yoshino joint winners of the 2019 Nobel Prize in Chemistry for their development of lithium-ion batteries.
Li-ion batteries have revolutionised our lives since it first entered the market in 1991. The rechargeable, lightweight and powerful batteries are used in everything from cellphones to laptops and electric vehicles.
It is also used to store a significant amount of wind and solar power, leading to a society free from fossil fuels.
The foundation of li-ion batteries was laid by Stanley Wittingham in the 1970s. He created a two-volt battery comprising anode and cathode. In 1980, John Goodenough demonstrated that cobalt oxide with lithium ions can help produce four volts (twice). It was an important breakthrough in order to create more powerful batteries.
Later in 1985, Akira Yoshino created the first commercially viable li-ion battery by using petroleum coke, cobalt oxide and lithium ions.
Born in Germany, John B. Goodenough is a Ph.D. from the University of Chicago, USA.
UK-born M. Stanley Whittingham is a Ph.D from Oxford University, UK and serves as a professor at Binghamton University in New York, US.
Akira Yoshino is a Japanese by descent and serves as a professor at Meijo University, Japan. He was an honorary fellow at Asahi Kasei Corporation and completed his Ph.D from Osaka University, Japan in 2005.
Last year, the award was won by Frances H. Arnold, George P.Smith and Sir Gregory P. Winter for the phage display of peptides and antibodies.
As a part of the prize, the trio will receive a cash prize of 9 million Swedish Krona (roughly Rs 6.5 crore) that will be distributed equally.
Earlier, James Peebles, Michel Mayor and Didier Queloz had 2019 Nobel Prize for Physics while Kaelin Jr, Ratcliffe and Semeza jointly bagged 2019 Nobel Prize for medicine in last two days. The Nobel Peace prize will be announced on Thursday.
Posted By: James Kuanal