George Floyd is the latest victim of America's inter racial faultlines. How alarming is racial discourse in the US?
65 percent of black people said in a recent Pew poll that somebody had acted suspicious toward them because of their race.
Updated: Mon, 01 Jun 2020 03:35 PM IST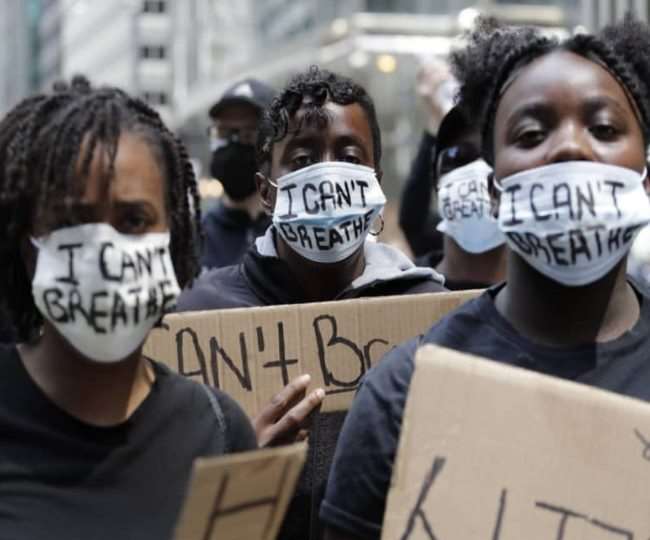 New Delhi | Jagran News Desk: The May 25 killing of George Floyd, a 46-years old African-American resident of Minneapolis in the midwestern US state of Minnesota, who was pinned to death by a white police officer after being pulled over on the complaint of a Deli store manager for buying a pack of cigarettes using a counterfeit $20 bill, has sparked protests all across America and American embassies worldwide.
The bystander video while George was being apprehended, showed that as the 46-years old was being handcuffed with his face on the ground, a white Minneapolis Police officer, who was later identified as Derek Chauvin, kept his knee on George's neck for close to nine minutes as George gasped for breath, and finally fell unconscious.
Motionless, Floyd was taken to a hospital in an ambulance, where he was pronounced dead around an hour later.
Protests first broke in Minneapolis, and then across the US, alleging police of being racially atrocious as the video started making rounds on the social media and ended up making a wildly viral outreach.
On Tuesday, Mayor Jacob Frey of Minneapolis tweeted that the four Police officers including Derek Chauvin had been terminated. "This is the right call," he said.
However, even hours after the termination of the Police officials involved, protests had already spurred far from the spot where George died. 1332 km away in Tennessee state's Memphis, protestors took to streets with hashtagged placards , 'Black Lives Matter', and burnt the effigies of the Police. 2,000km away in Los Angeles, protestors blocked a highway and sporadic clashes were reported between protestors and law enforcement agencies from all across the US.
From wee hours of Thursday onward, buildings were set on fire, which also included the Police station in jurisdiction of the incident of Floyd's death, widespread clashes between the protestors and police took place and the stores were looted amid the violent chaos driven by the long-standing racial fault lines in the overall hierarchical clustering of the United States.
Governor Tim Walz of Minnesota state activated the Minnesota National Guard and declared peacetime emergency, saying he supported peaceful demonstrations but was bothered by the level of destruction in the protests.
President Donald Trump of the US, called those spreading violence as 'thugs', and that they were 'dishonoring the memory of George Floyd', while adding that his federal administration will assume control if the situation deteriorates in Minnesota, and that 'when the looting starts, shooting starts,' a tweet which was flagged by Twitter for 'glorifying Violence'.
Subsequently, Derek Chauvin, the police official who pinned Floyd on to the ground with his knee was charged with third degree murder.
On Saturday, protests also broke in New York, Ohio and Colorado states, with multiple instances of looting of stores, arson in the public buildings and clashes with the Police.
The continued protests in the backdrop of George Floyd's custodial death, in over 140 US cities, including the power centre in Washington DC's Capitol Hill, have forced President Donald Trump to take shelter in a White House Bunker. In what is being touted as the worst civilian unrest in the US in decades, curfew has been imposed in over three dozen cities across the US with at least five people reported to have died in the violent clashes which took place between protestors and law enforcement agencies.
National Guard have been activated in at least 20 states, covering almost half of American landmass. ABC News reported that Police and Law Enforcement agencies have arrested at least 2,564 people in two dozen US cities over the weekend, a fifth of those only in Los Angeles, the city which Hollywood calls its home.
Global outrage over George Floyd's custodial death led burning properties and riot police in the U.S. featured on newspaper front pages while vastly overshadowing the COVID-19 pandemic in comparison. Thousands gathered in London on the way to the US embassy on Sunday, chanting "No justice! No peace!", Fox News reported. Protestors marched towards American embassies in Berlin and Copenhegan too, many of them highlighting that "Racism is a global issue". State media in Russia, China and Iran viewed it through the yardstick of long-standing racial fault lines which exist in the US.
The Policing in the US amid Racial faultlines
65 percent of black people said in a recent Pew poll that somebody had acted suspicious toward them because of their race. Contrary to them, just 25 percent of white Americans said the same.
The author-researchers of "Suspect Citizens," book reviewed 20 million traffic stops, in which they reveal that black people are about twice as likely as white people to be pulled over by law enforcement for a traffic stop. Another study by the US sentencing commission stated that, even when black men and white men are convicted of the same crime, the black men can expect a prison sentence that is 20 percent longer than their White counterparts.
George Floyd's desperate assertions to let him breathe, with "I can't breathe" sentence as he was pinned on the ground, has become a rallying cry for protestors across the US. George's death has also enabled the analysts worldwide to draw comparisons between his death and that of Eric Garner in 2014. Garner, an unarmed African American man, had uttered the same words 11 times, as per CBS News, as he was held in a chokehold by a police officer in New York City before he died in similar circumstances.
Earlier in March, a 26-years old EMT Brionna Taylor was shot by the Police in her home, as part of a narcotics investigation. Police said that they began shooting after one of the officers was shot and injured.
In yet another racially charged crime reported in the US, a 25-year-old African-American man, Ahmaud Arbery was fatally shot while jogging nearby his home in what was investigated as an alleged trespassing by Arbery near an under construction home.
Even the trivial matter, as reported in New York's central park, of an African-American man simply telling a white woman to leash her dog turned into a matter of racially charged concern, as woman called police saying that she was being "threatened by an African-American man".
Former President Barak Obama, while pointing towards all the racially atrocious incidents across the US stated that this "shouldn't be a new normal" in America, while raising his worry that, "being treated differently on account of race is tragically, painfully, maddeningly normal" for so many Americans.
My statement on the death of George Floyd: pic.twitter.com/Hg1k9JHT6R

— Barack Obama (@BarackObama) May 29, 2020
The dual crisis of COVID-19 pandemic and widespread protests against racial prejudices in the US continue to take new shape with each pasing day in the year which marks the centenary of deadly Tulsa massacre of African-Americans in which according to New York Times, 1,200 homes were burned, 35 blocks burned, and an estimated 300 black people killed, a century earlier in Oklahoma state.
#BlackLivesMatter, a movement which started in 2013, after the acquittal of a man who fatally shot an African-American teenager Trayvon Martin in Florida the year before, continues to mould itself within the present dynamics of the public discourse of systemic racial prejudices in the US.
Posted By: Abhinav Gupta