Four Iraqi soldiers injured as several rockets hit Al-Balad airbase hosting US troops
Around 5,200 US troops are stationed in Iraq to fight the Islamic State of Iraq and Syria (ISIS).
Updated: Sun, 12 Jan 2020 10:45 PM IST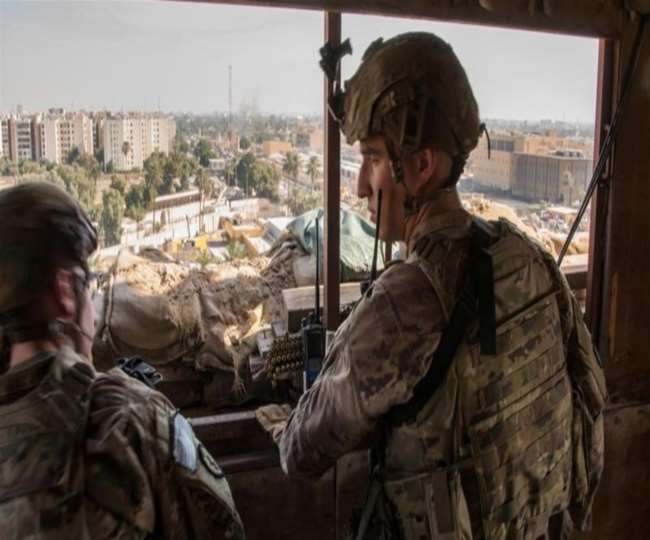 Samarra (Iraq) | Jagran News Desk: Four Iraqi personnel were injured after several rockets hit an airbase north of Baghdad hosting US troops. Besides the injuries, some nearby buildings were also damaged, reported AFP.
US military sources, quoted by AFP, said that four Iraqi airmen were wounded in the attack while adding that the majority of the US military have left the Al-Balad airbase following tensions with Iran.
The attack comes at a time when the tensions between the US and Iran are high after the killing of General Qasem Soleimani.
Also Read | 'Human error': Iran admits that it 'unintentionally' shot down Ukraine jetliner killing all 176 onboard
Since the killing of Soleimani, military bases hosting US troops in Iraq have been subject to volleys of rocket and mortar attacks. However, the attacks have mostly wounded the Iraqi forces but last month an American contractor was also killed.
According to reports, around 5,200 US troops are stationed in Iraq to fight the Islamic State of Iraq and Syria (ISIS). However, three days ago, Iraq's caretaker premier Adel Abdel Mahdi had asked the US to begin preparing for pullout of troops.
Recently, US President Donald Trump had warned that America will hit Iran harder than ever if it attacks its personnel or assets in the region. "Iran is talking very boldly about targeting certain USA assets as revenge for our ridding the world of their terrorist leader who had just killed an American and badly wounded many others, not to mention all of the people he had killed over his lifetime," Trump had said.
Also Read | 'Will welcome any peace initiative by India to de-escalate tensions with US': Iran
However, Iran had said that they have been receiving threats from the US since long and they know 'how to respond to them'. Iran supreme leader Ayatollah Ali Khamenei has also vowed 'severe revenge' against the US.
"With him gone, God willing, his work and his path will not be stopped, but severe revenge awaits the criminals who bloodied their foul hands with his blood and other martyrs' in last night's incident. All enemies should know that the jihad of resistance will continue with a doubled motivation, and a definite victory awaits the fighters in the holy war," Khamenei had said earlier.
Posted By: Aalok Sensharma