'Died due to restraint, neck compression under the manner of homicide': George Floyd's autopsy
George, 46, died of "cardiopulmonary arrest complicating law enforcement subdual, restraint, and neck compression," and the manner of death was "homicide," the Hennepin County Medical Examiner in Minneapolis said in a statement. (Screenshot from the video provided by Darnella Frazier)
Publish Date: Tue, 02 Jun 2020 10:54 AM IST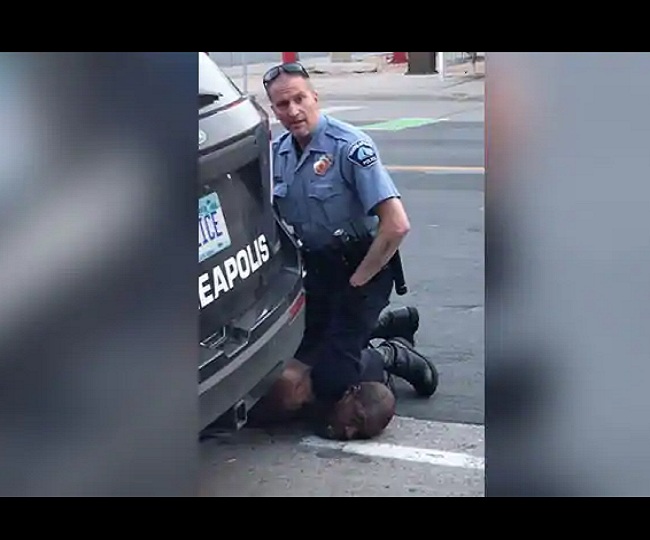 New Delhi | Jagran News Desk: The official autopsy of George Floyd, the Africa-American, whose death at police hands caused unrest across the United States with people protesting in large numbers, has revealed that he died in a homicide stating 'neck compression' as the cause of his death.
George, 46, died of "cardiopulmonary arrest complicating law enforcement subdual, restraint, and neck compression," and the manner of death was "homicide," the Hennepin County Medical Examiner in Minneapolis said in a statement, as reported by news agency AFP.
However, the statement by Hennepin County Medical Examiner in Minneapolis also stated that the "manner of death is not a legal determination of culpability or intent."
The autopsy report also listed George Floyd's other significant health conditions as "arteriosclerotic and hypertensive heart disease; fentanyl intoxication; recent methamphetamine use."
The report also emphasized that under Minnesota state law, "the Medical Examiner is a neutral and independent office and is separate and distinct from any prosecutorial authority or law enforcement agency."
Meanwhile, another autopsy commissioned by George Floyd's family has revealed that the 46-year-old African-American died of asphyxia due to sustained pressure to his neck and back, his family said in a statement as reported by news agency ANI.
"The evidence is consistent with mechanical asphyxia as the cause of death," Dr Allecia Wilson, one of the examiner was quoted as saying by CNN. "Sustained pressure on the right side of Floyd's carotid artery impeded blood flow to the brain, and weight on his back impeded his ability to breathe," he added.
The statement by Floyd's family further said that the examiners of the autopsy also believe, based on all available evidence, that he died on the spot due to "asphyxiation from sustained pressure."
The independent autopsy, however, contradicts the Hennepin County autopsy report that found heart disease, hypertension and potential intoxicants contributed to Floyd's death. A preliminary report had found "no physical findings that support a diagnosis of traumatic asphyxia or strangulation."
The death of George Floyd under the police custody led to massive protests across the America since May 25. The protesters even demonstrated outside the White House, after which President Donald Trump was taken to the bunker inside the Presidential Estate.
According to a report by CNN, around 4,000 people have been arrested across the the United States during the protests.
The police even resorted to fire tear gas and rubber bullets to disperse the peaceful protestors near the White House on Monday, as President Trump warned of a massive show of force to end the violence during the protests over the death of George Floyd, Reuters reported.
(With Agencies Inputs)
Posted By: Talib Khan