Days after admitting that it 'unintentionally' shot down a Ukraine jetliner, Iran says 'some arrested for role in crash'
Updated: Tue, 14 Jan 2020 03:26 PM IST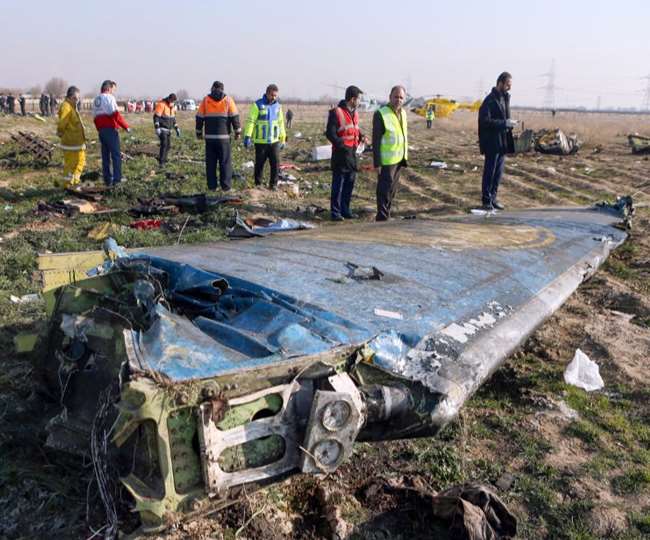 Tehran (Iran) | Jagran News Desk: Days after admitting that it "unintentionally" shot down the Ukraine jetliner because of "human error", Iran on Monday said that arrests have been made over the shootdown of the plane that killed all 176 people on board.
"Extensive investigations have taken place and some individuals are arrested," the judiciary spokesman, Gholamhossein Esmaili, quoted by Iranian state media, said on Tuesday.
He, however, did not say how many individuals have been detained or name them.
The statement came days after Iran accepted that it "unintentionally" shot down the jetliner because of "human error", killing all 176 onboard.
The Ukrainian airplane went down on the outkirts of Tehran during takeoff just hours after Iran launched a barrage of missiles and rockets at US forces in Iraq.
The plane was en route to the Ukrainian capital of Kyiv and it was carrying 167 passengers and nine crew members from several countries, including 82 Iranians, at least 63 Canadians and 11 Ukrainians.
Earlier, US President Donald Trump had also said that the crash could have been a 'mistake', adding he had a terrible feeling about the downed airliner but offering no evidence.
"I have my suspicions. It was flying in a pretty rough neighbourhood and somebody could have made a mistake," Trump had said earlier.
"Some people say it was mechanical. I personally don't think that's even a question," Trumps had said while adding that he had suspicions about the crash but giving no other details.
Meanwhile, the United States National Transportation Safety Board has said that it will join the probe to find the reason behind the crash.
In a statement posted on its Twitter account, the agency said it had "received formal notification" from Iran of the crash which occurred on Wednesday.
Tehran has also said that it was prepared to allow experts from the countries who lost people in the crash to help with the enquiry. The ill-fated plane was carrying 82 Iranians,11 Ukrainians, 10 Swedes, four Afghans, three Germans and three Britons, as well as the 63 Canadians.
Posted By: Aalok Sensharma