Can 'asymptomatic people' spread COVID-19? Here's what WHO has to say
Amid the worsening situation, the World Health Organisation (WHO) has said that the spread of the coronavirus from people without symptoms is "rare", despite warnings that from experts that such transmission is more frequent. (pic credits: PTI)
Publish Date: Tue, 09 Jun 2020 10:20 AM IST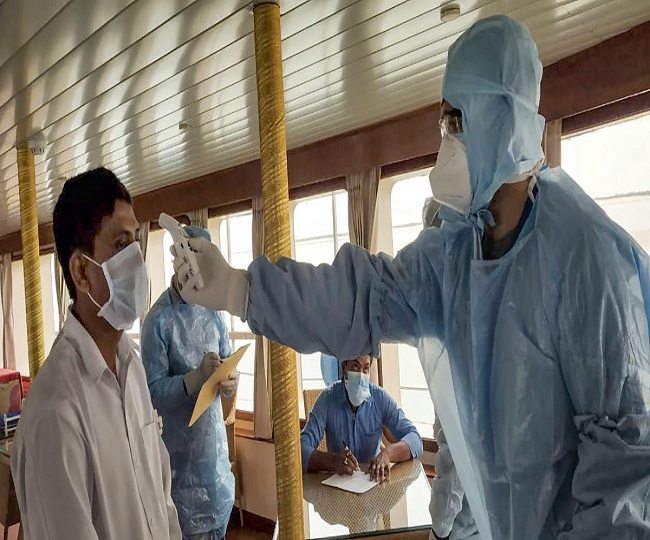 Geneva (Switzerland) | Jagran News Desk: The number of coronavirus cases across the world is growing at an alarming rate and several countries have witnessed new peaks in cases and fatalities and are finding hard to control the transmission of the virus.
Amid the worsening situation, the World Health Organisation (WHO) has said that the spread of the coronavirus from people without symptoms is "rare", despite warnings that from experts that such transmission is more frequent.
WHO's the technical lead on COVID-19 Maria Van Kerkhove on Monday said that several nations are reporting cases of spread from asymptomatic people, or those with no clinical symptoms, adding that "many of them turn out to have a mild disease or unusual symptoms".
"We are constantly looking at this data and we're trying to get more information from countries to truly answer this question," she said while adding that "it still appears to be rare that asymptomatic individuals transmit onward".
Also Read | Coronavirus pandemic 'far from over', not the time for countries to take foot off pedal: WHO chief
Van Kerkhove said that based on data from countries, when people with no symptoms of COVID-19 are tracked over a long period to see if they spread the disease, there are very few cases of spread.
Although health officials in countries including Britain, the US and elsewhere have warned that "COVID-19 is spreading from people without symptoms", WHO has maintained that this type of spread is not a driver of the pandemic and is probably accounts for about 6 per cent of spread, at most.
Numerous studies have suggested that the virus is spreading from people without symptoms, but many of those are either anecdotal reports or based on modelling.
The WHO has also urged countries to press on with efforts to contain the novel coronavirus, noting the pandemic was worsening globally and had not peaked in central America.
More than 1,36,000 cases were reported worldwide on Sunday, "the most in a single day so far", WHO Director-General Tedros Adhanom Ghebreyesus said.
"More than six months into the pandemic, this is not the time for any country to take its foot off the pedal," he told an online briefing.
In response to a question on China, WHO's top emergencies expert, Dr Mike Ryan, said retrospective studies of how the outbreak has been addressed could wait, adding: "We need to focus now on what we are doing today to prevent second peaks."
Ryan also said infections in central American countries including Guatemala were still on the rise, and that they were "complex" epidemics.
"I think this is a time of great concern," he said, calling for strong government leadership and international support for the region.
(With Reuters, PTI inputs)
Posted By: Aalok Sensharma