Publish Date: Mon, 16 Aug 2021 07:55 PM IST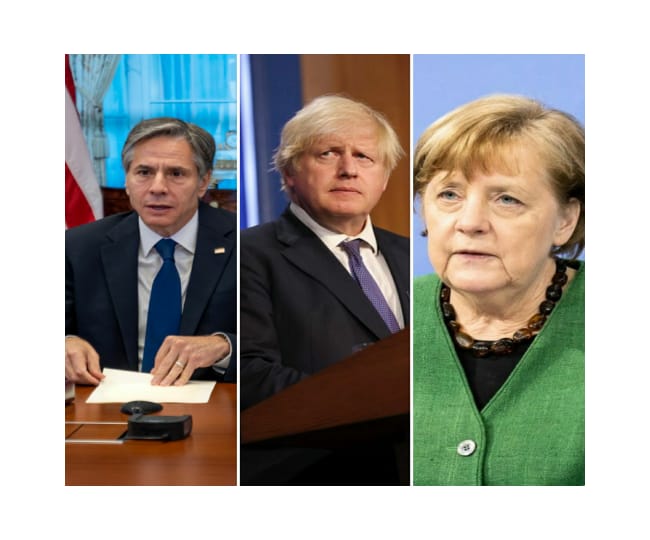 Kabul/New Delhi | Jagran World Desk: Afghanistan's capital Kabul fell to Taliban on Sunday which resulted in complete takeover of the country by the insurgent group. The development took place days after the hasty withdrawal of the US troops following which many provinces and warlords gave up without a fight.
As the UN-recognised Afghanistan government's President Ashraf Ghani fled the country and Pakistan-backed Taliban fighters took the control of Presidential Palace in Kabul, many world leaders reacted on unprecedented developments in Kabul.
While China said that it is 'willing to develop friendly relations with Taliban in Afghanistan', India's another hostile neighbour Pakistan praised Taliban's seizure of power in Kabul. "It is harder to throw off the chains of cultural enslavement. What is happening in Afghanistan right now, they have broken the shackles of slavery," Pakistan Prime Minister Imran Khan said on Monday.
Beyond India's neighbourhood here's how the world reacted to Taliban's takeover of Kabul:
Allow Afghans and international citizens to leave the country: US, 65 other countries urge Taliban
The United States, along with 65 nations, has urged the Taliban to let Afghans and other international citizens to leave the country. "The United States joins the international community in affirming that Afghans and international citizens who wish to depart must be allowed to do so," secretary of state Antony Blinken tweeted as the state department released the joint statement. "Those in positions of power and authority across Afghanistan bear responsibility and accountability for the protection of human life," the joint statement said.
Situation extremely difficult: Britain
British Prime Minister Boris Johnson called the situation in Afghanistan "extremely difficult."
"I think it is very important the West collectively should work together to get over to that new government, be it by the Taliban or anybody else, that nobody wants Afghanistan, once again, to be a breeding ground for terror," he said in an official statement.
No new military commitment to Afghanistan: Italy
Italian Foreign Affairs Minister said that there would be no "new military commitment" to Afghanistan.
"Surely the West has made mistakes and it is right to admit it," Italy's Foreign Minister Luigi di Maio was quoted as saying by NBC News.
Focus on the rescue mission: Germany's Angela Merkel
German chancellor Angela Merkel told her Christian Democrat Party colleagues that the country must rescue up to 10,000 people from Afghanistan, the ones Germans are responsible to rescue.
"We are witnessing difficult times," Merkel was quoted as saying by news agency Reuters. "Now we must focus on the rescue mission," she added.
Posted By: Mukul Sharma