By JE News Desk
Tue, 24 Jan 2023 01:57 PM IST
Minute Read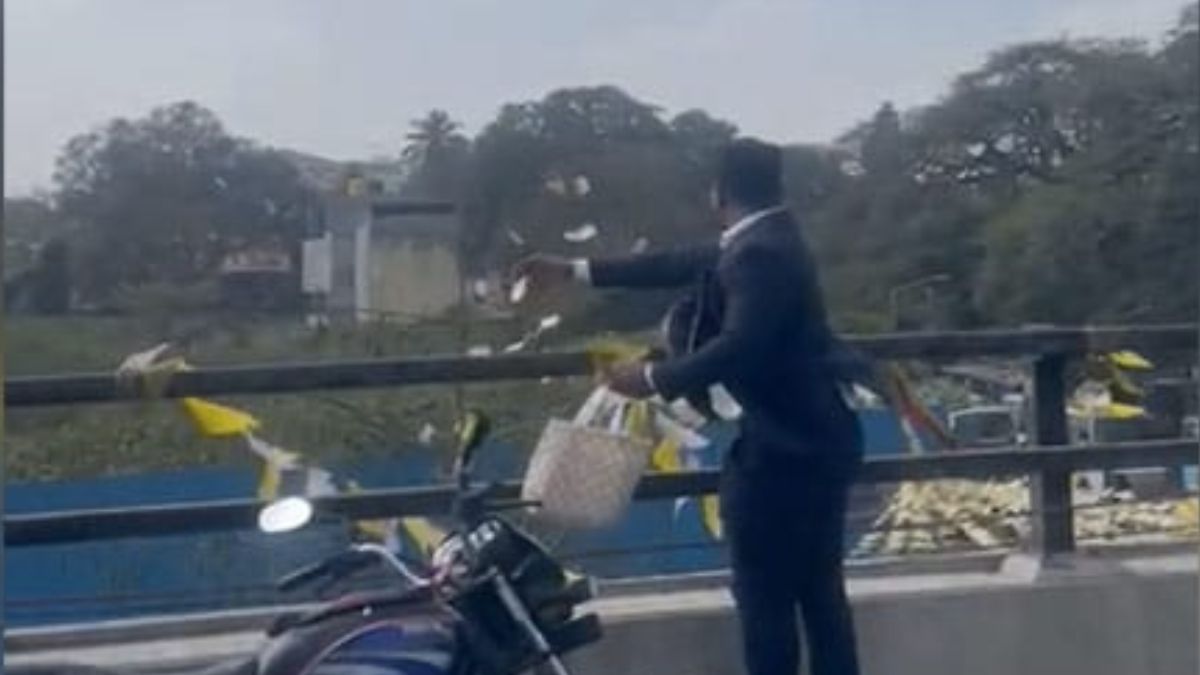 An unidentified man in Bengaluru shocked residents on Tuesday when he started showering money from a flyover on the road below. The incident even led to a traffice jam for a while, as several people rushed to collect the falling cash. Videos of the incident have now gone viral in which the man can be seen donning a wall clock around his neck.
Laxam Nimbaragi, Deputy Commissioner of Police, said that so far no information is available about the man or why he was showering money in the market area, according to a report by News18. Cops are currently investigating in the matter and searching for the man, he added.
An unidentified man showers money from KR market flyover in Bengaluru, video goes viral.

People swarmed in large number to collect the notes.

Well, those who collected the notes can only say if it is an original notes!🤐#Bangalore #money #viralvideo pic.twitter.com/SQ2bPu7Hn5

— Reethu Rajpurohit (@reethu_journo) January 24, 2023
Other similar incidents in the past
- In December 2022, a Bhajan performance by Gujarati folk singer Kirtidan Gadhvi in Navsari had led to a somewhat similar incident. Cash around Rs. 40-50 Lakh rupees were showered by hundreds of attendees during the event, that was organised by Swami Vivekananda Eye Temple Trust to raise money for a new eye hospital.
The attendees had showered the singers with notes ranging from Rs 10 to as high as 500. The collection was around Rs. 50 Lakh, Gadhvi had estimated at the time.
Gujarat | A bhajan program was organised in Supa village by the Swami Vivekananda Eye Mandir Trust for the collection of donations for the welfare of people who need eye treatment. The program received donations of around Rs 40-50 lakh: Folk singer Kirtidan Gadhvi
(28.12) pic.twitter.com/MaOfc7v8dk

— ANI (@ANI) December 28, 2022
- A similar incident, involving Gadhvi had occurred in 2015, when a local Bharatiya Janata Party leader from Vadodara had showered a bucket full of cash, literally, on the singer at a function. The leader was Vadodara's then BJP President Satish Patel. He was walking up from behind Kirtidan Gadhvi and showering a bucket full of cash on him.
Vadodara district's BJP President showers money during Ganesh Utsav (21.9.15) pic.twitter.com/BnBNTVTQip

— ANI (@ANI) October 2, 2015
- 2019 also was witness to a incident similar to these. A viral video, had then shown cash being showered on a singer during a bhajan event. This has led to a debate on social media, as netizens wondered if the programme was a religious event or a dance club. Later, reports had come out that suggested that the money collected was donated to Non-Governmental Organisations.