Watch | Man playing fetch with Beluga whale is the best thing you will see on internet today
The fans were using an official 2019 Rugby World Cup ball, tossing it into the water for the beluga whale. The whale then chases the ball and returns it to the men on the boat. (screenshot)
Publish Date: Fri, 08 Nov 2019 03:52 PM IST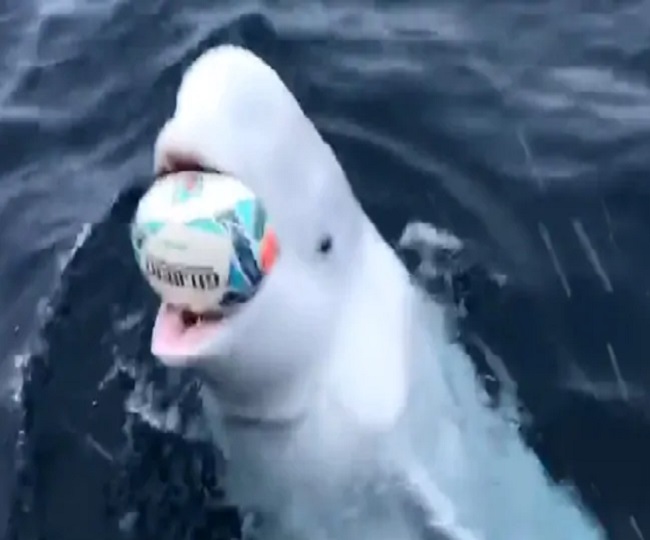 New Delhi | Jagran News Desk: A video of a man playing with a beluga whale has gone viral. In the video, a beluga whale can be seen playing 'fetch the ball' with the man on the boat. The video was filmed near the Arctic pole as a group of South African rugby fans used a ball to play fetch with the beluga whale, reported Metro news.
The fans were using an official 2019 Rugby World Cup ball, tossing it into the water for the beluga whale. The whale then chases the ball and returns it to the men on the boat.
The video was taken by crew members aboard the Gemini Craft. The ship is currently in the Arctic pole, reported New Zealand Herald.
"Beluga Whale celebrating the Springboks victory," said Alan Ko wen, who uploaded the video.
SA coaches getting hired all over the place. pic.twitter.com/Y6KP18DVFz

— Zelím Nel (@Zels77) November 7, 2019
The video begins with the beluga whale giving the ball to the man on the boat who then tosses the ball again. The beluga whale again chases the ball and returns it to him again.
Since being shared online on Twitter a day ago, more than 4.1 million people have watched the video. Another version of the video was also shared on Facebook which has collected over 1.3 million views.
"This will be the coolest thing I see all day. That is so great!," said a user on Twitter.
"Man...this is one of the most beautiful videos I've seen," said another user.
Beluga whales are also known as 'white whales'. They are highly social animals who employ a diversified language of clicks, whistles, and clangs to communicate. They also show a great degree of curiosity towards humans in wild and can be seen frequently chasing their boats. They also like to play with the objects they find in the water.
Posted By: Aalok Sensharma