Then-and-Now pics of COVID-19 survivor's body transformation shows why fighting virus is more tough than it sounds
Updated: Fri, 22 May 2020 05:16 PM IST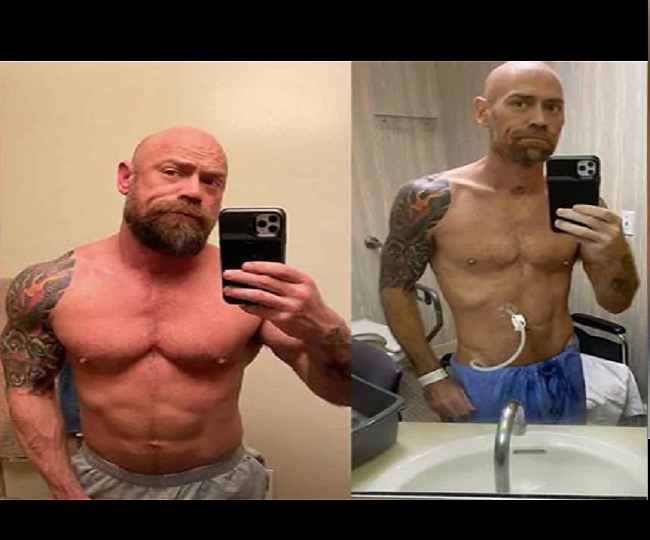 New Delhi | Jagran Trending Desk: A California-based male nurse has stunned the internet, after sharing a now-and-then comparison of his Coronavirus survivor body. The dramatic bodily change after contracting coronavirus, led nurse Mike Schultz to lose over 20 kg weight after shedding off the virus.
The 43-years old nurse took to Instagram and shared a comparative pictorial IG post, one that was taken at a hospital and the other about a month before he fell sick due to Coronavirus.
"I wanted to show everyone how badly being sedated for 6 weeks on a ventilator or intubated can be. Amongst other things, Covid-19 reduced my lung capacity with pneumonia. Over 8 weeks I've been away from family and friends. Getting stronger everyday and working to increase my lung capacity. I'll get back to where I was in healthier ways this time....maybe even do cardio(sic)," Schultz wrote in caption.
The starkly exceptional difference in his bodily outlook has shocked many on and off the social media.
"I didn't even recognize myself," Schultz told during a CNN interaction with John Berman, when asked about his shocking bodily transformation after contracting novel Coronavirus. "I pretty much cried when I looked in the mirror," Schultz added.
When asked by BuzzFeed about the toll COVID took his body and mind, along with the ordeals he faced due to contagion infection, Schultz said that it was one of the most frustrating parts.
"I couldn'Äö√Ą√īt hold my cellphone; it was so heavy. I couldn'Äö√Ą√īt type, because my hands shook so much," he recalled. The picture of his comparison before and after covid which went viral, was taken right in a COVID recovery ward. "It exhausted me to stand up from the bed for a few minutes to take the picture," he said.
A week before contracting the virus, Mike Schultz had gone to Miami Beach for Winter Party Festival along with his boyfriend. So far, according to a Fox News report, 41 people who attended that festival have tested COVID positive, with three fatalities linked to the same event till now.
Posted By: Talib Khan