'Payment Method: Kidney': Twitterati 'anticipate' exorbitant iPhone 11 price ahead of launch with hilarious memes
Updated: Tue, 10 Sep 2019 03:24 PM IST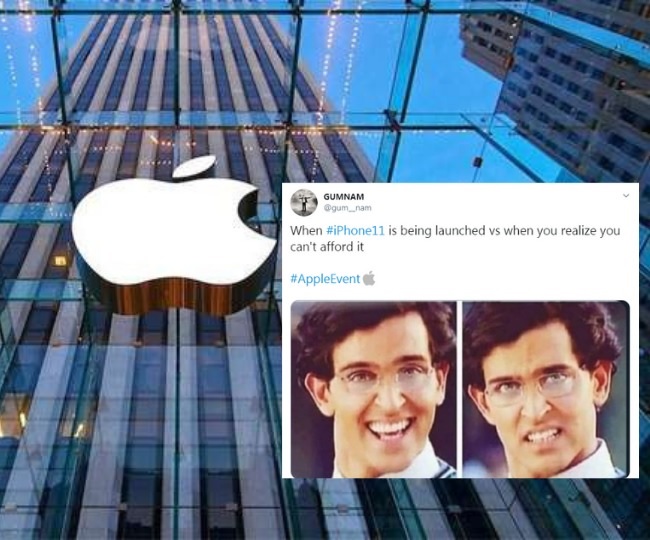 New Delhi | Jagran Trending Desk: Ahead of the launch of iPhone 11, iPhone 11 Pro and iPhone 11 Max, netizens are bracing for the possible hefty price tags that will be attached to the shiny new gadgets.
The Apple event is scheduled to start at 10:30 PM today and as it comes nearer, a flurry of jokes surfaced on social media, with users deriving noble ways to manage the jaw-dropping expense generally associated with the company's products.
Indians on social media have already started cracking jokes and sharing hilarious memes, making #AppleEvent and #iphone11 trend online. While some revamped old kidney-selling jokes, others shared how Android users feel during the iOS event. The iPhone 11's rumoured camera lens position intrigued many people and many drew parallels with an emoji.
Here are some of the hilarious memes shared by the twitter user:
When #iPhone11 is being launched vs when you realize you can't afford it#AppleEvent pic.twitter.com/2QdvP8Wk9k

— GUMNAM (@gum__nam) September 10, 2019
I am going to buy #iPhone11

Me to my kidneys : pic.twitter.com/kIDUpPaOQN

— Gujarati Chokro (@pubgkadeewana) September 10, 2019
When your girlfriend asks for the new #iPhone11 pic.twitter.com/wKh8pyI3p6

— gaurav lalvani (@LalvaniGaurav) September 10, 2019
New Payment Option for #iPhone11, added by #Apple. It's called 'KIDNEY ON DELIVERY' (KOD). #AppleEvent pic.twitter.com/jHDadBPtQS

— Shaurya D Joshi (@ShauryaDJoshi) September 9, 2019
I would prefer 2 Toyota Tercel#iPhone11 pic.twitter.com/NYDq7Fl5Pv

— Prash (@iam_prash04) September 9, 2019
#iPhone11
After hearing the Price of iphone 11

Public : pic.twitter.com/p3qfVxUEnp

— BekaarAadmi(@RealFun14) September 10, 2019
#iPhone11 ten years CHALLENGE pic.twitter.com/HpjyOP0CHd

—Arvind kumar Vajpayee (@ArvindBajpayee1) September 10, 2019
#iPhone11

samsung guy : I don't like apple muje toh samsung hi pasand hai

I phone : pic.twitter.com/FyzZr8jkTt

— Pranjul Sharma (@Pranjultweet) September 10, 2019
The company is also expected to unveil new Apple Watch models, that will be called the Apple Watch Series 5. New versions of iOS, iPadOS, macOS, watchOS, and tvOS may also be unveiled at the event. Apple might also reveal details about its upcoming Apple Arcade gaming service as well as Apple TV+ at the event.
Apple will live stream the launch on Youtube and this marks the first time that the company has decided to stream its events on the platform.
Posted By: Talib Khan