'My Shravan Kumar': 15-year-old girl covers 1,200 km to bring father from Gurugram to Bihar on bicycle
Updated: Fri, 22 May 2020 04:18 PM IST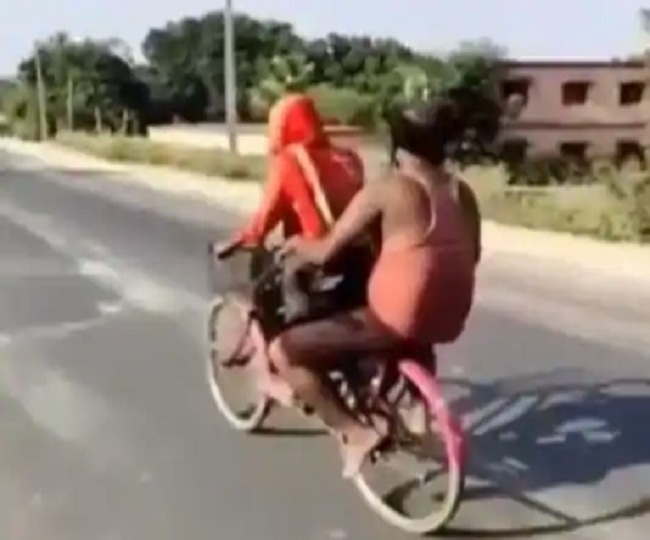 New Delhi | Jagran Trending Desk: A 15-year-old girl, Jyoti Kumari, ferried her father on a bicycle from NCR's Gurugram to Bihar, 1200kms away. Breaking the patriarchal stereotypes of the greatest son ever 'Shravan Kumar,' this 15-year-old girl proved that pious love for parents isn't gender-specific as her father proudly honored her, saying, "Yes! she is my Sharavan Kumar."
Amid the global pandemic when the country was all locked up, with absolute silence and zero means of transportation, thousands of migrant workers took the pedestal to commute by road on foot. According to the government data, around 440 million migrant laborers work in the unorganized sectors, with no job security, barely collecting enough to survive in the metropolitan hustle!
One among these was Mohan Paswan, an E-rickshaw driver who met with an accident a month before the lockdown. Paswan used to drive his vehicle in Delhi-NCR's Gurugram. After the accident, he was living in the city hoping to get well soon and continue with the work. But as the virulent spread hailing from China's Wuhan came like a dark omen for many.
In an interview with the News Agency PTI, Paswan told that his landlord in Gurugram had given him the ultimatum to either leave the house or pay the rent. As his income was dormant for a while due to his injury, all his savings were consumed. The situation was so bad that soon he also had to put a halt on his medicines, as they could barely gather money for a square meal once in a day.
Now with no options left the father-daughter duo had to return to their village in Bihar's Darbhanga, where Mohan's wife used to work in an Anganwadi, living in the village along with their two sons.
Mohan told PTI, "Amid the gloomy situation, Jyoti suggested that we return home. I pointed out that we would not be able to find any trains or buses soon and my condition would not allow me to walk. She said we should get a bicycle."
He said that he was not convinced with her idea as it was much of a labor incentive chore, to cover an unbelievable journey of 1200kms on a cycle! But at last, he had to agree, so they got a bicycle with all the little money they were left with.
During the interview, Jyoti said that they used to travel 30-40 km in a day with a few intervals in between. "Even the truck drivers gave us lifts on several occasions," said the 15-year-old.
Talking about the journey she said, "It was unbearably tiring. We would stop by for a quick bite at places where we could spot unlucky ones like us being fed by local Samaritans. At a few spots, we hitched rides on trucks. Drivers, taking pity on us, would help by dropping us to a point where our paths diverged'ÄĚ.
"It must have taken eight days... and then, here we were! Back home!" While Jyoti was happy to return back home, her father was 'happily-proud of his daughter.'
After covering this incredible journey the two currently have been quarantined near their village Sirhulli under the Singhwara block of the district, Bihar.
Posted By: Talib Khan