India's Lifeline: Railway ministry commemorates resumption of train services with poem and video
Updated: Wed, 13 May 2020 02:58 PM IST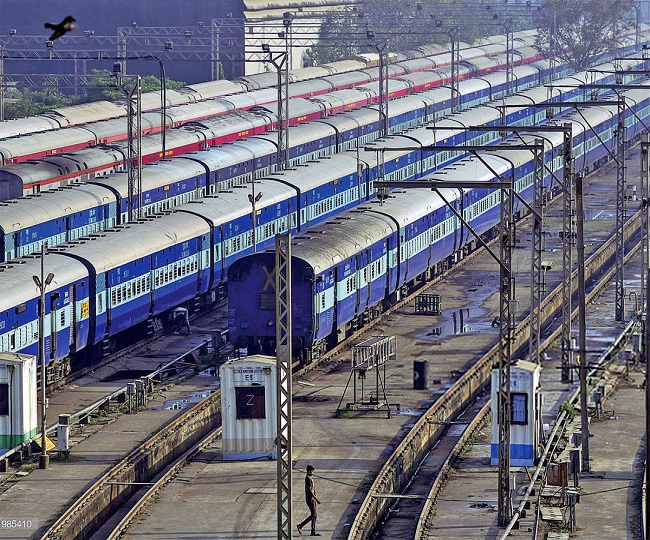 New Delhi | Jagran Trending Desk: After a break of 52-days, Indian Railways has resumed its services. The Indian government had on Sunday announced the resumption of the train services from Tuesday, giving the ray of hope to the people who are stuck in different parts of the country, and were desperately waiting to commute back home.
It was the first time in the history of Railways, since the very beginning, that the passenger train services were stopped completely. This did not happen even in grave times of war and emergency. To remember the historic halt, post the re-run of trains, the ministry of Railways posted a poem through their official Twitter handle.
They wrote,
Na Aapatkal Mein Ruki Thi,
Na Yudhkal Mein Thami Hun!
Savdhani Thi Samay Ki Maang,
Usse Pura Krne Mein Juuti Hun!
Deshvasiyon Ki Sewa Mein,
Station Pr Tayar Khadi Hun!
Main Bharat Ki Jeevan Rekha,
Krne Desh Ki Sewa,
Fir Se Apno Ko Apno Se Milane,
Aaj Fir Se Chal Padi Hun!
Bhartiya Rail!
ना आपातकाल में रुकी थी,
ना युद्धकाल में थमी हूँ !

सावधानी थी समय की माँग,
उसे पूरा करने में जुटीं हूँ !

देशवासियों की सेवा में,
स्टेशन पर तैयार खड़ी हूँ !

मैं भारत की जीवन रेखा,
करने देश की सेवा,
फिर से अपनों को अपनों से मिलाने,
आज फिर से चल पड़ी हूँ !

भारतीय रेल ! pic.twitter.com/YaKMW4H61S

May 12, 2020
After the post, a lot of people retweeted the poem, but many of them criticized it too. The critics pointed out the pain of migrants workers who are being charged for the travel, in times when no source of income has been a hard reality for the daily wage workers for more than a month now.
While the train services were stopped their pantries were still working, Indian Railways was feeding thousands of poor people across different locations in the country, and also several coaches of the trains were transformed into isolation centers, as infrastructure to treat the ever-increasing number of coronavirus infected patients was also a challenge for the country.
Also Read: Passenger trains on 15 routes resume from today: Check complete running schedule, guidelines and other details here
Though the Railway services have resumed, there is nothing like before, the frequency of the trains is low, and the trains running are practicing social distancing, as the country is still in the territory of the deadly virus, with the number of infections crossing the 74,000-mark.
Posted By: Talib Khan