In Pics: Netizens share stunning pictures of NEOWISE Comet from India and across the world
NEOWISE Comet: The phenomenon, due to clear skies, is better visible in many US states and parts of Europe.
Publish Date: Tue, 21 Jul 2020 12:05 PM IST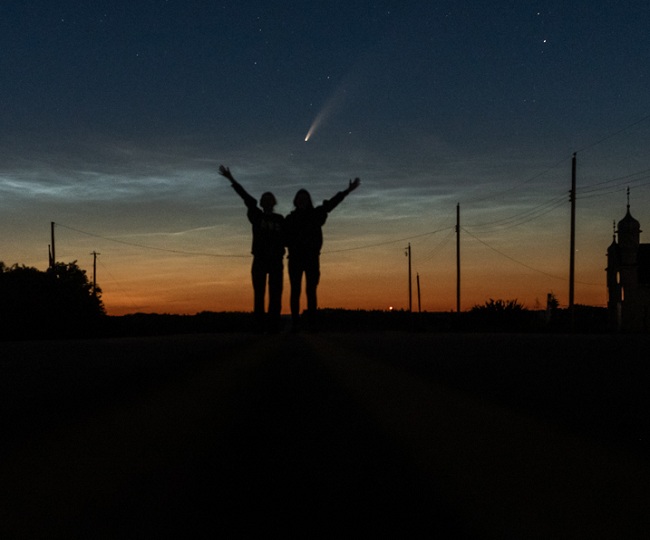 New Delhi | Jagran Trending Desk: The comet NEOWISE (C/2020 F3), a rare Comet sighting that will be next visible 6800 years from now, will remain visible in India at around the time of sunset in the northwest part of the sky. Netizens have been sharing theirs respective spotting from all over the world.
The phenomenon, due to clear skies, is better visible in many US states and parts of Europe. Whereas, in India the NEOWISE has been spotted, but a lot many people wrote to Indian Space Research Organisation, so as to know the way to witness the rare phenomenon from their respective cities and towns as well. The Comet has been sighted in Uttarakhand, Ahmedabad, Chennai, and parts of Rajasthan as well.
Here are some of the stunning NEOWISE sightings:
Washington state, USA
comet NEOWISE

this comet won't be visible for another 6,800 years

shot in mount rainier national park pic.twitter.com/savrvZBh0X

July 21, 2020
Netherlands
Amazing View Of Neowise Comet🔭
The Netherlands🇳🇱 pic.twitter.com/B9OEEgMR2f

— ★彡 Amsterdam 彡★🇳🇱 (@Earth99944998) July 20, 2020
Oklahoma, USA
A US-based Astrophysics enthusiast shared his compilation of 'Neowise photo progress over four nights', and results were as stunning as the rarity of this phenomenon.
My comet #Neowise photo progress over four nights. I've leared more these past few nights than I have in a long time and I hope to get a few more chances to further improve before its gone. #NeverStopLearning pic.twitter.com/thfCxM3ycm

July 19, 2020
Nathuakhan, Uttarakhand, India
The comet, Neowise, as seen from Nathuakhan, Uttarakhand in India on the evening of 16th July, 2020.#neowise #comet pic.twitter.com/VrErt0XyCQ

— SambitDc (@sambitdc) July 18, 2020
Canada
Neowise looked spectacular tonight, complemented by NLCs. Highlight was sharing the night sky with my daughters :-)

Fedorah, Alberta@c2020f3 @NLCalerts @mikesobel @TwistedChasers @EdmontonRASC #comet #cometNEOWISE #C2020F3 #FollowTheComet #NLCnow pic.twitter.com/IikQpxLfiy

— Jeff Wallace 🇨🇦 (@Wherezjeff) July 11, 2020
Idaho state, USA
neowise above the Idaho skyline pic.twitter.com/7o1yKyhhB9

— nathan peterson (@petenathanson) July 19, 2020
Arizona, USA
Comet NEOWISE in the night sky above Northern Arizona. pic.twitter.com/I5FoZpM812

— Austin Young (@youngazn45) July 18, 2020
Vexin, France
#cometNEOWISE seen with a 85 f/1,2 lense from Vexin in France (West of Paris). #NEOWISE
It become very impressive! pic.twitter.com/TLR12hwbdK

— Skywalker (@JLucDauvergne) July 19, 2020
Ahmedabad, India
An Ahmedabad-based Outer space enthusiast devoted himself to make a time lapse video of the rare once-in-several-generations phenomenon, as the Comet approached the horizon, and kept on flaunting the rarity of its appearance.
The Comet is visible in India since July 14 onwards, and will continue to remain so for next two weeks in the clear skies. Even after that, with special equipment such as binoculars or basic telescopes, the NEOWISE will remain visible from Indian skies.
"A far better viewing perspective will be available in the evening sky starting around July 14, when it will appear low in the northwest sky (20 degrees from the horizon) for around 20 minutes. In the evenings to follow, the comet will rapidly climb higher in the sky and will be visible for a longer period," Dr Shubhendu Patnaik, deputy director of Pathani Samanta Planetarium in Odisha's Bhubaneswar., told ANI.
Posted By: Abhinav Gupta