'Golgappe Khayega?': Indian Army teasing Chinese soldiers in midst of standoff will make you go RoFL | Watch
After punches are delivered and scuffle is calmed down, an Indian soldier can be heard in the viral video asking a PLA soldier, 'Golgappe khayega?' (Will you eat Golgappas?)
Publish Date: Tue, 23 Jun 2020 02:35 PM IST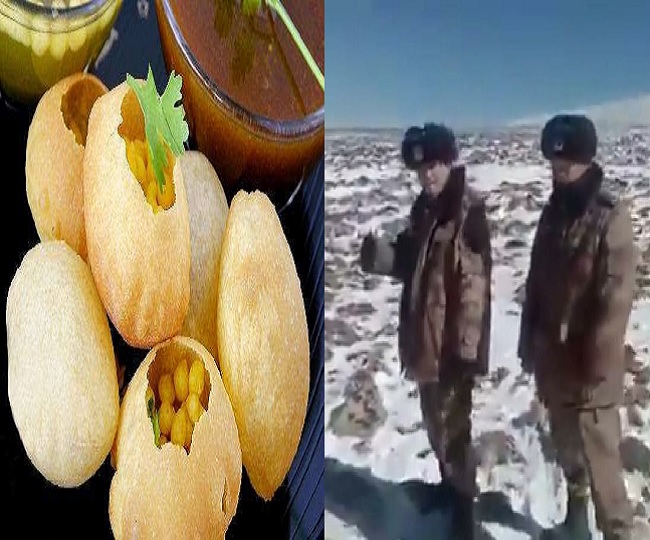 New Delhi | Jagran Trending Desk: Amid the efforts to defuse the tensions between India and China in the wake of the heightened military standoff in eastern Ladakh, an undated video filled with 'Golgappa'-led military humour went viral on social media.
In the video, Indian Army soldiers can be seen asking the Chinese People Liberation Army (PLA) soldiers to not cross the Line of Actual Control (LAC) and go back to their territory. When the Chinese PLA refuse, fists and punches are showered upon them by the Indian side as an intense scuffle breaks out between the two sides. Although the location of the scuffle remains unclear, Chinese soldiers can be seen struggling to breathe in what appears to be a high altitude location.
After punches are delivered and scuffle is calmed down, an Indian soldier can be heard in the viral video asking a PLA soldier, 'Golgappe khayega?' (Will you eat Golgappas?)
Watch the 'Golgappe khayega' moment:
Indian army got no chill
Golgappe khayega😂 #BoycottMadeInChina pic.twitter.com/0xTbTlI62c

— baswant vibhute (@baswantvibhute2) June 22, 2020
Complete footage of the Indo-China scuffle:
#LAC : #IndianArmy And #PLA on face to face confrontation. pic.twitter.com/mCVk53WKvL

— The Avenger🔰🇮🇳 (@KalitaAbhinav) June 22, 2020
The netizens were amused by the immaculate punch of humour by an Indian soldier right on the face of Chinese, and it didn't take much time for the #GolgappeKhayega trend to go viral on Twitter:
#GolGappeKhayega ? https://t.co/J8HkqP4ql9 pic.twitter.com/XMuFDLC8R2

— Manu Mohan (@edakkamannil) June 23, 2020
😁😆👌 #IndiaPushesBackChina #GolGappeKhayega pic.twitter.com/bjBI5QgOZS

— PoliticsSolitics (@IamPolSol) June 23, 2020
#GolGappeKhayega Hahaha..thats d spirit bravehearts..big salute to u👍👍 https://t.co/PoMcwZNf5n

— Pratik Singh rajput (@tweets4mpratik) June 22, 2020
Some Twitter users also wondered as to why the same Golgappa offer hasn't been made to the Pakistani side at any time.
"#PakistanArmy must be thinking, #IndianArmy offers #GolGappe to #Chinese and not to us?" one user wrote.
Another Twitter user stated that the Pakistani side is "tasting golgappe since 1947".
#GolGappeKhayega

Pakistani army tasting Gol Gappe since 1947

Cc :) @Ankitdhawan101 pic.twitter.com/ql2sXsUbfT

— MaverickⓂ️ (@Maverick_bharat) June 22, 2020
The tensions continue to remain heightened between the two nuclear-armed states after the worst clash in decades between the two armies on the evening of 15 June in Galwan Valley that claimed the lives of 20 Indian soldiers.
However, the de-escalation efforts have picked up the momentum after senior-military level talks which lasted for 11 hours on Monday, and a 'mutual consensus to disengage' from the LAC standoff locations is reported to have been reached by the two sides.
Posted By: Aalok Sensharma