'Aa raha hoon main': Lockdown 4.0 raises standard of meme-induced humour in social media towns
Publish Date: Mon, 18 May 2020 03:12 PM IST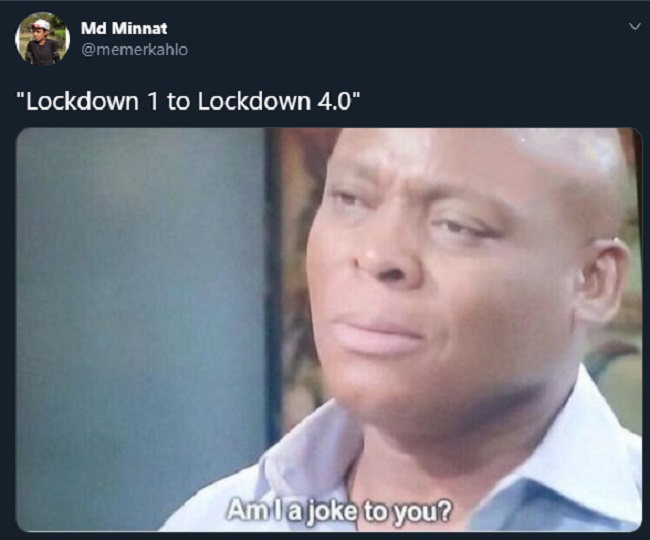 New Delhi | Jagran Trending Desk: The union government on Sunday extended the lockdown to control the spread of novel coronavirus for the fourth consecutive time till May 31. However, significant relaxations have been given to the people and businesses living and functioning under red, orange and green zones – with the ball to delineate the COVID-19 zones dropped in the court of individual states and UTs by the union government for the better micromanagement of the situation.
Lockdown 4.0#LockdownExtended pic.twitter.com/3dthIwKMCZ

— Nishit Dipankar (@NISHITDIPANKAR) May 17, 2020
However, the social media towns were blessed with the lucrative humour of memes, stimulated by the government continuing to extend the lockdown week after week, one above the hat-trick this time. People expected that things will open up further, as they have, however, by and large: "lockdown is still ahead of you my friend."
When the government let the lockdown 4.0 measures to announce for itself that it's coming like this:
Lockdown 4.0 To India : pic.twitter.com/Mf8pJPIb6T

— Berojgaar_._Engineer (@berojgaar_eng) May 12, 2020
Indian humourists on Twitter took the announcement of lockdown 4.0 with tickled up arms, because after all, having been through three of the world's most stringent phases of lockdown already, Indians can end up caressing themselves well in front of lockdown 4.0 like this:
"When lockdown 4.0 arrives" pic.twitter.com/PidKIZWXHH

— Pooja Beshra (@justamrita96) May 16, 2020
A significant lot of individuals among whom the announcement of lockdown 4.0 stimulated a sigh, were the college-going students. Exams are postponed, anything else you've seen most school/college-goers to be happy about?
Government :- school colleges will be off during lockdown 4.0

Le*Students :- pic.twitter.com/XwUbQNjSVi

— (@the_venom_stone) May 17, 2020
#LockdownExtended
Lockdown 4.0 !!
me and the Bois pic.twitter.com/PeDuhxfoae

— Rizzyy (@Reminderiz) May 17, 2020
Lockdown 4.0 to other lockdowns: pic.twitter.com/qLXpGoN8hd

— The Meme Makers (@the7mememakers) May 13, 2020
People started comparing the alacrity of all four versions of the lockdown. While initially, people thought that the things could be close to normal after 21 days, but then subsequently the lockdown dates started extending, albeit gradually restrictions have been eased by the Union and state governments in tandem.
Lockdown 1.0
Lockdown 2.0
Lockdown 3.0
Lockdown 4.0 pic.twitter.com/5ctJerlbbv

— Keh Ke Peheno (@coolfunnytshirt) May 17, 2020
Lockdown 4.0
Day — 1 pic.twitter.com/QWbnvKlEqY

— Shabbir Dalal (@ShabbirDalal12) May 17, 2020
"Lockdown 1 to Lockdown 4.0" pic.twitter.com/T0jN1aMfFa

— Md Minnat (@memerkahlo) May 17, 2020
People to lockdown 4.0:-

Tum kab aaye#Lockdown4: #lockdown4point0- pic.twitter.com/ffozvn2fu9

— Itz RoyalSardar (@IRoyalsardar) May 13, 2020
Lockdown 4.0:
I ain't crying, you're crying: pic.twitter.com/1eBV54k2G9

— Anjali (@anjisays01) May 12, 2020
Differences b/w #lockdown 1-4. #Lockdown4 #LockdownExtended pic.twitter.com/Bw2imz3Wjn

— (@avi_Ak007) May 17, 2020
#lockdownextension#Lockdown4point0

Lockdown 3 to Lockdown 4 : pic.twitter.com/IiLV7lgJEi

— Memes Buffering (@ashishcasm) May 17, 2020
The lockdown 4.0 has been announced until 31st May with a considerable set of relaxations outside containment zones. The union government has permitted barber shops, salons and shopping complexes to open and has allowed interstate movement of passenger buses if the states between whom commute is to happen to end up with a mutual consensus for the resumption of bus services.
Air travel and metro rail services continue to stay stalled. The night curfew also remains in effect, which means that all non-essential travel will continue to be prohibited between 7:00 pm and 7:00 am.
Posted By: Aalok Sensharma