By Sneha Singh
Mon, 23 Jan 2023 04:09 PM IST
Minute Read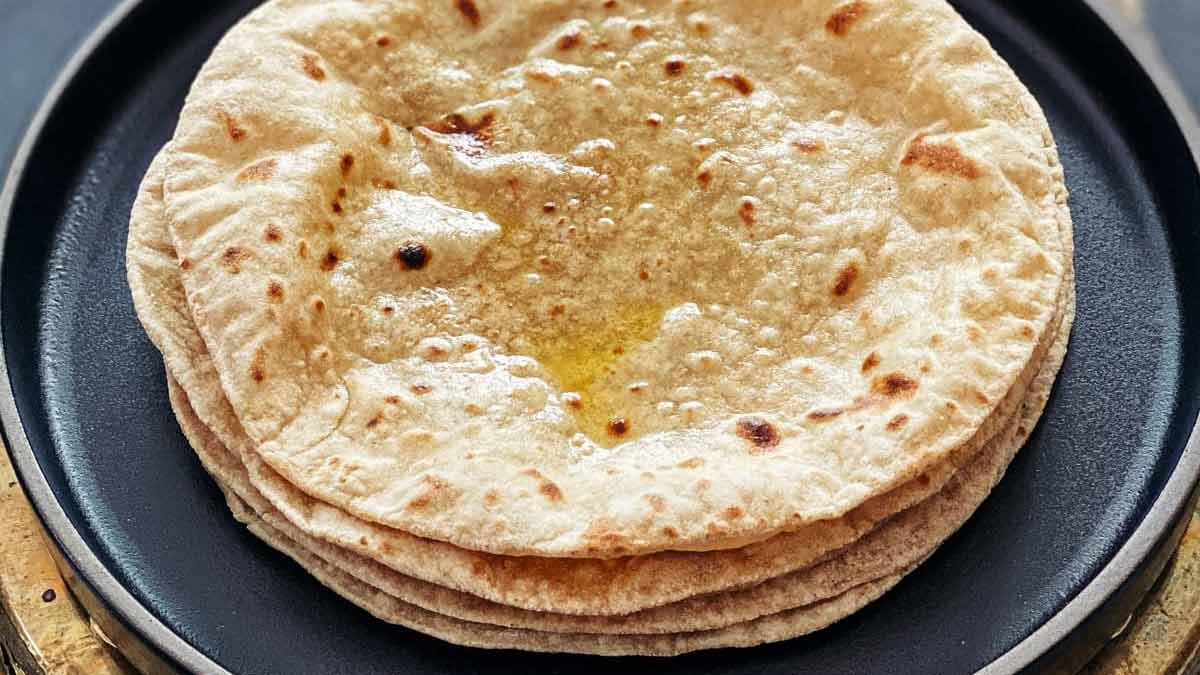 Electric Roti Maker: Roti is a staple food in every household. Be it for lunch or dinner we all prefer eating chapati or poori. If you are tired of rolling the dough until it gets round in shape then try your hands on roti maker machines. They can help you make round and fluffy chapati quickly without any effort. You just have to put the dough in the machine that's it. This kitchen appliance is best for working ladies and also if anyone is staying away from home. The electric roti maker machine creates less mess in the kitchen and ensures that the chapattis taste good and flavorsome.
Now making round roti is easy and breezy with the help of an electric roti maker. Preparing poori and chappatis in this roti-making machine can also cut down the gas bills thus, saving you money. Make quick soft and fluffy roti instantly while continuing your multi-tasking in the kitchen.
Read More: Roti Maker Machines
Read More: Roti Maker Machine
Electric Roti Maker
Roti maker machines are a great choice for your kitchen to make your cooking chores less tiring. Check out some best roti makers that are a great investment.
Prestige Roti Maker Machine comes with a granite nonstick coating. Designed to last longer this comes with an elegant look. You can easily control the temperature knobs for making a perfect roti.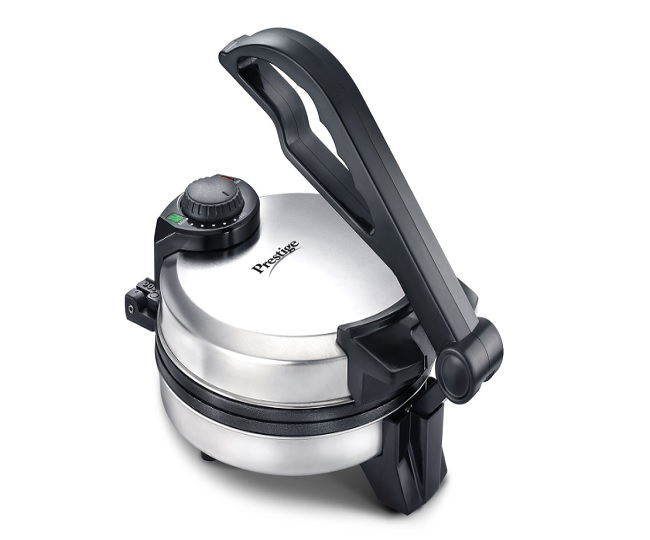 To ensure that the roti stays in the center this automatic roti maker has a unique curved surface. Safe to use as the body is reinforced with stainless steel to make this shockproof. Prestige Roti Maker Price: Rs 2,999.
This roti making machine from Libra is lightweight and handy. The strong and sturdy design comes with bakelite handles for smooth operation. Not only chapattis but can also make parathas,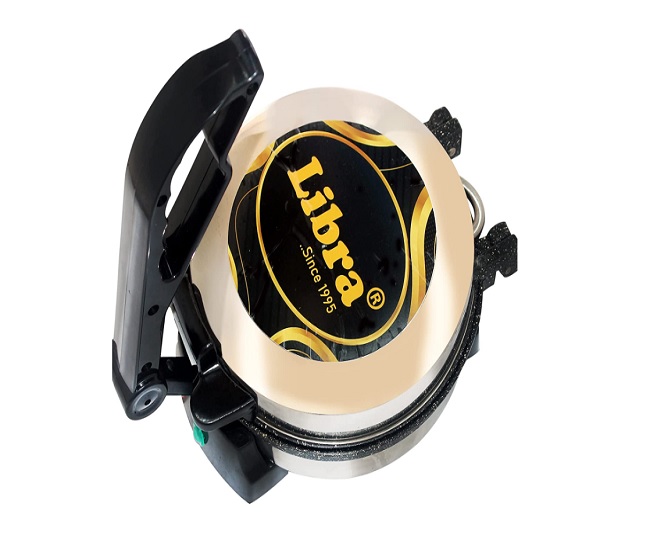 dosa, and even paneer tikkas in this versatile appliance. Since this machine is crafted of stainless steel you do not have to worry about rusting. The plates of the electric roti maker machine have superior quality outer plates. Libra Roti Maker Price: Rs 1,999.
This HOMESTUFF roti maker machine is ideal to make poori, khakra, papad, and chapati. The compact design also features double indicators lamp in order to save electricity. The easy grip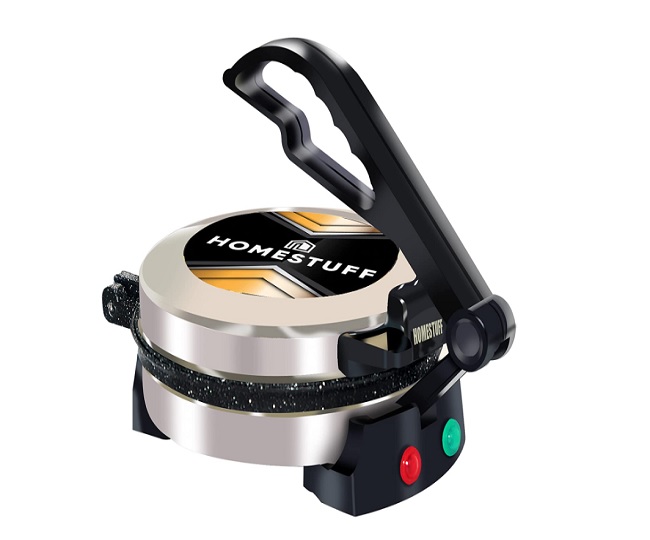 handle and revolutionary anti-fall plate design make this the best electric roti maker. This is extremely easy to clean and use. HOMESTUFF Roti Maker Price: Rs 2,299.
This Prestige roti maker machine is equipped with a nonstick coating to prepare rotis without any hassle. As it comes in a compact design, this electric roti maker can fit into your kitchen easily.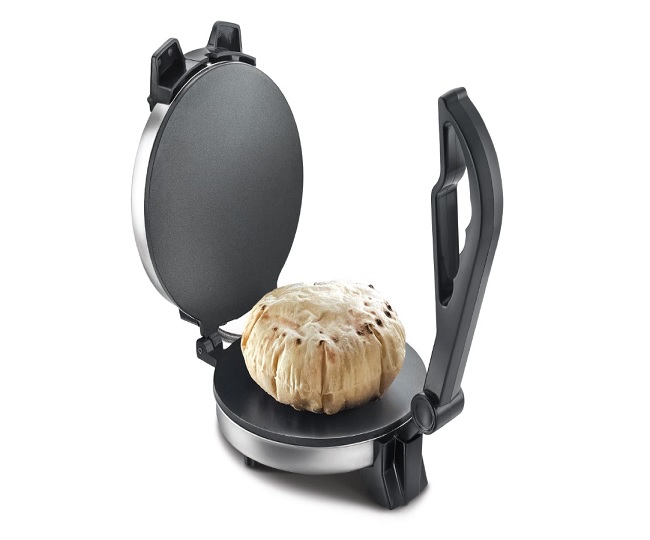 Making round and fluffy roti is easier and quicker. The adjustable temperature knob provides great safety while using this machine. Prestige Roti Maker Price: Rs 2,223.
Reduce your manual labor while making chapati with this Achanchi roti maker machine. The nonstick coating makes sure that the dough doesn't stick to the base and comes out easily. Even after using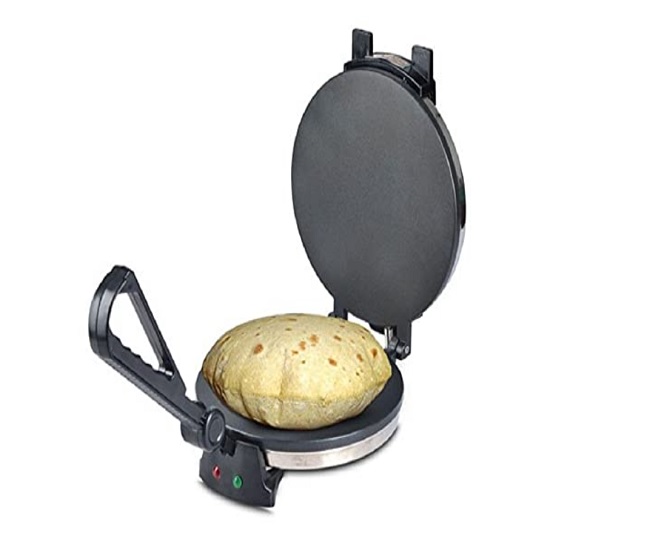 the appliance the outer body stays cool so that you can easily touch it. Achanchi Roti Maker Price: Rs 2,659.
FAQs: Electric Roti Maker
1. Which roti maker is best?
Prestige PRM 3.0 900-Watt Roti Maker

Libra Roti Maker Electric Automatic

BAJAJ VACCO®Go-Ezzee Chapati
2. Is it worth buying an electric roti maker machine?
If you want to prepare round Rotis in quick time then get an electric roti maker machine.
3. Does roti maker consume more electricity?
The Roti maker machine consumes less electricity and gas.
4. Does roti maker save time?
Yes, roti make saves both time and energy.
Explore more options for electric roti makers
Disclaimer: Jagran's journalists were not involved in the production of this article. The prices mentioned here are subject to change with respect to Amazon.