By Sneha Singh
Wed, 25 Jan 2023 05:16 PM IST
Minute Read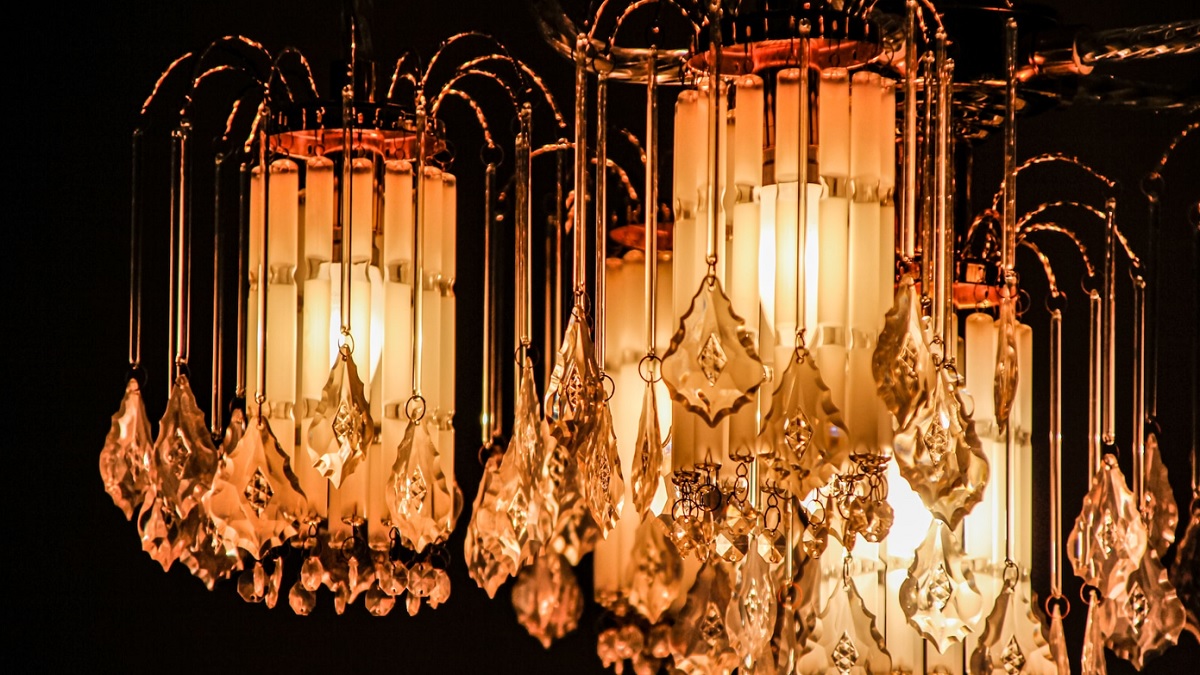 Chandelier For Living Room: The beauty and elegance of a chandelier light are unmatched by any other type of lighting fixture. A magnificent chandelier placed in the middle of your ceiling will serve as the room's focal point, bringing the space together and exuding elegance even when it is not in use. These chandeliers are designed to enhance your home decor. At times due to a shortage of space, we cannot place lamps and in this case chandelier for living room is a great idea as it not only beautifies the space but also takes less space.
Both online and offline are flooded with magnificent designs of chandelier lights that we can't stop purchasing for our living room. So, if you are also fond of these lights then getting one is the best investment for your home decor. The usage of an ideal chandelier for living room offers a calming atmosphere as well as a fashionable appearance. Guests can enjoy a warm environment and find inspiration thanks to the dimmable lights. There are many stylish chandeliers that are suitable for the living area.
Read More: 10 Best Center Tables In India


Chandelier For Living Room
To give your interior refined and eye-catchy chandelier lights are great ideas. Explore some of the finest ones today and enhance the look of your living area.
Discount4product Crystal Modern Chandelier
Check out this modern Chandelier for living room to create a subtle yet elegant interior. The glass material and LED bulb are designed with adjustable color temperature. If you have minimum space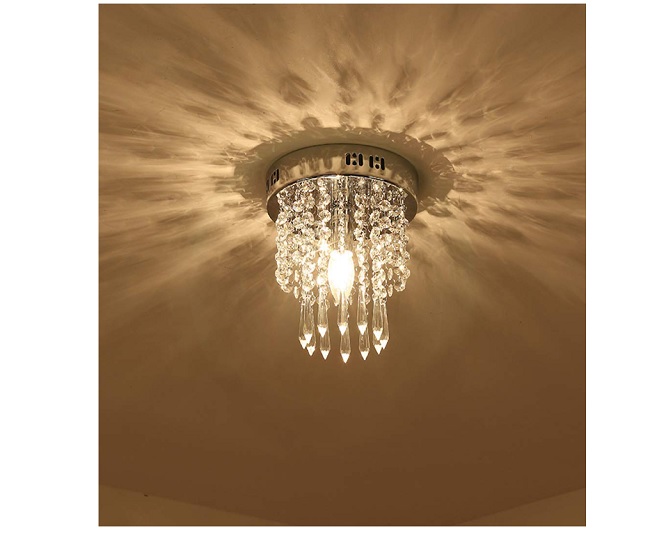 in your home, this can be a major problem and you should consider using these chandelier lights. The product dimension is 25L x 25W x 20H Centimeters. Chandelier Price: Rs 1,650.
CRYSTA WORLD Modern Chandelier
This rectangular shape modern chandelier light is versatile besides adding beauty and warmth to the room. Fixing it in a wall mount design will light up the area. It truly sparkles when it is on. The living room light looks fantastic and elevates your living room.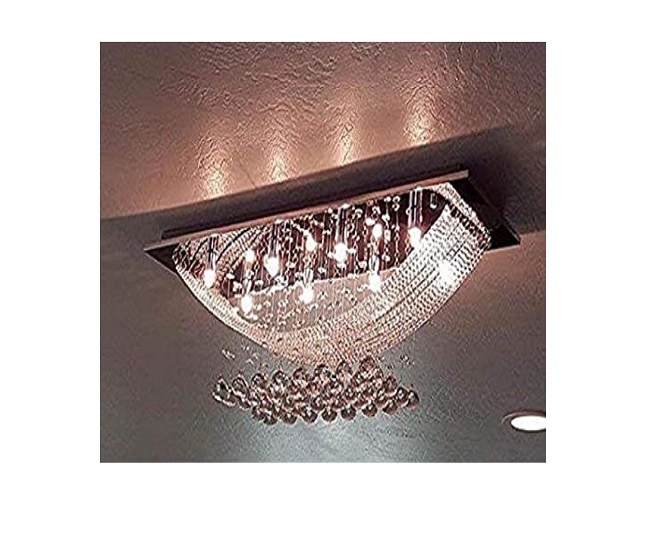 The Crystal Rain Drop designs look gorgeous when placed in the center of the living area. Chandelier Price: Rs 2,998.
World of Chandelier
A Chandelier for living room and dining room with a contemporary design will uplift the area. You will end up enjoying more versatility with this design. There are 8 light fixtures that are enough to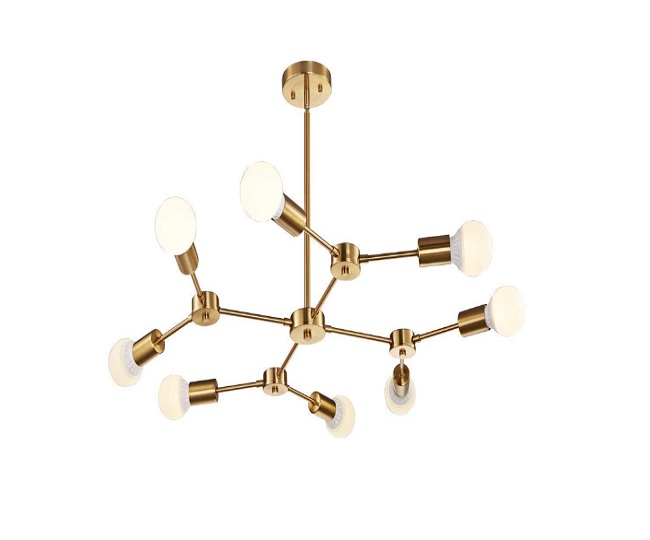 brighten up the area and make it look attractive. The color of the chandelier is golden. Chandelier Price: Rs 3,299.
Read More: 5 Table Lamps To Spruce Up Your Work And Study Desk
SINOMAN Portuguese Style Chandelier
Looking for an effortless way to rejuvenate your living area? Fixing these Chandelier lights is a good idea. The pendant design is something that looks unique and sophisticated too. This is not only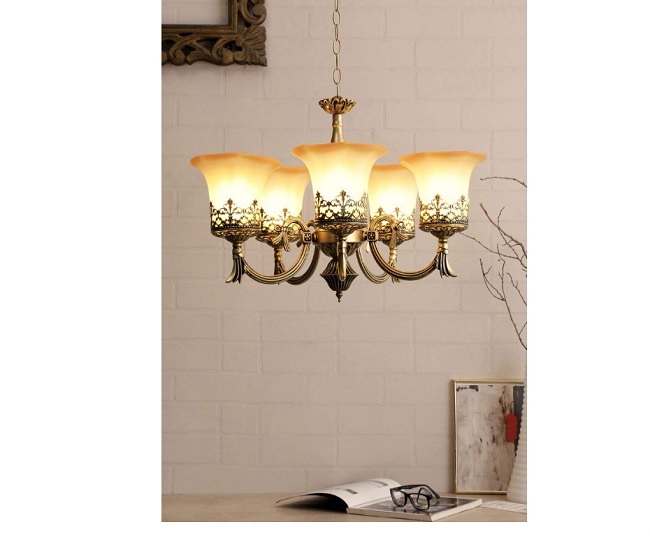 stylish but durable too lasting for years. These lights can be placed in the bedroom too. Chandelier Price: Rs 4,100.
D4P Crystal Modern Chandelier
The crystal modern chandelier for living room comes with 8 LED lights to lighten up the room so that you do not have to switch any other light. Making your area look mind-blowing this light is the finest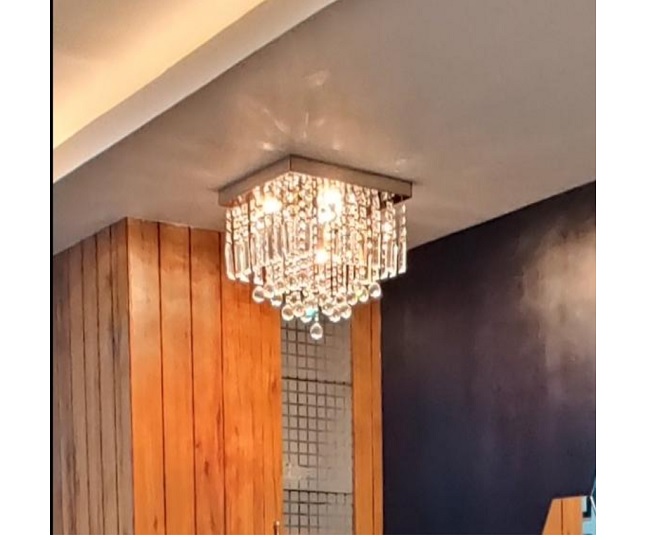 choice for hotels and restaurants too. Chandelier Price: Rs 9,500.
FAQ: Chandelier For Living Room
1. Is the chandelier for living room good?
Yes, a chandelier for living room is a great idea to give a soft glow and a warm environment.
2. How do I choose a chandelier light for my living room?
The three main factors when choosing a chandelier light for living room are size, the direction of light output, and control (dimming).
3. Do chandeliers for living room need electricity?
Yes, chandeliers for living room requires electricity
4. Which crystal is best for a chandelier?
K9 crystal is the best chandelier light.
Explore more options for chandeliers for living room
Disclaimer: Jagran's journalists were not involved in the production of this article. The prices mentioned here are subject to change with respect to Amazon.