By Sneha Singh
Updated: Tue, 24 Jan 2023 07:08 PM IST
Minute Read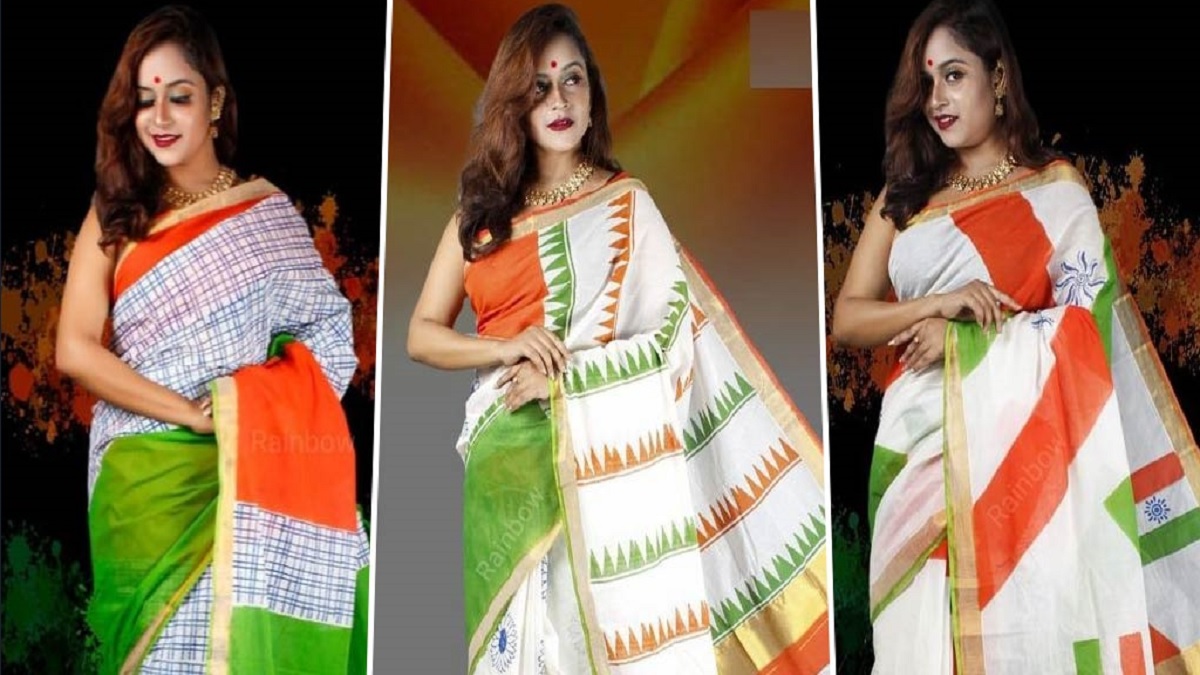 Republic Day 2023 Celebration: Everyone will be celebrating the 74th Republic Day in offices, schools, and colleges. Tricolour is the theme everywhere. Wear the saffron, white and green colours with full pride and enthusiasm.
White kurta, orange dupatta, and green leggings are what almost everyone will be wearing in the office. Why not try something different this Republic Day 2023? In all offices, streets, shopping malls, colleges, and everywhere around you can see beautiful decorations in tricolour. If you are in Delhi/NCR then watching the parade at India Gate is a must. Are you planning to go? If yes, then show the spirit by wearing the tricolour outfit at the 74th Republic Day Celebration.
For the office, celebrations pull out the best Indian outfit and look gorgeous with a statement style and stand out. Wear the best make-up and accessorize in a unique way with oxidized jewellery and tricolour bangleṣ. Let's make this Republic Day 2023 celebration both patriotic, fun and fashionable.
Read More: Banarasi Saree For Women
Republic Day 2023 Celebration
If you haven't decided what to wear and are still confused then check out our great ideas for Republic Day. Check out the last-minute dressing ideas and look outstanding.
This tricolour chiffon saree from Pemal is the top pick for the Republic Day celebration. You can wear this in the office or even while attending flag-hosting ceremonies in your society. This saree comes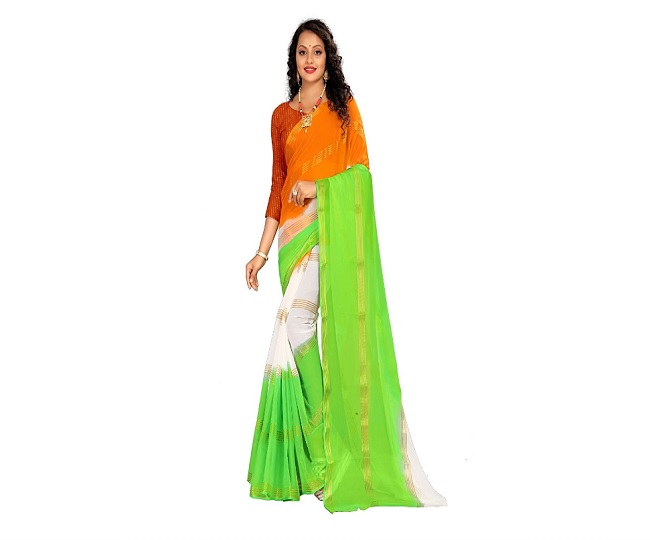 with an attached blouse piece. You can pair this saree with a white crop top too. You will rock this traditional look. Saree Price: Rs 649
For a simple and effortless look go for this BIBA Kurta. Crafted of Synthetic this kurta will give an elegant look. Pair this with a tricolour dupatta and white palazzo. If you want to play with your make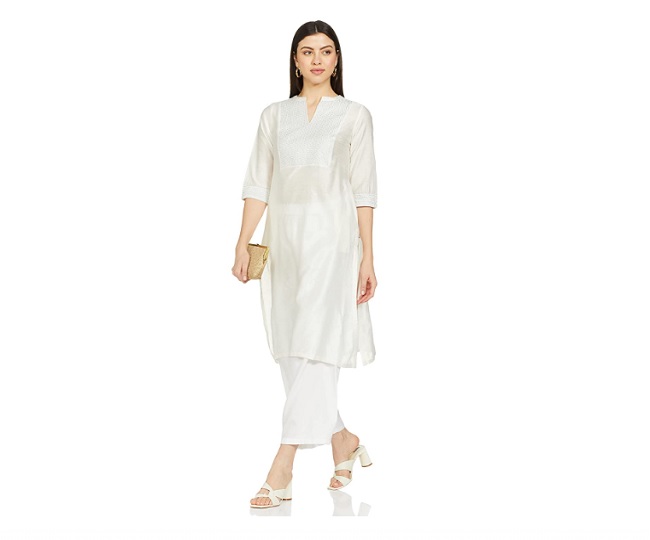 up then a tricolour eye shadow will work with both the outfit and the Republic Day celebration. Kurta Price: Rs 769.
Pay tribute to the nation by wearing this tricolour dupatta. You can pair this with a white Kurti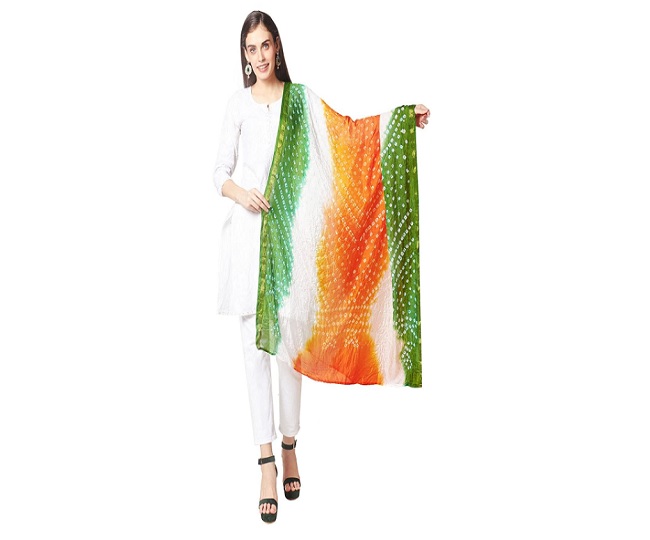 and jeans or with a full white suit. Accessorize with tricolour jewellery. Let's make this 74th Republic Day celebration both fun-filled and glamorous by showing our best traditional look. Dupatta Price: Rs 313.
Read More: Best Kurta For Women
Why not try something different this Republic Day? Those who wish to choose to wear a western outfit can go for this white t-shirt with a tricolour print. Designed with the slogan of Vande Mataram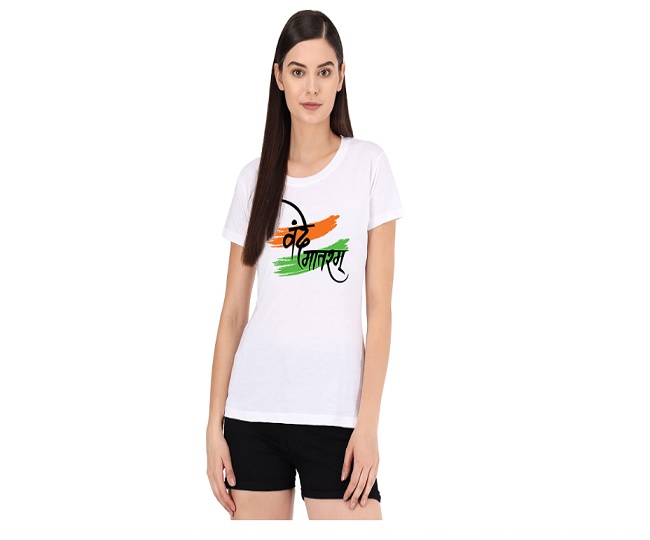 you can pair this with trousers or jeans. The t-shirt is crafted of 100% cotton. T-Shirt Price: Rs 350.
A truly unique salwar suit to wear on Republic Day 2023 celebration. This one is a top pick with the best fabric to provide you with the best comfort. The minimalist design complements the complete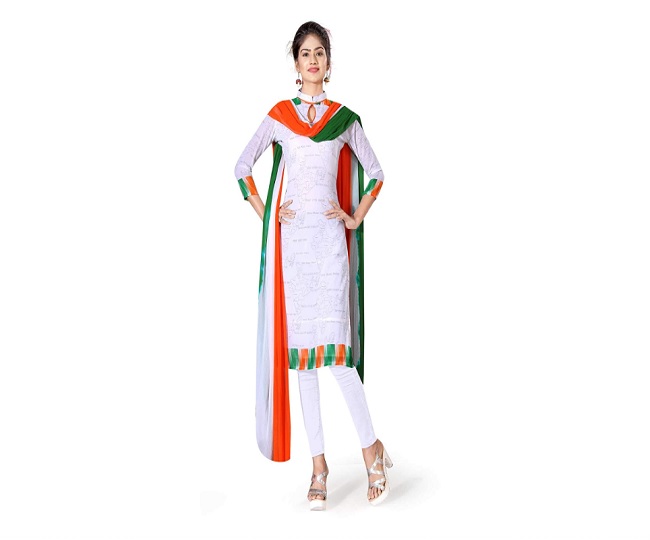 attire. Wearing this outfit can also make you win the tag for the best dress. Salwar Suit Price: Rs 785.
Republic Day 2023 Celebration: FAQ
1. How many years is Republic Day 2023?
India will celebrate its 74th Republic day 2023.
2. What is the history of Republic Day?
Republic Day is celebrated to mark the Constitution of India.
3. How to celebrate Republic Day 2023?
Wearing tricolour dress and watching the parade is the best way to celebrate the Republic Day 2023.
4. Who first started Republic Day?
Republic Day came into effect on 26 January 1950.
Disclaimer: Jagran's journalists were not involved in the production of this article. The prices mentioned here are subject to change with respect to Amazon.