Zuckerberg announces launch of 'Facebook Shops': How will it work and what it means for e-commerce world
Publish Date: Wed, 20 May 2020 02:36 PM IST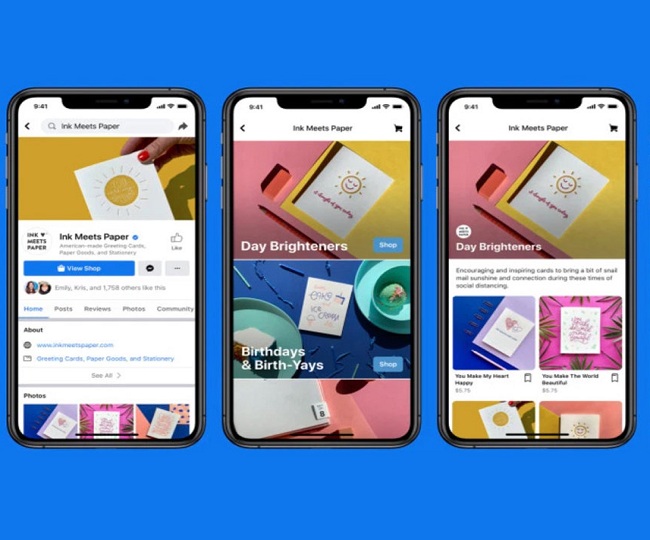 New Delhi | Jagran Tech Desk: Mark Zuckerberg-led Facebook is set to step up its drive into Amazon and Wallmart-dominated e-commerce world, with the announcement of the launch of a new feature, 'Facebook Shops', which gives small businesses tools to create online stores on Facebook and Instagram.
The latest move has brought the light right in front of the small and medium businesses worldwide, currently stuck in tunnel of COVID-19 pandemic which continues to threaten their existence in itself.
The Facebook Shops feature, which Facebook CEO Mark Zuckerberg rolled out during a Facebook Live on Tuesday, is 'designed to improve the online shopping experience' during the ongoing COVID pandemic. The launch of the feature is expected to translate into users spending more time with Facebook and bringing more revenues with advertisement consumptions to the sixth most-valued company in the world.
Zuckerberg claimed, while making arguably the biggest announcement for Facebook's growth this year, that there are 160 million small businesses which use its platform already to market their products. Thus, Zuckerberg said, he believes that Facebook Shops could become the primary online presence for these businesses.
How will 'Facebook Shops' work?
Zuckerberg said that Shops will be available on Facebook pages and Instagram profiles of specific businesses.
Individual businesses can customise the look of their shop with a cover image and accent colours. Items that are available for purchase will appear in the shop.
The full store collection can be browsed, and a user can save products if he/she wants to place an order either on the business' website or the Facebook. The payment and delivery credentials can be saved by clicking on the 'Shops' icon, which can then be used for the shopping from the stores of your choice.
According to an NBC News report, after the primary launch on the feature primarily on Facebook's interface, California-based company will launch Instagram Shop, a service that will allow the platform's users to browse products from their favorite brands and creators in one tab.
What does it mean for the e-commerce in India and beyond?
After Technology, the e-commerce sector is second most valuable arena of business in terms of market capitalisation, with mighty players such as Amazon, Wallmart and Alibaba in fray. In 2019, according to Oberlo.com, of the total global retail sales, 14.1 percent came from online purchases.
In India, as per a statistica analysis, the e-commerce market base is projected to rise by over 300% to $200 billion by 2028.
Unlike, Wallmart-owned Flipkart and Amazon, Facebook has vast user base not just in metros and tier-2 cities but also in country's far reaching hinterland, which can effectively make its cards ace above its competitors in the e-commerce world, given its distinct focus on small businesses with extensive local access in particular.
Posted By: Abhinav Gupta