Publish Date: Thu, 23 Apr 2020 12:13 PM IST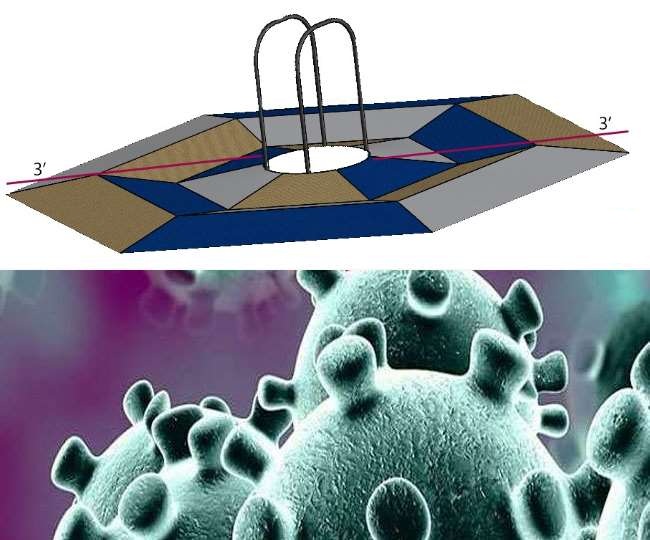 New Delhi | Anurag Mishra: IIT-BHU students and professors have taken several initiatives to combat the coronavirus. One of the important initiatives among them is the manufacture of social rim umbrellas. The institute claims that this umbrella is very helpful in following social distancing properly. Professor PK Mishra of Malaviya Entrepreneurship Promotion Center of IIT-BHU says that this umbrella is named 'Social Rim', adding it is a demand of the current times.
Design
Professor P.K. Mishra said that the radius of this umbrella designed by an incubation company is three feet, which will help in maintaining social distance. It has a disc shape so that the distance of at least three feet is maintained. It is worn on the shoulder over your clothes. If two people are face to face with this umbrella, the distance between them will be at least six feet, which is sufficient distance to avoid the coronavirus.
The social rim is created by Nishant Krishna and Gaurav Kedia of Incubate Tech Machinery & More Pvt Ltd of Malaviya Entrepreneurship Promotion Center.
Uses:
PK Mishra of IIT-BHU says that two things are most important for preventing the spread of coronavirus-- first sanitization and second social distancing. Following the norms, IIT incubator Jeetu Shukla of BHU's Malaviya Entrepreneurship Promotion and Innovation Center has developed the device that can be used to sanitize the entire body.
This is an automatic device that can be installed anywhere. As soon as a person stands in front of this device, the sensor installed in it will spray 10-15 ml sanitizer for 15 seconds to sanitize the person, so that the person's full-body, clothes, shoes, etc. will be sanitised. This device can be used at any place where the movement of people is high. Any person who enters the area/ building can sanitise before entering offices.
Prof. Pk Mishra of Malaviya Entrepreneur Promotion and Innovation Center, IIT-BHU says that this device is made according to the needs of prevailing situation amid coronavirus.
IIT-BHU distributes sanitiser
IIT BHU has taken another initiative. Under this, sanitizers are being made and distributed in different places in the institute. Following the guidelines set by the World Health Organization, IIT (BHU) is working to provide quality and cheap sanitizers under the guidance of Dr. Ramanathan, Assistant Professor in the Department of Chemistry and Dr. Marshall, Assistant Professor of School of Biomedical.
Technique can help in reuse of PPE kits
The scientists at IIT BHU have also developed a technique in which PPE kits can be reused. Usually, the PPE kit has to be destroyed once it is used. But IIT-Varanasi scientist's sterilizing method will help in the reuse of PPEs. Till date, this method is used to disinfect equipment used in operation theaters.
Dr. Marshall Dhayal, Associate Professor of Biomedical Engineering at IIT BHU has prepared it along with team members Ashish Kumar and Juhi Jaiswal. According to the scientists, at present, they have researched the raincoat with this system, which has succeeded in removing the bacteria.
Posted By: James Kuanal