Audible partners with Rajpal & Sons for expansion in Hindi audiobooks for its listeners
Publish Date: Tue, 03 Mar 2020 05:46 PM IST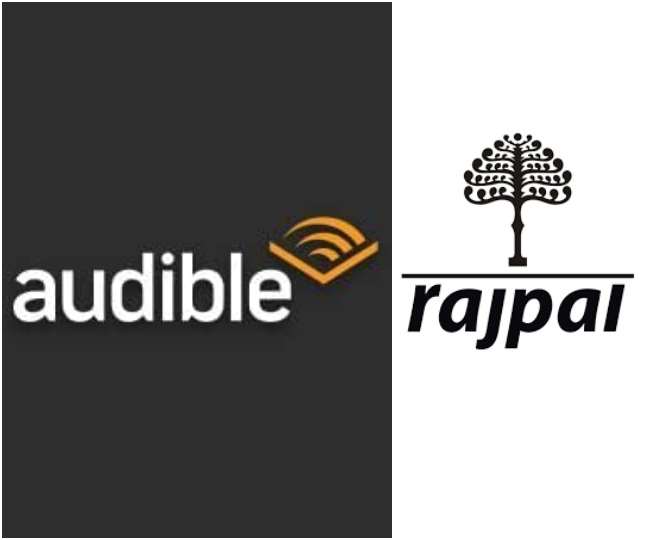 New Delhi | Jagran Technology Desk: To further reinforce its commitment to break down the barriers in delivering a large number of stories to the largest potential audience or readership, the world's largest audiobooks platform 'Audible', today, announced a special contract with one of India's oldest and largest literary publishers Rajpal & Sons.
In this way, people using Audible will reach more than 230 titles of classic and contemporary Hindi literature, self-development, poetry and translation. The booklist has more than 150 best sellers and also has English, Hindi and Urdu titles.
The contract marks another milestone of 'Audible', which debuted in 2018 in India and reached two million titles. The 'Audible' also has exclusive titles of over 700 Indian authors. This strategic move will not only provide audiobooks in multiple languages to its listeners but will also demonstrate Audible's ability to understand and cater to the diverse Indian market.
A strong bench of best-selling authors, such as Divya Prakash Dubey, Anand Neelkanthan and Anu Singh, is already available on Audible. However, this partnership will further strengthen this bench. It includes classic works of literature like Vishnu S. Khandekar, Khushwant Singh, R K Narayan and contemporary writers such as Ashok Kumar Pandey, Manisha Kulshrestha, Bhagwant Anmol will also be added. Apart from this, the company has recently launched an app for India, named 'Audible Listen'. This app will provide free access to over 60 exclusive audio shows, which have been voiced by Indian celebrities.
On the other hand, Rajpal & Sons is known as the publisher of timeless classics and is also known for its translations of Indian and international literature. It also includes the Hindi translation of the award-winning title Ru de Boutique Obscure (English translation: Missing Person), which is authored by Nobel Laureate Patrick Modiano.
Some popular Hindi titles include - Dinkar's Kurukshetra, Amrita Pritam's My Dear Stories, Prakash Pandit's popular poetry series, Mohan Rakesh's Ashad Ka Ek Din and Kamleshwar's Kitne Pakistan. This diverse offering gives Indian listeners the opportunity to choose the books they want to experience, without any limit to languages.
Apart from this, Audible has tied up with Manjul Publications for some special Hindi titles. Manjul Publications is a pioneer in the field of self-development. It has translations of Joseph Murphy's The Power of Your Subconscious Mind, Yuval Noah Harari's Sapiens, The Answer by Alan and Barbara Pease, and Tipping Point by Malcolm Gladwell.
Some books have also been translated into Audible, with Hindi translations of internationally bestselling books such as Paulo Kolho's The Alchemist and Adultery.
Shailesh Savlani, Audible's country head, says, "We are thrilled to partner with Rajpal & Sons, an Indian publishing company with a global tradition. We believe that this partnership will take our customers to the new world of Hindi stories. Not only will it have multi-acclaimed and quite popular stories written in Hindi, but there are also translations of popular English stories. This will help our non-English readers. At Audible we always keep customers paramount in all our initiatives and I am confident that this partnership will go far in the process of keeping our customers happy".
Pranav Johri, partner, Rajpal & Sons, said, "We are always looking for new ways for Indian stories to reflect our rich culture to a global audience and a partnership with Audible, a leading company in its field." It allows us to do this. Indian readers can expect exclusive fiction and non-fiction audiobooks on Audible's high quality and usage-friendly app. Our endeavor has always been that reading materials reach a wide audience in terms of geographical spread and reach their convenience in various mediums such as print, digital and audio. Our association with Audible is an important step in this direction. '
Audible is a subsidiary of Amazon.com, Inc. and a leading provider of premium digital spoken audio content. It offers customers to improve and enrich their lives every day. Audible was created to highlight the power and utility of emotional music and oral expression. The company was founded in the United States in 1995 and has its digital storefront in audible.co.uk, audible.de, audible.fr, audible.com.au, audible.co.jp, audible.it, audible.ca and audible.in are included.
In December 2019, Audible launched 'Audible Listen' app, which is for India only and is available free on Android app store. It provides hundreds of hours of entertainment, knowledge and learning with many of India's favourite celebrities and personalities. Audible Listen offers more than 60 original and exclusive series, which are in Hindi and English.
Posted By: Talib Khan