Amazon Echo Show Review: Alexa Now Has A Face
Publish Date: Thu, 13 Jun 2019 11:03 AM IST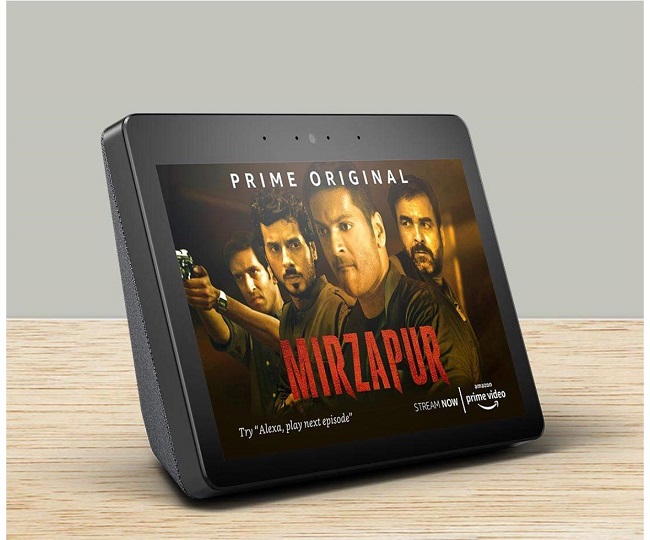 New Delhi | Siddhartha Sharma: Amazon's Echo with Amazon Alexa has been an IoT device that fancied its way to many homes in India. Professionals love it for their calendar management and kid's just love to goof around with Alexa. After a series of products across a price range, Amazon finally introduced the Echo Show in India, and this one comes with an HD Display.
The Amazon Echo Show is not just your regular smart home speaker. At its heart, you do find a small speaker though, but the charm of this smart assistant is the big display that it offers. Smart home enthusiasts would love the Echo Show simply because it is not a boring looking smart speaker but can be a centre piece of your living room as well. The Echo Show has also capabilities that go beyond just voice commands for users to listen to music or set the alarm. We have been using the Echo Show for a while now and here's our take on this next generation Alexa-powered device for your home.
Specifications:
Everyone loves to know the specifications of a device before they buy one, so before we tell you our experience let's give you a quick specs round-up of the Echo Show. Priced at ₹ 22,999, the Alexa-powered Echo Show sports a 10-inch HD display that's also touch responsive. It features a display that offers a 1280 x 800, 720p HD display resolution. For audio, the Echo Show has dual 2-inch neodymium drivers with a passive bass radiator. Users also get personalised equaliser settings on the Echo Show which many would like. It weighs 1765 grams and also sports a 5MP front camera for video calling. The Echo Show uses an Intel Atom x5-Z8350 processor for advanced technology and processing capabilities.
What So Special?
If you are familiar with the Amazon Echo Spot, you will find yourself in familiar territory with the Echo Show. The basics between the two devices also remain similar. The biggest difference is the size and lack of a circular display.
The Echo Show is fairly easy to set up. All you need is a wi-fi connection and an Alexa app on your phone to get started. It offers you a stationary tablet experience and the display is optimised for the content that it is playing. It's fairly easy to control brightness, settings, notifications, etc right off the display of the Echo Show. Not just voice commands but you can also browse the internet and also play videos for the latest news, cricket scores and even your Prime Video account on the Echo Show.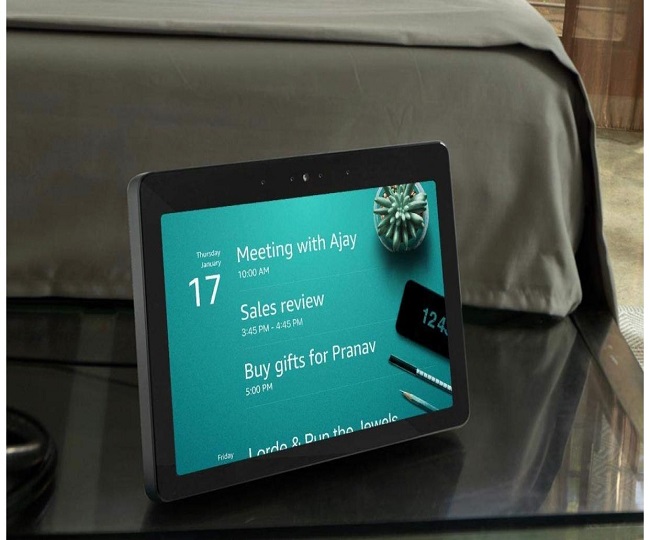 It is also enabled with 15,000 skills and since it is an AI based voice assistant, it is constantly learning from your daily use pattern. The 5MP camera is useful for making video calls to friends and family. The only catch is that it can do it on Skype, the Alexa app, an Echo Spot or an Echo Show. Voice calling and messaging is also supported by compatible Echo devices.
Another interesting thing is that whenever you glance at the Echo Show, it will pop out interesting updates for you. It can be a joke, can also be breaking news that you might be interested in, or just recommending you music that you may like. This was interesting since it now allows you to interact with your smart speaker more intuitively since you always have a visual to watch. This is helpful since for most of your tasks, what Alexa tells you through voice is also visually depicted on the display of the Echo Show.
Verdict:
The Echo Show is near the cusp of merging smart home speakers with a display oriented information device that can entertain, engage and immerse you into a singular ecosystem. Smart home speakers are popular but are still not as common as one may think. It makes great sense for people who are invested in a smart home ecosystem or have smart appliances at their homes like smart lights, plugs, security cameras, A/Cs and TV.
This is also a device for people to upgrade too if they are already using the Echo Plus and now want something more dramatic. Amazon's Echo Show is not a smart home speaker for everyone, considering the ₹ 22,999 price tag, but it sure is one smart device to own for the enthusiast.
(Disclaimer: The views, thoughts, and opinions expressed in the text belong solely to the author, and not necessarily to the organisation.)
Posted By: Aalok Sensharma