'West Bengal govt not allowing migrants' trains to reach state, it's injustice': Amit Shah to Mamata Banerjee
Updated: Sat, 09 May 2020 12:58 PM IST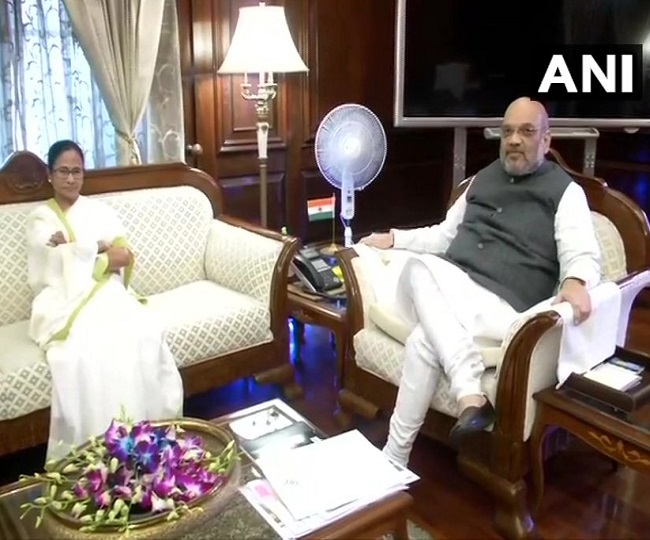 New Delhi | Jagran News Desk: Union Home Minister Amit Shah on Saturday said that the West Bengal government is not allowing trains with migrants to reach the state, adding that it may further create "hardship for the labourers".
In a letter to West Bengal Chief Mamata Banerjee, the Home Minister said that the Centre is not getting the 'extended support' from the state, calling it "injustice" to the migrant workers.
"But we are not getting expected support from the West Bengal. The state government of West Bengal is not allowing the trains reaching to West Bengal. This is injustice with West Bengal migrant labourers. This will create further hardship for them," Shah wrote in his letter to Banerjee, as reported by news agency PTI.
Catch all the LIVE updates on coronavirus pandemic here
Accusing the state government of not allowing the 'Shramik Special' trains to reach the state, Shah told Banerjee that the Centre has facilitated more than two lakh migrants to reach home, adding that migrants from West Bengal are also eager to reach to their native villages.
Soon after Shah's letter to Banerjee, the West Bengal government allowed eight special trains to be run to bring back migrant workers who wish to return to the state.
This is the latest instance of allegations and counter-allegations via letters between the Centre and the West Bengal government that has been going on since the start of the coronavirus pandemic.
The central government has accused the state government of covering up deaths related to the virus and strategies that are counterproductive to containing the virus.
Also Read | 'Only severe cases will be tested': Govt changes policy for hospital discharge of coronavirus patients
However, the West Bengal government, in counter-allegation has accused the Centre of showing the Mamata Banerjee in poor light, saying the central government is trying to spread the "political virus" in the state.
Tirnamool Congress' (TMC) Derek O'Brien in a video conference had earlier termed the efforts of the Home Ministry created Inter-Ministerial Central team, formed to assist states in their fight against the dreadful coronavirus.
Also Read | 'What after May 17 and how'?: Sonia Gandhi questions govt's strategy after coronavirus lockdown
Meanwhile, the IMCT team leader for Kolkata and Howrah, Apurva Chandra had earlier in his letters to West Bengal alleged an attempt to block his team's efforts in the state and had also called for greater transparency in the state's fight against the novel infection. The IMCT also questioned the COVID-19 death panels formed by West Bengal which under-reported the deaths caused by the virus, which later prompted a revision of the death toll.
(With inputs from agencies)
Posted By: Aalok Sensharma