Amid nationwide outrage, Jaya Bachchan demands 'mob lynching' of Hyderabad vet rape-murder accused
Updated: Mon, 02 Dec 2019 12:48 PM IST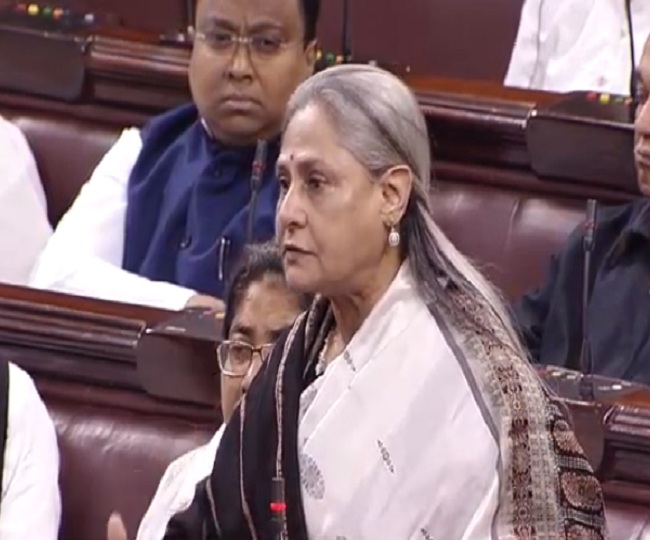 New Delhi | Jagran News Desk: While protests are being held across the nation over the horrific rape and murder of a 25-year-old woman veterinarian in Hyderabad, the issue rocked both the Houses of the Parliament, with lawmakers raising questions on the safety of women in the country and demanding harsh punishment against the culprits in the case.
Samajwadi Party MP Jaya Bachchan demanded strictest punishment for the accused in the heinous crime and went on to suggest that they be lynched in full public view.
"These types of people (the rape accused in the Telangana case) need to be brought out in public and lynched," Bachchan said in the Upper House.
"I think it is time the people now want the government to give a proper and a definite answer," she added.
#WATCH "People now want Govt to give a definite answer. These type of people (the accused in rape case) need to be brought out in public and lynched," Rajya Sabha MP Jaya Bachchan on rape & murder of woman veterinary doctor in Telangana pic.twitter.com/HFNjUHtSHB

— ANI (@ANI) December 2, 2019
Rajya Sabha Chairman M Venkaiah Naidu also condemned the heinous act and said that a "political will" and "changed mindset" was required to deal with the evil.
"What is required is not a new bill. What is required is political will, administrative skill, change of mindset and then go for kill of the social evil," he said.
Congress leader Ghulam Nabi Azad said that there was need to take a stand together to deal with such crimes. "No government or leader would want that such incident occurs in their state.This problem can't be solved by just making laws. To eradicate such acts, there's a need that we take a stand together against such crimes," he said.
AIADMK MP Vijila Sathyananth demanded death penalty against the four accused in the case and said that "justice delayed is justice denied".
"The country is not safe for children and women. 4 people who committed this crime should be hanged till death before Dec 31. A fast track court should be set up. Justice delayed is justice denied," she said.
Earlier today, Bharatiya Janata Party lawmaker Prabhat Jha gave a Zero Hour Notice in Rajya Sabha over 'increasing crime against women-specially the incident in Hyderabad'.

Aam Aadmi Party MP Sanjay Singh gave Suspension of Business Notice in the Upper House under rule 267, over 'increasing crime against women and Hyderabad incident'.

Trinamool Congress, TMC, Revolutionary Socialist Party (RSP), Shiv Sena, Congress have also given an Adjournment Motion Notice in Lok Sabha over "gang rape and killing of girls in Hyderabad".
The woman, who worked in a state-run hospital, was raped and killed by the four accused, all lorry workers, on the city outskirts. Her charred body was found under a culvert in Shadnagar near Hyderabad on Thursday and the accused arrested a day later.
The four men, all lorry workers, aged between 20 and 24, were arrested on Friday for allegedly raping and killing the woman had been remanded to judicial custody by a court for 14 days on Saturday. Also, three policemen were suspended on charges of negligence of duty.
The incident led to massive protests in Telangana and an outpouring of rage and grief across the country.
Telangana Chief Minister K Chandrasekhar Rao on Sunday announced setting up of a fast-track court for expeditious trial and assured all help to her family.
Posted By: Abhinav Gupta