Rajasthan Crisis | 'Speaking good English and being handsome isn't everything in politics': Ashok Gehlot's dig at Pilot
Rajasthan Crisis: The Rajasthan Assembly Speaker has issued notice to 18 dissident MLAs of the Rajasthan Assembly and has asked them to respond by Friday.
Updated: Wed, 15 Jul 2020 04:32 PM IST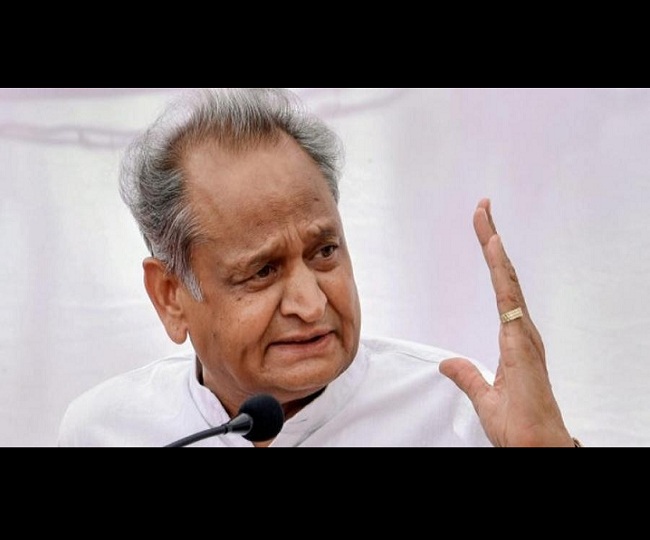 New Delhi | Jagran News Desk: After sacking him as the Deputy Chief Minister and Rajasthan state unit chief on Tuesday, the Congress on Wednesday initiated a move to disqualify Sachin Pilot and other rebel MLAs over anti-party activities. The Rajasthan Assembly Speaker has issued notice to 18 dissident MLAs of the Rajasthan Assembly and has asked them to respond by Friday.
With this, the Congress is aiming to bring down the majority-mark for the floor test. In the notice, Sachin Pilot and his supporters have been asked why they should not be disqualified for anti-party activities and for skipping two meetings of Congress legislators.
Sachin Pilot is likely to address the media today. This will be his first press briefing after the Rajasthan political turmoil started last week. Congress on Tuesday, removed Sachin Pilot from the posts of Rajasthan's deputy chief minister and the party's state unit chief. The decision came after Pilot skipped the legislature party meeting for the second straight day.
Meanwhile, hours after he praised Rajasthan rebel Sachin Pilot, the Congress also suspended its senior leader and former national spokesperson Sanjay Jha "for anti-party activities and breach of discipline".
Here are the LIVE Updates from Rajasthan political crisis:
4:00 pm: We've seen Sachin Pilot's statement that he won't join BJP. I'd like to tell him that if you don't want that, then immediately come out of the security cover of BJP's Haryana govt, stop all conversations with them & come back to your home in Jaipur: Randeep S Surjewala, Congress
3:30 pm: Speaking good English, giving good bytes and being handsome isn't everything. What is inside your heart for the country, your ideology, policies, and commitment, everything is considered: Ashok Gehlot, Rajasthan Chief Minister
3:00 pm: I have been in politics for 40 years, we love the new generation, the future will be theirs. This new generation, they have become central ministers, state presidents if they had gone through what we did in our time, they would have understood: Ashok Gehlot, Rajasthan CM
2:30 pm: Horse trading was being done in Jaipur, we have the proof. We had to keep people at a hotel for 10 days, if we had not done that, the same thing that is happening in Manesar now would have happened back then: Ashok Gehlot, Rajasthan Chief Minister
2:00 pm: AICC has decided to dissolve all the District Congress Committees and Block Congress Committees of Rajasthan Pradesh with immediate effect. The process of formation of new committees will begin soon: Avinash Pande, Rajasthan Congress In-charge
12:00 pm: Rajasthan: Congress party puts notice at MLA Hemaram Choudhary's residence in Gudamalani, Barmer, for not attending the recent Congress Legislative Party meetings. He has to respond to the notice within 2 days.
11:30 am: Sachin Pilot was made an MP, a Central Minister, Rajasthan Party Chief & Deputy CM, what is his age? He is still young, he should have some patience. His actions have been against the party discipline. These youngsters do not have patience: Digvijaya Singh, Congress
10:40 am: May God give Sachin Pilot wisdom&he doesn't try to topple govt. He should admit his mistake. Doors were always open for him for talks, even today. But, now he seems to have moved ahead of all this, so these things don't matter now: Rajasthan Congress in-charge Avinash Pande to ANI
10:25 am: Notice issued to Sachin Pilot&18 other party members, for not attending Congress Legislative Party meetings. If they don't respond within 2 days, then it will be considered that they are withdrawing their membership from CLP: Rajasthan Congress in-charge Avinash Pande.
9:30 am: I'm not joining BJP: Sachin Pilot to ANI
9:10 am: Rajasthan Assembly Speaker sends disqualification notice to Sachin Pilot and 19 other rebel MLAs for anti-party activities.
9:00 am: Former Rajasthan Deputy Chief Minister Sachin Pilot is expected to address a press briefing today, where he will likely lay out his plans for the future.
8:45 am: The BJP is likely to hold a crucial meet today in Jaipur in wake of the ongoing political crisis in Rajasthan. According to media reports, the meeting is expected to start with the arrival of senior party leader and ex-Chief Minister Vasundhara Raje.
8:30 am: Congress national general secretary and Rajasthan in-charge Avinash Pande dissolve the party's state executive and all departments and cells of the Rajasthan Pradesh Congress Committee (RPCC).
8:00 am: Sachin Pilot make changes to his Twitter after Congress on Tuesday removed him from the post of Deputy chief minister and state unit chief. Now Pilot identifies himself as MLA from Tonk Assembly and Former Minister of IT, Telecom and Corporate Affairs.
Posted By: Talib Khan