Rajasthan Crisis: Sachin Pilot sacked as Deputy CM, state Congress chief after Congress fails to placate rebel leader
Earlier, The CLP meeting put forward a proposal to remove Sachin Pilot as the state president and to expel rebel MLAs.
Updated: Tue, 14 Jul 2020 02:52 PM IST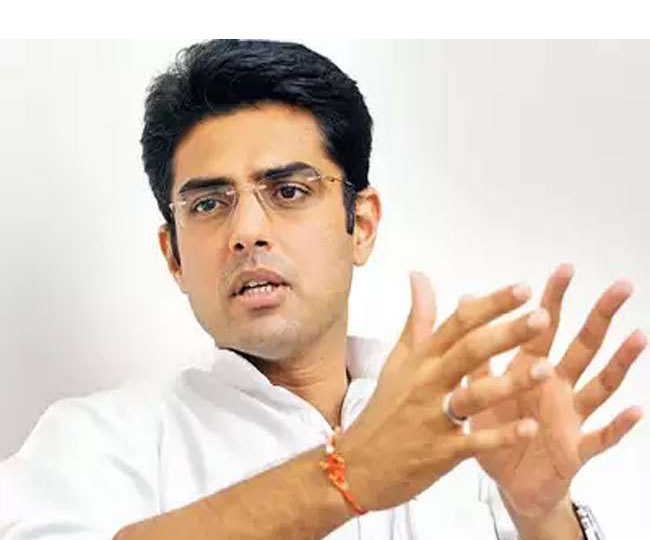 New Delhi | Jagran News Desk: Sachin Pilot, who declared open revolt against Rajasthan Chief Minister Ashok Gehlot two days back, was on Tuesday removed as the deputy chief minister of the state, Congress leader Randeep Surjewala announced. Pilot was also sacked as the Pradesh Congress Committee chief with Govind Singh Dotasra taking over the office.
Along with Pilot, Vishvendra Singh and Ramesh Meena - who joined him in his revolt against Gehlot's leadership - were also dropped as minister in the Rajasthan cabinet. Ganesh Ghogra has been made Rajasthan Youth Congress president while Hem Singh Shekhawat has been appointed as Seva Dal minister.
Surjewala said Sachin Pilot was "ensnared" by the BJP to bring down the Congress government in Rajasthan. "We have given Sachin Pilot many opportunities. He has been an MP and MoS and a state party president. I am sad that Sachin Pilot and some of his colleagues have fallen for a trap laid by the BJP. This is unacceptable," he said.
Surjewala said Sachin Pilot enjoyed the affection and blessings of Congress president Sonia Gandhi and was given political power at a young age. Yet, he and other ministers were trying to topple the state government as part of a BJP conspiracy.
Reacting to his ouster from the party posts, Pilot tweeted: "Truth can be disturbed, cannot be defeated." he also changed the designation on his Twitter account to MLA, Tonk.
Gehlot said that Pilot did not leave the party with any choice, adding that there was a conspiracy going on for the last six months. He accused the BJP of horse-trading, asserting that 30 MLAs cannot form a party as there is anti-defection law in India.
There are reports that Pilot is in regular touch with the BJP. He, however, on Monday denied reports of him joining the saffron party. Few reports also claimed that Pilot was planning to float his own party which will get outside support from the BJP.
The announcement came as Pilot continued to remain unmoved by the Congress' overtures as he was once again a no-show in the second legislature party meeting in which he was invited to "sort out the disputes".
Till Monday night, it was reported that attempts were being made by the top Congress leadership, including Rahul and Priyanka Gandhi along with party president Sonia Gandhi, to placate the seething rebel leader.
Standing firm in the power tussle with Chief Minister Ashok Gehlot, Pilot along with 18 other party MLAs skipped Tuesday meeting held at Jaipur's Fairmont Hotel where the Congress has holed up its 106 MLAs to avoid any untoward situation.
The CLP meeting today put forward a proposal to remove Sachin Pilot as the state president and to expel rebel MLAs. The proposal was sent to the AICC for approval. 102 MLAs present at the CLP meeting at Fairmont Hotel in Jaipur had unanimously demanded that Sachin Pilot should be removed from the party, ANI quoted Congress sources as saying.
It will now be interesting to see how numbers are stacked up in the 200-seat state assembly. The Ashok Gehlot camp has claimed that 109 MLAs, both of Congress and others, are in support of the government.
However, the Chief Minister's numbers may be barely above the majority mark of 101 after Pilot taking away at least 18 MLAs along with him. Pilot and his supporters claimed to have the backing of 30 Congress MLAs and some independents.
Meanwhile, the demand for a floor test by the members of the Sachin Pilot camp has gained momentum, with state Food and Civil Supply Minister Ramesh Meena saying this will make it clear how many MLAs are with the Ashok Gehlot government.
"Floor test should be conducted in the assembly. This will expose the claim that the Ashok Gehlot government has the support of 109 MLAs," Meena said on Tuesday.
On the other hand, the opposition BJP is discussing the current situation in the state. Party national joint general secretary V Satish, BJP state president Satish Poonia, leader of opposition Gulab Chand Kataria and deputy leader of opposition Rajendra Rathore met at the party state office today.
Posted By: Abhinav Gupta