Priyanka Gandhi meets Sonbhadra victims' families at Chunar fort
Updated: Sat, 20 Jul 2019 01:58 PM IST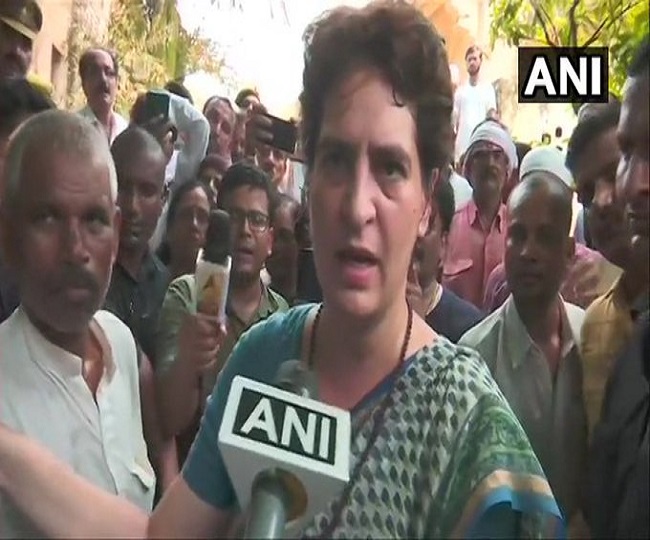 Mirzapur | Jagran News Desk: Congress leader Priyanka Gandhi Vadra finally met the family members of those killed in the shootout in Uttar Pradesh's Sonbhadra after they arrived at the guest house where she is detained. A UP official later said that she is "free to go anywhere".
"The families of those who were killed and injured have come from Sonbhadra to meet me on their own. Two relatives of the victims have come here to meet me but 15 others are not allowed to meet me, are being stopped. Even I am not allowed to meet them. I do not understand what the Uttar Pradesh government and police administration want," she said while speaking to media persons.
Earlier, she had spent the night at Chunar Guest House in Uttar Pradesh's Mirzapur and met some senior government officials and said she "won't leave without meeting" the affected families.
Senior officials of the district met her and tried to send her back to Varanasi and told her about the unavailability of air-conditioned room at the guest but Priyanka refused to move and told the officials that she won't leave without meeting the families of the victims.
"UP Government sent Varanasi ADG Brish Bhushan, Varanasi Commissioner Deepak Agrawal, DIG Mirzapur to tell me that I should leave without meeting the affected families. They are sitting here for the last hour. They have not explained why they have taken me in custody, they have also not handed me any papers," tweeted Priyanka.
She further said that her arrest was illegal in all ways.
ADG Varanasi, Commissnor Varanasi division and other senior Police & Govt officials leaving Chunar Qila at 1.15 am pic.twitter.com/ceyk4Rg2k0

— Priyanka Gandhi Vadra (@priyankagandhi) July 19, 2019
"According to my lawyers, my arrest is illegal in all ways. They have passed on the government's message to me that I can't meet the affected families," Priyanka tweeted.
Priyanka also said that she won't leave until she meets the affected families.
"I told them clearly that I did not come here to break any laws but came only to meet the affected families. I have told them I won't go without meeting the affected families," she said in another tweet.
Meanwhile, Congress chief spokesperson Randeep Surjewala on Saturday lashed out at Chief Minister Yogi Adityanath claiming 'jungle raj' in his state as Priyanka was taken by police to the Chunar Guest House in Mirzapur, where electricity and water supply were cut off.

Surjewala said that the BJP government wants to deport Priyanka from Uttar Pradesh.

"BJP Government fails to prevent Sonbhadra Massacre! BJP Govt fails to act against guilty! BJP Government illegally arrests Priyankaji for wanting to meet families! BJP Government cuts Electricity/Water of Chunar Guest House where she is held! BJP Government now wants to deport her from U.P! Jungle Raj!" Congress chief spokesperson wrote on his Twitter handle.
Rahul Gandhi also attacked the UP government and accused them of being "dictatorially inclined" and said Priyanka's "imprisonment" at Chunar guesthouse is an attempt to trample upon democracy.
"The imprisonment of Congress general secretary Priyanka Gandhi, on way to meet the families of Sonbhadra massacre victims, in Chunar guest house through the night without water and electricity by a dictatorially inclined UP government is an attempt to trample upon democracy," Rahul Gandhi said in a Facebook post in Hindi.
Earlier the week, 10 people were killed in Uttar Pradesh's Sonbhadra after the village chief Yagya Dutt and his associates, fired on a group of tribal farmers who had refused to give up 36 acres of land they had tilled for generations.
Posted By: Aalok Sensharma