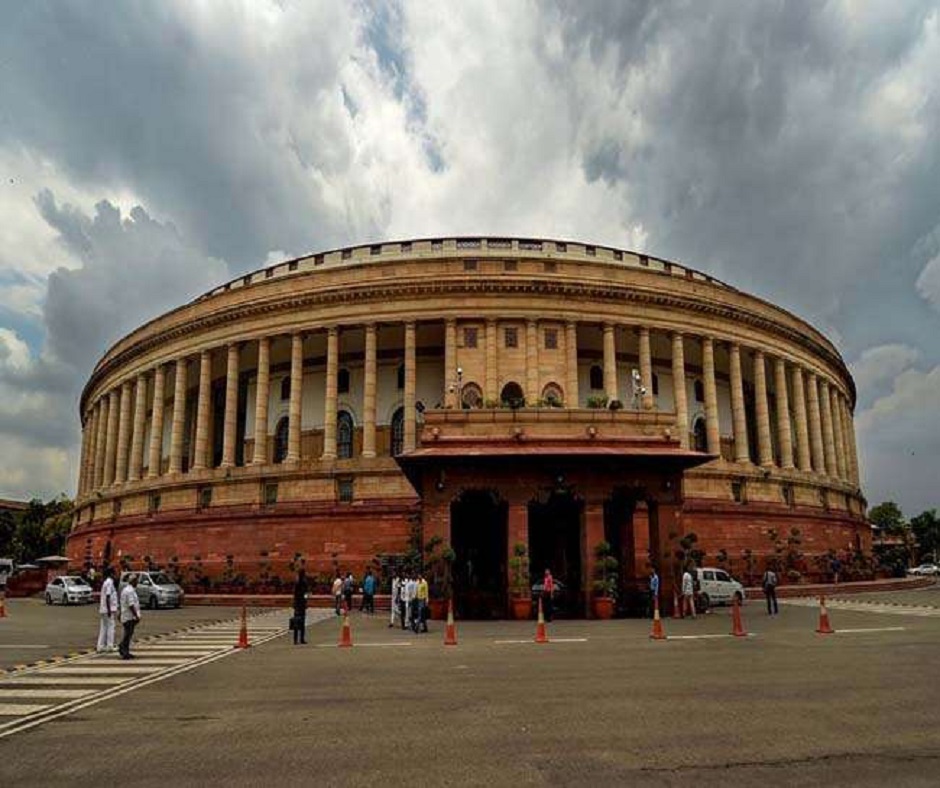 New Delhi | Jagran Politics Desk: Defence Minister will shortly brief the Parliament on the crash of IAF chopper in Tamil Nadu, carrying CDS General Bipin Rawat, his wife and 12 other Army personnel. According to ANI sources, Rajnath Singh is monitoring the situation following the crash and has also briefed the Prime Minister about the tragic incident.
At least four senior military officials were feared dead in an Indian Air Force helicopter crash in Tamil Nadu's Coonoor on Wednesday afternoon in which Chief of Defence Staff General Bipin Rawat was travelling along with 13 others. Rawat and his wife Madhulika Rawat and others were in the chopper. He was going to the Defence Services Staff College in Wellington in Coonoor district to give a lecture scheduled at about 3 p.m.
Here are the Live updates from Parliament Winter Session:
3:00 pm: Defence Minister Rajnath Singh is monitoring the situation following crash of IAF chopper carrying CDS Bipin Rawat & others. A meeting of senior Defence Ministry officials is underway. Singh has briefed the PM about the crash: Sources
2:15 pm: Defence minister Rajnath Singh will brief parliament on the crash of an army chopper in the Nilgiris in Tamil Nadu. The Chief of Defence Staff, Bipin Rawat, his staff and family members were on board the Mi-series chopper, which crashed in Coonoor, a spot between Coimbatore and Sulur. Four people are dead and two have survived
1:20 pm: We have been continuously putting forth our views in the House regarding the revocation of suspension of our MPs & we have requested the Chairman several times that we are not at fault, still, we have been punished. I have also said that the suspension is against rules: LoP in RS
12:50 pm: A total of 490 candidates (in 2016 & 2018) were selected through Special Recruitment Drive from all 8 NE States to fill up vacancies to the post of Constable (Executive) in Delhi Police: MoS Home Nityanand Rai said in a written reply to an unstarred question in Rajya Sabha
12:40 pm: Winter Session of Parliament | A total of 101 people died & 3,366 people got injured in 'rioting' during 2018-2020, Ministry of Home Affairs said in a written reply to an unstarred question in Rajya Sabha
12:30 pm: Union Home Ministry in Rajya Sabha: As per NCB records, no drugs were confiscated from Mundra Port in Gujarat before the seizure of 2988.21 kgs of heroin
12:15 pm: Proceedings of the Rajya Sabha have resumed. The entire Opposition, excluding TDP, has boycotted the proceedings of the House.
11:35 am: Rajya Sabha adjourned till 12 pm following ruckus by Opposition over the suspension of 12 MPs
11:15 am: Delhi: The TMC delegation that will meet Home Minister Amit Shah over Nagaland firing will comprise of 8 MPs of the party
11:08 am: Naga People's Front MP KG Kenye gives suspension of business notice in Rajya Sabha under Rule 267 to discuss the death of civilians in Nagaland in an anti-insurgency operation that went awry
11:00 am: Congress & CPI (M) has given adjournment motion notices in Lok Sabha over the un-intimated release of water from Mullaperiyar dam
10:45 am: New Delhi: PM Narendra Modi is holding a meeting with senior ministers in Parliament Union Ministers Rajnath Singh, Pralhad Joshi, Nirmala Sitharaman are among the attendees
10:35 am: A delegation of 5 TMC MPs to meet Union Home Minister Amit Shah today to hand over a memorandum seeking compensation to families of those who died in an anti-insurgency incident which went off script in Nagaland, and asking Govt to present its stance on AFSPA: TMC Sources
10:25 am: On suspension of 12 MPs, Gandhi says it is "unprecedented & unacceptable". "We stand in solidarity with the suspended MPs," she said.
10:15 am: We demand a full-fledged discussion in Parliament on border issues: Congress interim chief Sonia Gandhi at the parliamentary party meeting.
9:57 am: Let's honour the 700 farmers who sacrificed their lives (during their stir). Modi Govt is insensitive towards farmers & common people. The rise in prices of essential commodities is burning the monthly budget of every family: Congress interim president Sonia Gandhi at CCP meeting
9:50 am: Congress MP Deepender Singh Hooda gives adjournment motion notice in Rajya Sabha for discussing farmers' issues including legal guarantee on MSP, ex-gratia payment to kin of farmers who died during their protest, and withdrawal of cases against them
9:45 am: Congress MP Manish Tewari gives adjournment motion notice in Lok Sabha to discuss Sino-Bhutan MoU on three-step resolution of boundary disputes, that he says, could lead to the transfer of strategically important territory of Doklam being transferred to China
9:40 am: New Delhi: Congress interim president Sonia Gandhi and Rahul Gandhi reach parliament for the parliamentary party meeting
9:30 am: Delhi: RJD MP Prof. Manoj Kumar Jha gives suspension of business notice in Rajya Sabha under Rule 267 to discuss the repeal of Armed Forces Special Powers Act (AFSPA)
9:15 am: The two Bills -- The Central Vigilance Commission (Amendment) Bill, 2021, and The Delhi Special Police Establishment (Amendment) Bill, 2021 -- which extend the tenure of Central Bureau of Investigation (CBI) and Enforcement Directorate (ED) director up to five years -- are likely to be passed by the Lok Sabha
9:00 am: Union Agriculture Minister Narendra Singh Tomar, answering a question on the impact of the COVID-19 pandemic on the agricultural households in Lok Sabha, said that the agriculture sector functioned "smoothly" adding that the government took all necessary measures to ensure smooth operation of agriculture-related activities.