Parliament Monsoon Session: Rajya Sabha adjourned till 9 am tomorrow | As it happened
Here are the highlights from the fifth day of the Parliament Monsoon Session.
Updated: Sat, 19 Sep 2020 06:08 PM IST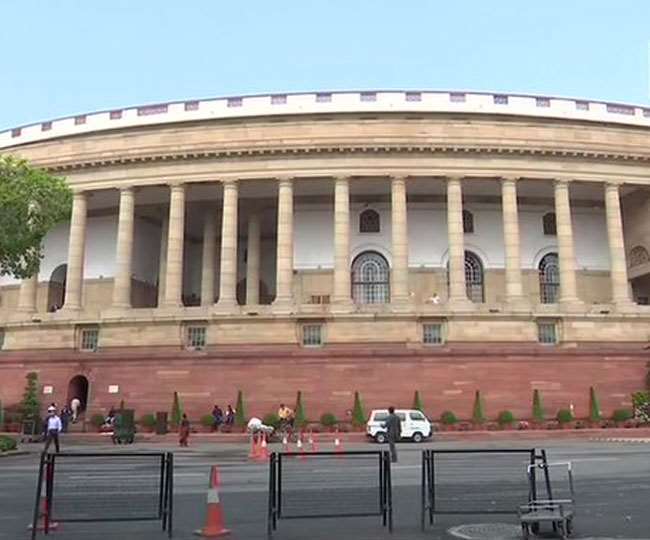 New Delhi | Jagran News Desk: Lok Sabha on Friday saw heated debates between the government and the opposition after MoS Finance Anurag Thakur made a controversial remark on the Nehru-Gandhi family. Thakur's remarks created ruckus in the Lok Sabha which saw four adjournments on Friday. It is expected that the ruckus will continue even today.
Meanwhile, Finance Minister Nirmala Sitharaman and Health Minister Dr Harsh Vardhan will move the Insolvency and Bankruptcy Code (Amendment) Bill, 2020 and the Epidemic Diseases Act (Amendment), 2020 in the Rajya Sabha today.
Here are the highlights from the fifth day of the Parliament Monsoon Session:
18:07 pm: The Taxation and other Laws (Relaxation & Amendment of Certain Provisions) Bill, 2020 corners the public funds for PM-CARES to the direct detriment of state relief funds: Trinamool Congress (TMC) MP Mahua Moitra in Lok Sabha
18:07 pm: The Taxation and other Laws (Relaxation & Amendment of Certain Provisions) Bill, 2020, is deeply problematic because it further weakens the rights & resources available to states by taking away statutory promises made under the new GST regime: TMC MP Mahua Moitra in Lok Sabha
18:07 pm: 2,453 incidents of ceasefire violations occurred along LoC in Jammu region this yr from 1 March to 7 Sept. Also,192 cross-border firing incidents occurred along Indo-Pak IB in Jammu this yr from 1 March to 31 Aug: MoS for Defence Shripad Naik in reply to a question in Rajya Sabha
18:07 pm: Cabinet Committee on Security on 29 July, approved to convert Ordnance Factory Board, a subordinate office of MoD, into one or more than one 100% Govt owned corporate entities, registered under Companies Act 2013: MoS for Defence Shripad Naik in reply to a question in Rajya Sabha
18:07 pm: Ministry received proposal from IAF to induct women officers as fighter pilots. After approval of MoD, IAF commenced a scheme for "Induction of Women SSC officers in Fighter Stream of Flying Branch" in 2016, under which 10 women fighter pilots commissioned till date: MoS Defence
18:07 pm: The strength of women officers serving the Indian Air Force (IAF) as on 1st September, 2020 is 1,875. Of these, 10 women officers are Fighter Pilots and 18 women officers are Navigators: Minister of State for Defence Shripad Naik in a written reply to a question in Rajya Sabha
18:00 pm: There have been 10 fatal casualties of Army personnel occurred along Line of Control/International Border in cross-border firing by Pakistani forces in the last six months: Minister of State for Defence Shripad Naik in a written reply to a question in Rajya Sabha
17:07 pm: Agricultural Bills | Telangana Chief Minister K Chandrasekhar Rao said that farmers and farming related bills introduced by Centre in Parliament would do a lot of injustice to farm sector in country. CM said these bills are nothing but a sugar-coated pill and should be opposed at all costs: CM's Office
16:23 pm:
Delhi: YSRCP MPs continue demonstration demanding CBI inquiry into Amaravati capital land scam
"Opposition is damaging image of Andhra. There is an SIT & a cabinet sub-committee which found some clear discrepancies. We want a probe into these" says AAR Reddy, Rajya Sabha member pic.twitter.com/VvVjX9uXmr

— ANI (@ANI) September 19, 2020
16:00 pm: Labour Minister Santosh Gangwar introduces New Labour Code in Lok Sabha
14:06 pm: BJP issues three line whip to its Rajya Sabha MPs directing them to be present in the House tomorrow
13:51 pm: Agricultural Bills | Dravida Munnetra Kazhagam (DMK) calls for an all-party meeting on 21st September to discuss over the Farm Bill, 2020 issue
13:42 pm: Rajya Sabha adjourned till 9 am tomorrow
13:35 pm: Rajya Sabha passes Epidemic Diseases (Amendment) Bill 2020
13:27 pm: Agricultural Bills | We'll go to Punjab now, where party leaders and workers will hold meeting. Since Shiromani Akali Dal is a party of farmers, we will struggle at the forefront. There can be no talks with the Centre till the bills are taken back, says SAD President Sukhbir Singh Badal
12:37 pm: You thought of healthcare workers now? Bengal has Medicare Service Prevention of Violence and Damage to Property Act2009. What happens to it? Bill is an attempt to encroach states' constitutionally assigned functioning, says TMC's Derek O'Brien
12:26 pm: 'People who ruled for decades are lying to farmers': PM Modi amid protests over farm bills
12:08 pm: Congress MP K Suresh gives adjournment motion notice in Lok Sabha over 'compensation package for families of those who died due to COVID-19, from the existing corpus of funds'
12:05 pm: Congress MP Gaurav Gogoi gives adjournment motion notice in Lok Sabha demanding discussion on the status of clause 6 of the Assam Accord
11:53 am: Union Minister Dr Harsh Vardhan moves motion for consideration of the Epidemic Diseases Amendment Bill 2020
11:52 am: Many healthcare workers including doctors, paramedics were insulted in some form or the other, due to stigma attached to COVID19. Centre govt acted on this situation and found that there was a need for a law, a prohibitory mechanism against such incidents, says Dr Harsh Vardhan in Rajya Sabha
11:38 am: Rajya Sabha passes the Insolvency and Bankruptcy Code (Second Amendment) Bill 2020
11:28 am: Finance Minister Nirmala Sitharaman has moved the bill to amend Insolvency and Bankruptcy Code
10:34 am: According to a News18 report, the Centre has reached out "friendly" opposition parties in the Rajya Sabha as it gears up to table the contentious farm bills in the Parliament
The report claimed that Rajnath Singh, Prahlad Joshi and Piyush Goyal have spoken to some leaders in the Shiv Sena and the NCP
10:33 am:
Amritsar: Farmers hold a protest demonstration against the Centre over recent agriculture ordinances#Punjab pic.twitter.com/XDG6Y5CB21

— ANI (@ANI) September 19, 2020
9:45 am: There are 24 lakh Tuberculosis patients in India. Due to the focus on fighting COVID19, the fight against TB has slowed down. Govt should intensify the tracking system and pay more attention to treating TB patients, says Rajya Sabha MP KJ Alphons
9:35 am: Bills to be withdrawn in Lok Sabha
- The Occupational Safety, Health and Working Conditions Code, 2019
- The Industrial Relations Code, 2019
9:30 am: Bills to be introduced in Lok Sabha
- The Industrial Relations Code, 2020
- The Code On Social Security, 2020
9:25 am: Bills for consideration and passing in Lok Sabha
- The Taxation and Other Laws (Relaxation and Amendment of Certain Provisions) Bill, 2020
- The Companies (Amendment) Bill, 2020
9:20 am: Bills for consideration and passing in Rajya Sabha
- The Insolvency and Bankruptcy Code (Second Amendment) Bill, 2020
-The Banking Regulation (Amendment) Bill
9:15 am: Rajya Sabha proceedings begin
8:59 am: Anurag Thakur says 'pained' if his Nehru-Gandhi remarks hurt anybody's sentiments
8:55 am: BJP MP Neeraj Shekhar has given zero-hour notice in Rajya Sabha over demand for inclusion of Bhojpuri in the 8th Schedule to the Constitution
8:50 am: Rajya Sabha MP Sonal Mansingh has given zero-hour notice over the demand to provide support to artists facing hardships due to COVID-19 pandemic
8:45 am: Finance Minister Nirmala Sitharaman and Health Minister Dr Harsh Vardhan will move the Insolvency and Bankruptcy Code (Amendment) Bill, 2020 and the Epidemic Diseases Act (Amendment), 2020 in the Rajya Sabha today
Posted By: Aalok Sensharma