Parliament Highlights | 'No deaths due to lack of oxygen have been specifically reported by states/UTs': Govt in RS
Catch all the LIVE Updates here
Updated: Tue, 20 Jul 2021 05:55 PM IST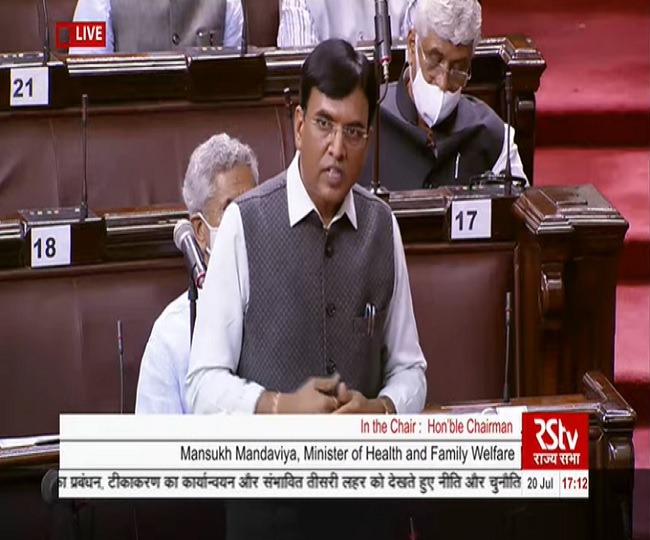 New Delhi | Jagran Politics Desk: The Rajya Sabha will discuss issues related to COVID-19 on Tuesday, said Deputy Chairman of Rajya Sabha Harivansh Narayan Singh. All the leaders met Rajya Sabha Chairman M Venkaiah Naidu on Tuesday demanding a discussion on COVID-19. Following this, Naidu gave his consent to discuss the matter. It was agreed in the meeting that COVID aspects will be discussed for four hours from 1 pm on Tuesday while the Minister of Health and Family Welfare to reply on the matter at 5 pm, said sources. Following morning disruptions in the Rajya Sabha, the House is likely to resume normal functioning after 1 pm on Tuesday.
According to sources, this was facilitated in a meeting between Rajya Sabha Chairman M Venkaiah Naidu, Leader of the House Piyush Goyal and Opposition leaders Anand Sharma, Jairam Ramesh, Derek O'Brien and Tiruchi Siva. Deputy Chairman of Rajya Sabha Harivansh Narayan Singh and Minister of State Parliamentary Affairs Muraleedharan were also present in the meeting. In the meeting, Naidu stressed on normalcy in the House so that important issues can be discussed orderly. Sources revealed that Piyush Goyal had earlier held an informal discussion with Opposition leaders seeking their cooperation for the resumption of functioning of the House.
Here are the LIVE updates from Day 2 of Parliament's Monsoon Session:
5:55 pm: 26 MPs from 21 parties have participated in this debate (on issues related to COVID-19). My suggestion is that we should give confidence to the nation. There is already talks of a third wave & we should assure people that preparations are on: Rajya Sabha Chairman M Venkaiah Naidu
5:50 pm: Before being a minister, I'm a father. My daughter worked as an intern doctor in COVID ward. She told me that she would work in that ward itself and she continued. At that time I realised the importance of 'thaali-taali', it gave us courage: Health Minister Mansukh Mandaviya
5:45 pm: They say why did we do 'thaali-taali'? We did it to encourage Corona warriors. We did it for the Policemen standing on the roads for our protection, we did it in honour of the healthcare staff - from the lowest to the highest level - who worked during Corona pandemic: Health Min
5:40 pm: When there's need to work together & implementation has to be done by the states, at that time we never said that this state failed or that state didn't do this. I don't want to do politics but many states have 10-15 lakh doses of vaccines with them, I have data: Health Min in RS
5:30 pm: When we speak of the third wave, the 130 crore people - the common people, all state govts - should make a collective decision that we won't let a 3rd wave hit our country. Our resolution & PM Modi's guidance can save us from a third wave: Health Minister Mansukh Mandaviya in RS
5:23 pm: Our govt has always said that this crisis shouldn't become a reason for politics. There shouldn't be politics in this crisis...PM Modi has said that when 130 cr people of India take one step forward, the country can move forward by 130 cr steps: Health Min Mansukh Mandaviya in RS
5:20 pm:We're very proud of our scientists, doctors, paramedics, vaccine manufactures. All Indians are. Let me put the record straight. India hasn't been recognised today for its vaccine manufacturing abilities. In 1990s India became largest manufacturer of the world: Anand Sharma, Cong
5:15 pm: It took decades & decades after independence. Which year did Serum Institute come up? It was in the decade of 1960s. When was the first vaccine institute established? The govts have a duty. Whether it was Jawaharlal Nehru or Narendra Modi today, all govts have a job: Anand Sharma
5:10 pm: Health is a State subject. All states/UTs report cases & deaths to Union Health Ministry on a regular basis, as per detailed guidelines for reporting deaths. No deaths due to lack of oxygen have been specifically reported by states/UTs: Health Ministry tells Rajya Sabha
5:00 pm: There are no reports of concealing of death by the State/UT government. However, some of states based on the reconciliation of mortality data have revised their figures: MoS Health Bharati Pravin Pawar tells Rajya Sabha
4:15 pm: We produced an ecosystem. Today we're one of the leading manufacturers (of vaccines). We're going to meet the domestic demand. As of yesterday, we had administered 42 crore doses: Union Minister Hardeep Singh Puri in Rajya Sabha
4:00 pm: As Civil Aviation Minister, I was the first to stop flights coming from China, others followed. We went into a total lockdown on 25th March 2020. On one hand we are told lockdown is too severe & at the same time you want to have the cake & eat it too: Union Min HS Puri
3:45 pm: Today Shiromani Akali Dal will boycott PM Modi's briefing on COVID-19. It will be attended only after he calls a meeting to discuss farm issues: Sukhbir Singh Badal, SAD President
3:30 pm: Raise Budget of Health Ministry & build infrastructure for future challenges. Before the Budget, I told Nirmala ji to raise health Budget. Current health Budget is fake, actual Budget is only Rs 72,000 crores. You've added other depts' Budget in health: Ram Gopal Yadav, SP MP
3:20 pm: We'd said that all MPs be called in Central Hall instead of just the Floor Leaders. Everyone must be spoken to. We had said that this be done in 2 slots. We're not attending it as everyone should get to know(COVID situation): Congress MP Mallikarjun Kharge on PM briefing on COVID
3:00 pm: Lok Sabha adjourned till 22nd July.
2:45pm: BJD MPs and Leader of House in Rajya Sabha Piyush Goyal hold discussions regarding the proceedings of the House during #MonsoonSession of the Parliament.
2:23 pm: Tamil Nadu had polls for 234 assembly seats in a day. West Bengal with 294 assembly seats had polls in 8 phases. Infection rate was 2.3% before polls but after 8 phases, it rose to 33%. Kudos to our CM, it has again come down below 1.8% now: TMC MP Dr Santanu Sen in Rajya Sabha
2:15 pm: PM Modi appealed to people to clang utensils, light up candles. People trusted him & did all of it. He didn't fulfill his promise but disappointed them. Instead of taking its blame, he made the health minister a scapegoat: Mallikarjun Kharge, Leader of Opposition in Rajya Sabha
2:05 pm: Government asked people to wear masks & maintain social distancing. But what were they doing, during the elections in different states? You are breaking your own rules. They should be given credit for flouting COVID norms: Mallikarjun Kharge, Leader of Opposition in Rajya Sabha
2:00 pm: Lockdown was announced overnight, just like Demonatisation. Govt didn't prepare for it. There were no trains for people to go back home. Livelihood of people was impacted. Govt should be held accountable: Mallikarjun Kharge, Leader of Opposition in Rajya Sabha
1:55 pm: Had it been UPA's govt in power, BJP would have created ruckus in the country. They would not have let the House run smoothly. We also demand a probe by Joint Parliamentary Committee. Both PM Modi and Home Minister Amit Shah should tell the truth: Sanjay Raut, Shiv Sena
1:40 pm: Names of two Central Ministers - Pralhad Joshi & Ashwini Vaishnaw have also emerged in snooping row. Later they were inducted into Union Cabinet. Vaishnaw, who has also been spied upon, was made Minister of same (IT) department: Shiv Sena's Sanjay Raut on 'Pegasus'
1:36 PM: I pay tribute to COVID warriors including doctors&paramedics. I salute people who helped others by running 'oxygen langer' in Delhi during second wave of #COVID19. I also want to salute plasma donors, who came out in support: Mallikarjun Kharge,Leader of Opposition in Rajya Sabha
1:30 pm: This pandemic has been a constant learning experience for us: BJP MP Swapan Dasgupta in Rajya Sabha The House has been adjourned till 1.34 pm
1:30 pm: Shiromani Akali Dal (SAD) President Sukhbir Singh Badal showed a placard to Agriculture Minister Narendra Singh Tomar, during party's protest against farm laws outside Parliament, this morning.
1:26 pm: There are reports about influx of Myanmar nationals into Indian territory through India-Myanmar border due to internal situation in Mynamar: Ministry of Home Affairs (MHA) in Lok Sabha
1:25 pm: If it turns out that it's our govt & it's authorized (to do it), GoI needs to give an explanation as the law only permits interception of communication for issues of national security, terrorism; otherwise, it's illegal. Essential for govt to cooperate in a probe: Shashi Tharoor
1:20 pm: It's been proved that phones examined in India had invasion of Pegasus. Since this product is only sold to vetted govts, question arises which govt? If GoI says they haven't done it, some other govt did it, then it's more serious national security concern: Shashi Tharoor,Congress
1:10 pm: Delhi: Shiv Sena MPs Vinayak Raut, Gajanan Kirtikar, Arvind Sawant, Sadashiv Lokhande, Krupal Tumane, Dhairyasheel Mane and Balu Dhanorkar submitted a memorandum to Lok Sabha Speaker Om Birla, seeking a probe in 'Pegasus Project' media report by a Joint Parliamentary Committee.
1:00 pm: Foreign nationals who enter into the country without valid travel documents or whose travel documents expire while staying in India are treated as illegal migrants & are dealt with as per existing legal provisions: Ministry of Home Affairs in Lok Sabha
12:55 pm: Illegal migrants (incl Rohingyas) pose a threat to national security. There are reports about some Rohingya migrants indulging in illegal activities: Ministry of Home Affairs in Lok Sabha
12:51 pm: It was agreed in the meeting that Covid aspects will be discussed for 4 hours from 1 pm today and Minister of Health to reply at 5 pm: Sources
12:45 pm: Rajya Sabha Chairman Venkaiah Naidu stressed for normalcy in the House so that important issues can be discussed smoothly. Leader of House Piyush Goyal had an informal discussion with Opposition leaders seeking their cooperation for resumption of functioning of the House: Sources
12:40 pm: 'Police' & 'Public order' are state subjects. However, GoI supplements efforts of State Govts towards equipping & modernizing their Police forces under 'Assistance to States for Modernisation of Police'. Funds to Andhra Pradesh under this during last 2 yrs as follows: MHA in LS
12:30 pm: Congress MP DK Suresh and others cycle to the Parliament in protest against fuel price hike. "I am travelling via bicycle because petrol price is too much. It's difficult for common man to survive with 15-20% inflation," he says
12:20 pm: PM expressed great concern over Opposition's stand. Especially Congress, who instead of raising people's issues, is thinking that power is their right. PM wants discussion to be fruitful but Congress is showing irresponsible behaviour: Parliamentary Affairs Minister Pralhad Joshi
12:10 pm: PM said pandemic isn't political but humanitarian issue for us. It was for first time in 100 yrs when huge population got ration & not even single person slept hungry. We did it successfully. It's our responsibility & wasn't a favour to any:Parliamentary Affairs Min Pralhad Joshi
12:00 pm: All leaders met with chairman as they wanted to have a discussion on COVID. Rajya Sabha Chairman has given his consent. It will be discussed at 1 pm: Harivansh Dy Chairman Rajya Sabha. The House has been adjourned till 1 pm.
11:52 am: The same govt which ordered a probe into NSO is now defending it. Former IT minister Ravi Shankar Prasad wanted a probe, the current IT Minister is defending it. This shows two opposite stands (of the Centre): Deputy Leader in Lok Sabha and Congress MP Gaurav Gogoi on 'Pegasus'
11:45 am: Govt's response has been disappointing. Instead of ordering a probe under judicial oversight, GoI is defending NSO. Former IT Minister had said in Parliament that an enquiry has been done into NSO by CERT-In. What happened to that probe? Congress MP Gaurav Gogoi on 'Pegasus'
11:30 am: Y'day, Congress raised all issues in LS, other than farm issues. It doesn't care about farmers. Both AAP & Congress had walked out when farm laws were introduced. They're double-faced. Only SAD raising it. We'll file for House adjournment even today: SAD, Harsimrat Kaur Badal
11:20 am: Rajya Sabha has been adjourned soon after it began till 12 noon amid uproar by the Opposition
11:15 am: No iota of link between Govt and Pegasus issue. Still, if they (Opposition) want to raise the issue through proper procedure, let them raise it. IT Minister has already issued a statement on the issue: Parliamentary Affairs Minister Prahlad Josh
11:10 am: Lok Sabha has been adjourned till 2 pm amid the uproar by the Opposition
11:07 am: Have you ever heard of the usage of intelligence system (Pegasus) by Congress & spying of this kind? This is a strategy of making new India: Leader of Congress in Lok Sabha, Adhir Ranjan Chowdhury
11:03 am: Opposition parties to meet at 2pm to decide on attending PM brief on COVID today
11:00 am: Delhi: Opposition including Congress, TMC, RJD, DMK held a meeting at Parliament and decided to raise the issue of Pegasus in both the Houses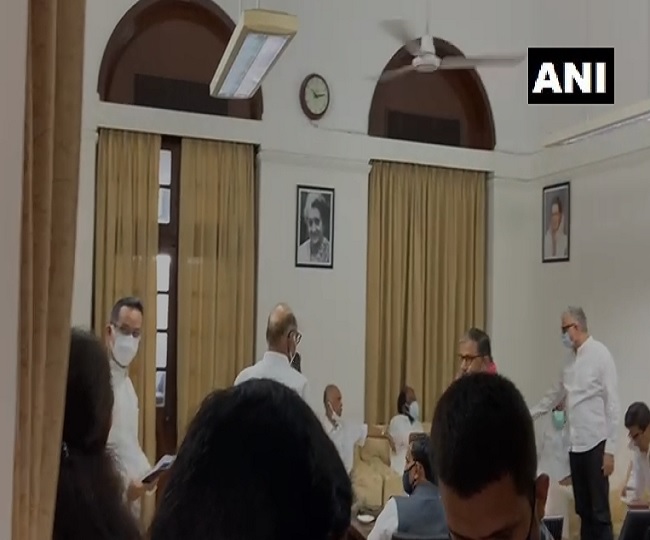 10:50 am: Sad with what happened yesterday. The newly-appointed ministers could not be introduced because of Opposition ruckus (in Rajya Sabha). This forum is to put forth views in line with House decorum. I urge all MPs to let the House run smoothly: Ajay Bhatt, MoS for Tourism
10:45 am: Delhi: BJP all-MP meeting concluded at Parliament
10:40 am: Delhi: BJP all-MP meeting underway at Parliament, in the presence of PM Modi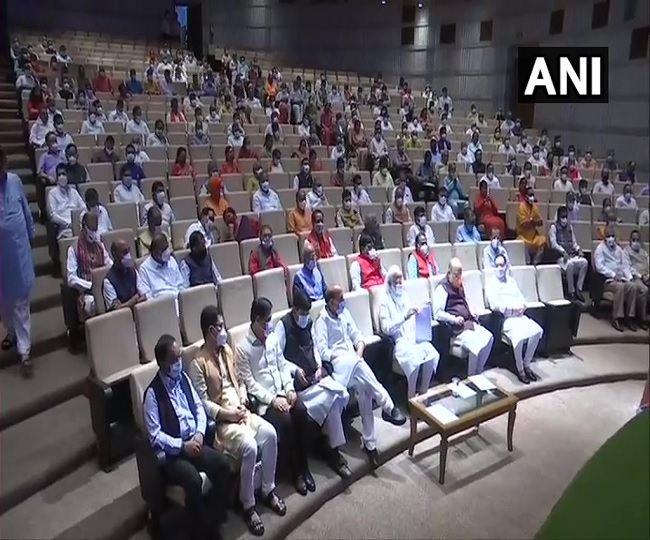 10:23 am: We will raise this (Pegasus) issue... Nobody is obstructing nation's development, it's them (BJP) who have obstructed it. They have earned lakhs and crores of money by imposing cess, hiking fuel price, wasting money on projects: LoP in Rajya Sabha, Mallikarjun Kharge
10:15 am: First discussion & then presentation. If he (PM Modi) wants to give a presentation on COVID, he should give it in the Central hall separately to MPs & Rajya Sabha members. MPs should be allowed to discuss COVID-related issues in their constituencies: Mallikarjun Kharge, LoP in RS
10:05 am: Congress MP Gaurav Gogoi has moved a motion of Adjournment of the business of the House to discuss over Pegasus issue
9:59 am: Delhi: PM Narendra Modi & Union Home Minister Amit Shah arrive at the Parliament on the second day of the #MonsoonSession
9:52 am: Congress has appointed almost half-dozen Punjab presidents. This has proved Captain Amarinder Singh's govt's failure in the state. With Navjot Singh Sidhu's induction as state chief, it's 'Comedy Circus Govt' in Punjab: BJP General Secretary Tarun Chugh
9:45 am: Congress MP KC Venugopal has given a notice under rule 267 in Rajya Sabha to suspend the business and discuss the alleged usage of Pegasus spyware by the Government
9:30 am: CPI(M) floor leader in Rajya Sabha MP Elamaram Kareem gives notice under Rule 267 to suspend the business and discuss the alleged spying by the government on opposition party leaders, journalists, judges, and even union ministers using Pegasus spyware
9:20 am: Electronics and Information Technology Minister Ashwini Vaishnaw to make a statement on 'Pegasus Project' issue in Rajya Sabha today
8:45 AM: Congress MP Manickam Tagore has given Adjournment motion notice in Lok Sabha on 'Pegasus Project' media report issue
8:30 AM: Congress to hold press conferences in every state tomorrow on the 'Pegasus Project' media report. State units of the party will stage protest march to Raj Bhavans across the country on July 22
8:00 am: AAP Rajya Sabha MP Sanjay Singh has given Zero Hour notice in Rajya Sabha on the 'Pegasus Project' media report
Posted By: Talibuddin Khan