Parliament Highlights | Uproar by opposition over Pegasus, farm laws, fuel prices marks first day of Monsoon Session
Catch all the LIVE Updates here
Updated: Mon, 19 Jul 2021 04:50 PM IST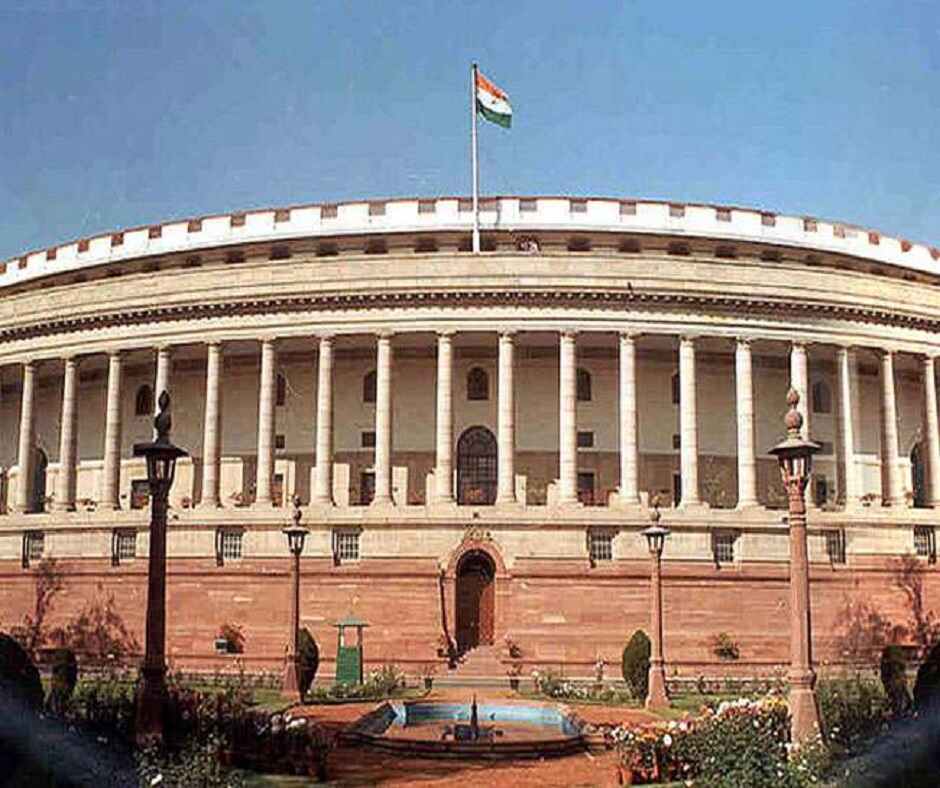 New Delhi | Jagran News Desk: The proceedings of the Lok Sabha were adjourned for the second time on Monday amid sloganeering by opposition members over various issues, including those related to rising prices and the new farm laws. Rajendra Agrawal, who was in the Chair, adjourned the House till 3:30 pm barely 10 minutes after proceedings began at 2 pm. Agrawal urged members to go back to their seats and allow the House to function normally, but as protests continued, he adjourned the proceedings.
Meanwhile, Union Minister Mukhtar Abbas Naqvi has been named as the Deputy Leader of the House in Rajya Sabha, sources said on Monday. Naqvi succeeds Piyush Goyal, who has been appointed as the Leader of House in Rajya Sabha. The minority affairs minister is known for his wide knowledge of parliamentary affairs and had also served as the minister of state for parliamentary affairs during the first term of the Modi government.
Here are the Highlights from Parliament's Monsoon Session:
4:00 pm: Everyone has right to speak & people have to be convinced through discussions. Central Govt has already held talks (with farmers), its policies aren't against anyone. But people have emotions so talks should be held with them again: Bihar CM Nitish Kumar on anti-farm laws protest
3:55 pm: Requests for lawful interceptions of electronic communication are made as per relevant rules under provisions of Sec 5(2) of Indian Telegraph Act, 1885 & Sec 69 of Information Technology Act 2000. Each case of interception is approved by the competent authority: Ashwini Vaishnaw
3:50 pm: Any form of illegal surveillance isn't possible with checks & balances in our laws &robust institutions. In India, there's a well-established procedure through which lawful interception of electronic communication is carried out for purpose of national security: IT Minister in LS
3:46 pm: Without subjecting the phone to this technical analysis, it's not possible to conclusively state whether it witnessed an attempted hack or successfully compromised. The report itself clarifies that presence of a number in list doesn't amount to snooping: Ashwini Vaishnaw in LS
3:42 pm: In the past, similar claims were made regarding use of Pegasus on WhatsApp. Those reports had no factual basis & were denied by all parties. Press reports of 18 July '21 also appear to be an attempt to malign Indian democracy & its well-established institutions: Ashwini Vaishnaw
3:40 pm: A highly sensational story was published by a web portal last night. Many over-the-top allegations made around this story. The press reports appeared a day before monsoon session of Parliament. This can't be a coincidence: Ashwini Vaishnaw, IT Minister, in LS on 'Pegasus Project'
3:34 pm: In line with Govt of India's initiative of 'Atmanirbhar Bharat', it has been decided to earmark an amount of Rs 71,438.36 crores for domestic capital procurement out of the total allocation of Rs 1,11,463.21 crores for capital acquisition: Mos, Defence, Ajay Bhatt tells RS
3:30 pm: PM Narendra Modi likely to hold a meeting with floor leaders of all parties in Lok Sabha and Rajya Sabha tomorrow, to discuss COVID vaccination policy; presentation on COVID handling to be given at the meeting: Sources
3:10 pm: Rajya Sabha adjourned till 11 am tomorrow
2:45 pm: Union Minister and BJP MP Mukhtar Abbas Naqvi appointed as the Deputy Leader of House in the Rajya Sabha: Sources
2:20 pm: Rajya Sabha adjourned till 3 pm following uproar by opposition MPs.
2:15 pm: Business Advisory Committee (BAC) meeting of Lok Sabha begins.
2:10 pm: Lok Sabha adjourned till 3.30 PM, as the Opposition MPs' uproar continues in the House.
2:00 pm: It's unfortunate that introduction of OBCs, Dalits, SCs-STs, representatives of northeastern states, women as Ministers was interrrupted. A democratic process was halted by Oppn MPs. It's an insult to democracy & people of India. We condemn this: Leader of House in Rajya Sabha
1:52 pm: They could not see that such a large number of people from the backward community of the society have been inducted into the cabinet by the PM. For the first time, we saw such a large number of women, tribals, people from northeast becoming a part of union cabinet: Piyush Goyal
1:45 pm:We condemn the manner in which Opposition MPs behaved on the first day of the session today. We saw a very unfortunate situation, both in Lok Sabha and Rajya Sabha. In Rajya Sabha, the address of the Chairman was interrupted too: Leader of House in the Rajya Sabha, Piyush Goyal
1:35 pm: There is inflation everywhere. Poor, middle class people and farmers are distressed. Increase in fuel prices affects farmers. People are losing patience. We decided to stage protest on this issue in every district headquarter: RJD leader Tejashwi Yadav
1:25 pm: I have complained to the Speaker about my house arrest. In the days to come, I am going to raise this issue before the Prime Minister, Home Minister, and Parliament. I will keep working towards getting this tender cancelled: Telangana Congress chief and MP, A Revanth Reddy
1:15 pm: I had warned the state govt that I'll give complaint to PM, HM & CBI Director in Delhi over this & raise the issue in Parliament. If we raise voices against state govt's loot, they book us, arrest us & place us under house arrest. We'll fight against it: Telangana Congress chief
1:00 pm: I was ready to go to Parliament but state govt deployed Police to place me on house arrest. It happened because state govt sold some properties, over 50 acre of land, to some of their relatives, party leaders & IAS officer at undervalue: Telangana Congress chief A Revanth Reddy
12:45 pm: Rajya Sabha adjourned till 2 pm amid uproar by the Opposition
12:35 pm: "Let me go inside the Parliament right now, we will discuss it," says Congress MP Rahul Gandhi on 'Pegasus Project' media report
12:28 pm: Why is the govt not listening to farmers? Today, whoever supports the farmers will have to force the Centre during the session for farmers' rights. Over 500 farmers have died by suicide. We will ask for this law to be repealed: SAD leader Harsimrat Singh Badal
12:20 pm: Delhi | Shiromani Akali Dal staged protest against Centre's farm laws outside Parliament, as Monsoon Session began Farmers want black laws to be repealed. We issued an adjournment notice. We want opposition parties to stand against Modi govt: SAD President Sukhbir Singh Badal
12:13 pm: Delhi: BJP President JP Nadda meets the newly appointed leader of the House in Rajya Sabha, Piyush Goyal
12:05 pm: When CM MK Stalin met PM recently, he conveyed the same & I've requested him to halt Karnataka govt from proceeding further, but they're reiterating that they would. I raised issue on the floor (of House): DMK MP Tiruchi Siva on suspension of business notice for Mekedatu project
11:55 am: Who is going to access the authenticity of the 'Pegasus Project' story? There should be an investigation. If necessary, a joint parliamentary committee (JPC) should be formed as phone tapping is done against the democracy of our country: Congress MP Pradip Bhattacharya
11:45 am: Lok Sabha adjourned till 2 pm amid uproar by Opposition MPs. Defence Minister Rajnath Singh raised an objection against the uproar while Prime Minister Narendra Modi was introducing his Council of Ministers in the House.
11:37 am: Members of Parliament in Rajya Sabha paid tribute to MPs & personalities who lost their lives this year, including veteran actor Dilip Kumar & veteran athlete Milkha Singh. House has been adjourned till 12.24 pm
11:33 am: Perhaps some people are not happy if counrty's women, OBCs, farmers' sons become Ministers. That is why they don't even allow their introduction: Prime Minister Narendra Modi introduces his Council of Ministers in the Lok Sabha, amid uproar by the Opposition MPs
11:28 am:I thought that there would be enthusiasm in the Parliament as so many women, Dalits, tribals have become Ministers. This time our colleagues from agricultural & rural background, OBC community, have been given berth in Council of Ministers: PM introduces his new Ministers, in LS
11:22 am: Indian Union Muslim League's Abdul Wahab takes oath as the Member of Parliament (MP) in Rajya Sabha
11:18 am: YSRCP's Maddila Gurumoorthy, BJP's Mangal Suresh Angadi, IUML's Abdussamad Samadan and Congress' Vijayakumar (Alias) Vijay Vasanth take oath as the Members of Parliament (MPs) in Lok Sabha.
11:11 am: Lok Sabha Speaker Om Birla arrives at the Parliament as the #MonsoonSession commences today. He tweets, 'People want that their expectations and hopes reach the govt through the Parliament. I hope all political parties will play a positive role in this direction.'
11:06 am: Farmers' issue is most important. We will be moving motion on Samyukta Kisan Morcha's call & rise in the price of fuel & essential commodities: Congress MP Partap Singh Bajwa
11:02 am: Congress Rajya Sabha MP Anand Sharma gives notice for suspension of Business to discuss issues of of increasing prices of essential commodities.
10:57 am: Delhi: Trinamool Congress (TMC) MPs cycled to the Parliament today in protest against the rise in prices of petrol, diesel and LPG.
10:52 am: An informal meeting of opposition leaders underway at Leader of Opposition in Rajya Sabha Mallikarjun Kharge's office in Parliamen, on strategy for monsoon session
10:48 am: I have urged all Floor Leaders that if they can take out some time tomorrow evening then I would like to give them all detailed information regarding the pandemic. We want discussion inside the Parliament as well with the Floor Leaders outside the Parliament: PM Modi
10:45 AM: I would like to urge all the MPs & all the parties to ask the most difficult & sharpest questions in the Houses but should also allow the Govt to respond, in a disciplined environment. This will boost the democracy, strengthen people's trust & improve pace of development: PM Modi
10:40 am: We want that the pandemic be discussed on priority & we get constructive suggestions from all MPs so that there comes a fresh approach in fight against COVID & shortcomings be corrected so that everyone moves forward together in the fight: PM Narendra Modi
10:32 am: Vaccine is given in 'baahu' (arms), those who take it become 'Baahubali'. Over 40 cr people have become 'Baahubali' in the fight against COVID. It's being taken forward. The pandemic has gripped the entire world. So we want meaningful discussions in the Parliament over it: PM
10:27 am: We're hopeful that complete business will be carried out. People are seeing what are we discussing after 2nd wave of COVID. We're meeting after 3-4 months, we've pending Bills. People have hopes with Opposition & Govt. There should be debate, we're ready to reply: Pralhad Joshi
10:25 am: Let them give notice for structured debate, it'll be decided in Business Advisory Committee. Govt isn't running away from debate. PM said y'day that there should be meaningful discussion. Govt firmly believes in that: Parliamentary Affairs Min on Oppn MPs' Adjournment Motions
10:20 am: Business Advisory Committee meeting of Lok Sabha to be held at 2 pm today. Business Advisory Committee meeting of Rajya Sabha to be held 4 pm today
10:15 am: Our national security is under threat. I will definitely raise this issue (in the House): Leader of Congress in Lok Sabha Adhir Ranjan Chowdhury on 'Pegasus Project' media report
10:10 am: Union Food Processing Industries Minister Pashupati Kumar Paras to move The National Institutes of Food Technology, Entrepreneurship and Management Bill, 2021 in Lok Sabha today.
10:05 am: Union Finance Minister Nirmala Sitharaman to move The Factoring Regulation (Amendment) Bill, 2020 in Lok Sabha today.
10:00 am: AAP MP Sanjay Singh seeks discussion on Pegasus in Rajya sabha
9:51 am: We have given notice on inflation, others have given on farmers' issues. We will see what is approved by the Business Advisory Committee. We will be raising the same issues: Leader of Opposition in Rajya Sabha Mallikarjun Kharge
9:46 am: DMK Rajya Sabha MP Tiruchi Siva has given suspension of business notice under rule 267 over demand to discuss Mekedatu Dam issue in the House.
9:42 AM: Congress MP KC Venugopal has given a notice under rule 267 in Rajya Sabha to suspend the business & discuss the rise in price of fuel & essential commodities & demand immediate remedial measures to be taken by the Government
9:35 am: Congress Lok Sabha MP Manish Tewari gives adjournment motion notice in the House over Central Government's Farm Laws.
9:22 am: Congress MP Jasbir Singh Gill has moved adjournment motion notice in Lok Sabha over Central Government's Farm Laws
9:15 am: Trinamool Congress (TMC) MPs to cycle to Parliament today, in protest against the rise in prices of petrol, diesel and LPG
9:00 am: RJD Rajya Sabha MP Manoj Jha gives suspension of business notice under Rule 267 to discuss "obfuscation of data related to deaths on account of the second wave of #COVID19."
8:45 am: CPI Rajya Sabha MP Binoy Viswam has given suspension of business notice under rule 267 over revelations of the scale of Pegasus spyware
8:05 am: Of the 17 bills, The Essential Defence Service Bill, 2021, The Commission for Air Quality Management in National Capital Region and Adjoining Areas Bill, 2021 and Insolvency and Bankruptcy Code (Amendment) Bill, 2021 seek to replace ordinances issued recently. Once a session starts, an ordinance has to be passed as a bill within 42 days or six weeks, else it lapses. The Essential Defence Service Bill, 2021 has been listed to replace the ordinance, according to a Lok Sabha bulletin issued on 12 Jul­y.
7:56 am: The government has listed 17 new bills for introduction in the session. Three of the bills seek to replace ordinances issued recently. One of the ordinances issued on June 30, prohibits any agitation and strike by anyone engaged in the essential defence services.
7:47 am: The Opposition on its part wants to corner the government by raising issues like alleged shortcomings in the healthcare system during the second wave of the coronavirus pandemic and the distribution of Covid-19 vaccines to states.
7:40 am: PM Modi will introduce his cabinet at 11am in Lok Sabha and 12pm in Rajya Sabha
7:30 am: On the first day of the monsoon session, there will be a record number of 40 obituary references in Lok Sabha on the first day to pay homage to MPs who passed away in the intervening period since the Budget session, which concluded on April 8. Obituary for another 13 members would also be conducted in Rajya Sabha.
Posted By: Talibuddin Khan