Updated: Wed, 28 Jul 2021 03:50 PM IST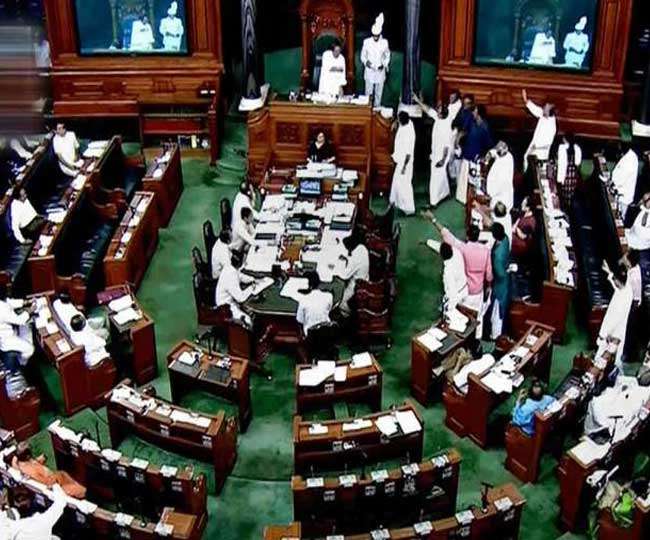 New Delhi | Jagran Politics Desk: Lok Sabha proceedings were adjourned for the fifth time on Wednesday as Opposition members created a ruckus in the House while protesting over the Pegasus row and other issues. When the House reassembled at 3 pm, it took up supplementary demand for grants and appropriation bills which were approved without debate. Amid the din, Finance Minister Nirmala Sitharaman moved that the Bills be passed.
Soon thereafter, Rajendra Agrawal, who was in the chair, adjourned the House till 4 pm. As the Lok Sabha met in the morning, the House took up Question Hour amid continued slogan-shouting by Opposition members. Opposition protest intensified post noon and Congress members were seen throwing papers at the Chair and Treasury benches while protesting against Pegasus snooping row and other issues, following which the House was adjourned for about 20 minutes till 12:30 pm. Thereafter, it was adjourned repeatedly as Opposition members continued their protest over the snooping controversy and the three farm laws.
Here are the LIVE Updates from Parliament's Monsoon Session:
3:30 pm: LS MPs likely to be suspended are Gurjeet Singh Aujla, TN Prathapan, Manickam Tagore, Ravneet Singh Bittu, Hibi Eden, Jothimani Sennimalai, Saptagiri Sankar Ulaka, V Vaithilingam, AM Ariff for throwing pieces of paper & showing disrespectful behaviour towards the Chair: Sources
3:10 pm: Rajya Sabha passes Juvenile Justice (Care and Protection of Children) Amendment Bill, 2021; adjourned till 11 am tomorrow
3:00 pm: Before adjournment, Opposition MPs brought a big banner inside Lok Sabha with Pegasus snoopgate - we demand Supreme Court-monitored judicial probe - written on it
2:45 pm: Lok Sabha has passed the Insolvency and Bankruptcy Code (A) Bill, 2021 House adjourned till 3pm
2:35 pm: Lok Sabha adjourned till 3 pm amid sloganeering by Opposition MPs over 'Pegasus Project' report
2:20 pm: Rajya Sabha adjourned till 2:45 pm for the third time today as Opposition MPs continued sloganeering, demanding discussion on 'Pegasus Project' report
1:50 pm: The forthcoming Census will be the first digital Census & there is a provision for self-enumeration. A mobile app for collection of data & a Census Portal for management & monitoring of various related activities have been developed: Nityanand Rai, MoS Home Affairs in Rajya Sabha
1:40 pm: We want to ask just one question. Has the Govt of India bought Pegasus? Yes or No. Did the Govt use Pegasus weapon against its own people? We have been told clearly by the Govt that no discussion will take place on Pegasus in the House: Congress leader Rahul Gandhi
1:30 pm: Delhi | The entire Opposition is and will remain united on the issues of national security and farm laws: Shiv Sena MP Sanjay Raut at Parliament
1:20 pm: As per Relief Office set up in 1990 by Govt of J&K, 44,167 Kashmiri migrant families had moved from the Valley since 1990 due to security concerns. Out of these, the number of Hindu Migrant families is 39,782: MoS Home Affairs Nityanand Rai in a written reply in Rajya Sabha
1:10 pm: Terrorist incidents in Jammu and Kashmir reduced to 59% in 2020 as compared to 2019 and 32% up to June 2021 in comparison with the corresponding period up to June 2020, MoS Home Nityanand Rai informed Rajya Sabha in a written reply
1:00 pm: Statehood to Jammu and Kashmir would be granted at an appropriate time after normalcy is restored in Jammu and Kashmir: MoS Home Affairs Nityanand Rai in a written reply in Rajya Sabha
12:38 pm: Lok Sabha adjourned till 1400 hours during the ongoing Monsoon session of Parliament
12:15 pm: Monsoon session of Parliament | Lok Sabha adjourned till 1230 hours, amid sloganeering by Opposition MPs
12:07 pm: Congratulations to Basavaraj Bommai on taking oath as Karnataka's CM. He brings with him rich legislative and administrative experience. I am confident he will build on the exceptional work done by our Govt in the state. Best wishes for a fruitful tenure: PM Narendra Modi
12:00pm: No words will ever do justice to monumental contribution of BS Yediyurappa towards our Party & for Karnataka's growth. For decades, he toiled hard, travelled across all parts of Karnataka & struck a chord with people. He is admired for his commitment to social welfare: PM Modi
11:45 am: Delhi: Opposition MPs raise 'Khela Hobe' slogan in Lok Sabha, demanding a discussion on 'Pegasus Project' report
11:20 am: Rajya Sabha adjourned till 12 noon.
11:10 am: Delhi: In Opposition leaders' meet, Congress leader Rahul Gandhi said Govt is defaming Opposition by saying that we're not allowing Parliament to function, while we are raising matters related to the citizens, farmers & security of the country. Opposition leaders supported him
11:00 am: We don't want to compromise on the issues of inflation, Pegasus, and farmers' issues. We want discussion in the House: Congress leader Rahul Gandhi to ANI after a meeting of Opposition leaders at Parliament
10:40 am: Delhi: Leaders of Opposition parties hold a meeting at Parliament to chalk out the future course of action on several issues in both the Houses Congress leader Rahul Gandhi is also present at the meeting.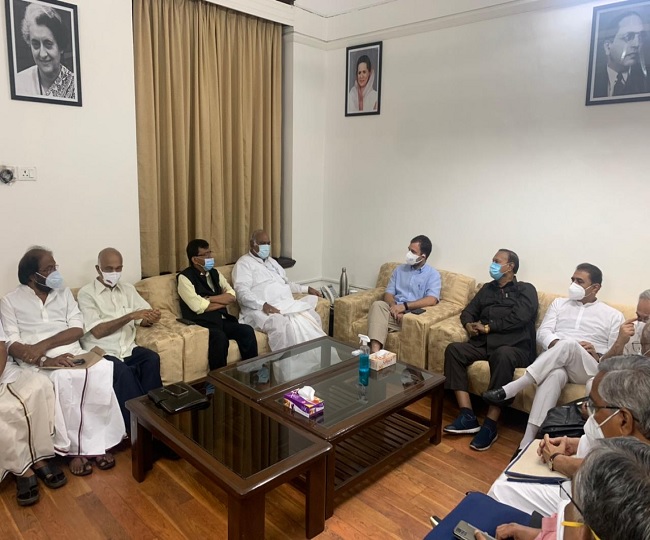 10:15 am: Leaders of Opposition parties hold a meeting at the Parliament in New Delhi
#WATCH | Leaders of Opposition parties hold a meeting at the Parliament in New Delhi pic.twitter.com/AHu2fdnTKw

— ANI (@ANI) July 28, 2021
10:00 am: Delhi: CPI (Marxist) MP Elamaram Kareem gives suspension of business notice under Rule 267 in Rajya Sabha, demanding a discussion on the 'Pegasus Project' report
9:30 am: Delhi: Officials of Ministry of Information Technology & Ministry of Home Affairs have been summoned by Congress MP Shashi Tharoor-led parliamentary panel on Information Technology to appear before it at Parliament over the alleged Pegasus snooping issue today
9:20 am: Opposition leaders including Congress MP Rahul Gandhi to submit adjournment motion notices in Lok Sabha today for a discussion on the 'Pegasus Project' report
9:10 am: Delhi: Leader of Opposition in Rajya Sabha, Mallikarjun Kharge to chair a meeting of all-like minded Opposition parties at Parliament to chalk out the future course of action in both the Houses. Congress leader Rahul Gandhi to also attend the meeting
9:00 am: Congress MP Ripun Bora gives suspension of business notice under Rule 267 in Rajya Sabha, demanding a discussion on the Assam-Mizoram border clash which claimed the lives of 6 Assam police personnel
Posted By: Talibuddin Khan