Parliament Highlights: 6 TMC MPs in RS suspended for a day over 'disorderly' behaviour in the house
Catch all the LIVE Updates here
Updated: Wed, 04 Aug 2021 06:29 PM IST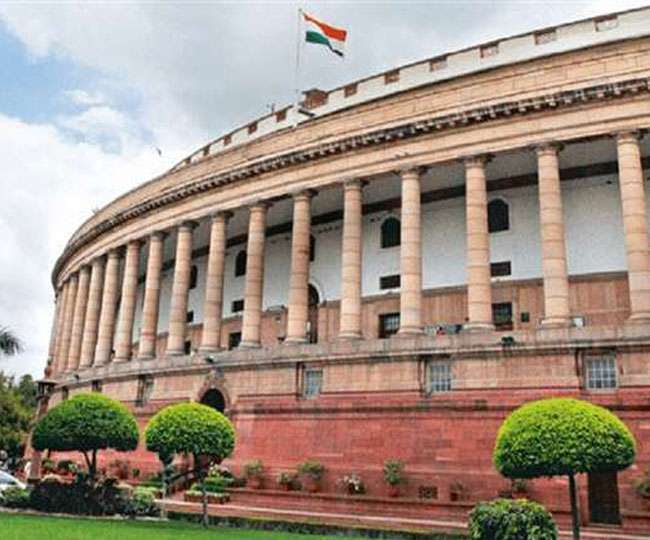 New Delhi | Jagran News Desk: Rajya Sabha Floor leaders of "like-minded" Opposition parties will meet today at senior Congress leader and Leader of Opposition (LoP) Mallikarjun Kharge's office in Parliament at 10 am to chalk out floor strategy. Both Rajya Sabha and Lok Sabha were adjourned repeatedly on Tuesday amid ruckus by Opposition members over several key issues.
Earlier on Tuesday, Congress leader Rahul Gandhi called a breakfast meeting to discuss the strategy to take on the BJP-led government in the remaining part of the monsoon session of parliament on issues being raised by opposition including alleged surveillance through Pegasus spyware. Amid the continuous ruckus created by the Opposition over the 'Pegasus Project' issue, both the Lok Sabha and Rajya Sabha have been facing repeated adjournments during the ongoing Monsoon Session of Parliament. The two Houses have been witnessing protests from the Opposition since the start of the monsoon session on July
Here are the LIVE Updates from Parliament's Monsoon Session:
2:40 pm: As on date, 12,611 immovable enemy properties left behind by Chinese & Pakistani nationals are vested in Custodian of Enemy Property for India. So far, movable properties of Rs 2,706.91 cr disposed of. No immovable enemy property sold so far: MoS Home AK Mishra in Rajya Sabha
2:30 pm: Lok Sabha adjourned till 3.30 pm.
2:20pm: As on 31.12.2019, the total number of prisoners in the jails of the country was 4,78,600. Out of this, 1,44,125 were convicts and 3,30,487 were undertrial prisoners. This includes 19,913 women prisoners: MoS Home Nityanand Rai to Rajya Sabha
2:05 pm: As per data provided by Central Armed Police Force (CAPFs) & Assam Rifles (AR), 680 personnel have committed suicide during last 6 yrs. Number of personnel who have died due to accidents & encounters during the period are 1,764 & 323 respectively: Ministry of Home Affairs in RS
1:55 pm: The decisions regarding Bharat Ratna award are taken from time to time. No formal recommendations for this are necessary: MoS Home Nityanand Rai in a written reply in Rajya Sabha on whether the Government of India would consider bestowing Bharat Ratna on Late Shri Biju Patnaik
1:45 pm: 183 people have been arrested by Delhi Police in connection with farmers' protests since 2020 up to 20th July 2021, and all of them are on bail. Provision of sedition or laws such as UAPA not invoked in any case registered against protesting farmers: MoS Home Nityanand Rai in RS
1:30 pm: State-wise level of registration of births and deaths for the year 2018 and 2019 as given by Ministry of Home Affairs in Rajya Sabha
1:20 pm: TMC MPs in Rajya Sabha Dola Sen, Nadimul Haque, Arpita Ghosh, Mausam Noor, Shanta Chhetri and Abir Ranjan Biswas have been asked to withdraw from the proceedings of the House for today, for holding placards and disorderly behaviour: Rajay Sabha
12:20 pm: Lok Sabha adjourned till 2 pm
11:40 am: A verbal spat broke out between Shiromani Akali Dal MP Harsimrat Kaur Badal and Congress MP Ravneet Singh Bittu over Central Government's three Farm Laws.
11:25 am: Lok Sabha adjourned till 11.30 am amid sloganeering by Opposition MPs.
11:10 am: Rajya Sabha adjourned till 2 pm amid sloganeering by Opposition MPs over 'Pegasus Project' media report.
10:50 am: Rahul Gandhi is committed to problems of poor. He's trying to get all political parties together. He requested them to forget regional politics in the interest of our liberty, Constitution & democracy. We want to have discussion on Pegasus &other issues: RS LoP Mallikarjun Kharge
10:45 am: Opposition Floor leaders from Rajya Sabha of like-minded parties to meet today at LoP Rajya Sabha Mallikarjun Kharge's office in Parliament at 10 AM today to chalk out floor strategy.
10:30 am: Delhi: Congress leader Rahul Gandhi speaks with the family of the minor girl who was allegedly raped and murdered in Old Nangal area recently.
10:15 am: Congress MP Manish Tewari gives adjournment motion notice in Lok Sabha to discuss 'Pegasus Project' media report.
10:00 am: Congress MP Manickam Tagore gives adjournment motion notice in Lok Sabha to discuss 'Pegasus Project' media report
Posted By: Talibuddin Khan