Parliament: LS Speaker holds meet with oppn leaders after boycott call over Farms bill | Highlights
The sit-in by suspended MPs has led to a war of words between the Bharatiya Janata Party and the Opposition with both sides accusing each other.
Updated: Tue, 22 Sep 2020 07:48 PM IST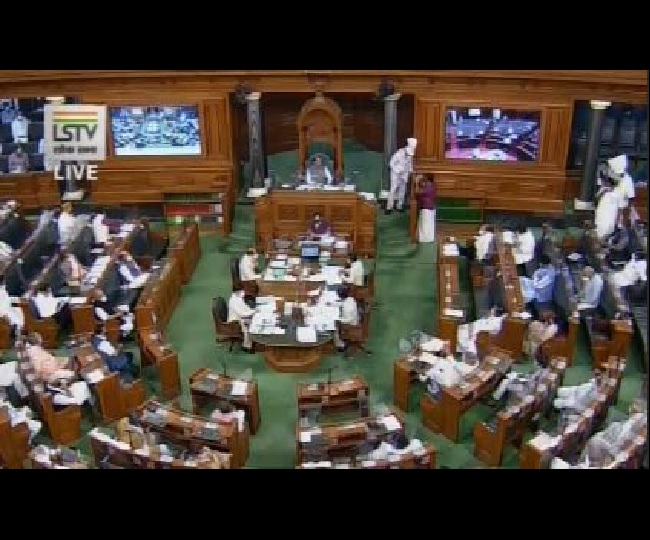 New Delhi | Jagran Politics Desk: The sit-in protest by eight suspended MPs at Parliament premises, which continued past midnight, is expected to snowball in the Parliament on Tuesday with the Congress set to raise the issue in the Lok Sabha.
This morning, Rajya Sabha Deputy Chairman Harivansh Singh met the suspended MPs and offered them tea. However, the protesting lawmakers reportedly refused to have tea with him.
To show solidarity with their protesting colleagues on Monday night, senior opposition leaders came in hordes including NC leader Faroukh Abdullah, JD(S)' Deve Gowda, Samajwadi Party's Jaya Bachchan, Congress' Ahmed Patel and NCP's Praful Patel.
Here are the LIVE updates on the big story:
7:45 pm: Lok Sabha passes the Occupational Safety, Health and Working Conditions Code, 2020, the Industrial Relations Code 2020 and the Code on Social Security Bill, 2020.
5:45 pm: Delhi: Meeting of Rajya Sabha's Business Advisory Committee has been called at 6 pm today. Five opposition MPs of the 11-member committee - TMC's Derek O'Brien, SP's Ram Gopal Yadav, Congress' Anand Sharma, Jairam Ramesh & RJD's Manoj Kumar Jha are boycotting the meeting.
5:00 pm: Delhi: Opposition MPs, inlcuding Congress' Adhir Ranjan Choudhary and NCP's Supriya Sule, hold a meeting in Parliament premises after boycotting the ongoing Lok Sabha session
4:40 pm: Lok Sabha Speaker Om Birla is holding a meeting with members of Opposition parties after they announced boycott of the session in solidarity with suspended Rajya Sabha MPs & in opposition of the #FarmBills.
4:30 pm: Opposition parties led by Congress boycott Lok Sabha session, in support of Rajya Sabha MPs who have been suspended for one week and farm Bills issue
4:20 pm: Congress ke daant khane ke aur hain, dikhane ke aur. They say one thing in the House and another outside. Those protesting aren't farmers, they are related to Congress, nation knows it. The reforms will help farmers & boost their income: NS Tomar, Agriculture Minister
4:10 pm: What happens in the other House, has never been discussed in another House. This is highly unfortunate that it is being discussed now. Deputy Chairman ki pitai karne ki hadd tak ye log gaye, par main iski charcha nahi karna chahta: Pralhad Joshi, Parliamentary Affairs Minister
4:00 pm: Rajya Sabha & Lok Sabha are like twin brothers...if one is in pain, the other has to be concerened. Our issue is related to the farm bills, we want it to be taken back. If Tomar ji agrees to take it back, we have no problem with session continuing: Adhi Ranjan Choudhary, Congress
3:20 pm: Lok Sabha adjourned for one hour, following sloganeering by Opposition MPs
2:40 pm: Rajya Sabha adjourned till 9 am on Wednesday
2:35 pm: As per National Crime Records Bureau, the total no. of child pornography/rape & gang rape complaints lodged in National Cybercrime Reporting Portal from 1st Mar, 2020 to 18 Sept, 2020 is 13,244: Union Min of Women&Child Development Smriti Irani in a written reply in Rajya Sabha
2:30 pm: As per National Commission for Protection of Child Rights, information of 420 cases of child sexual abuse has been received by NCPCR from 1st March 2020 till 31st August 2020: Union Minister of Women & Child Development Smriti Irani in a written reply in Rajya Sabha
2:25 pm: As reported by Childline India Foundation (CIF), 3941 calls have been received by CIF regarding child sexual cases from 1st March 2020 to 15th September 2020: Union Minister of Women & Child Development Smriti Irani in a written reply in Rajya Sabha
2:15 pm: We're protesting for farmers, labourers, the country, & for humanity. We'll keep fighting till the people who're selling this country are out of power. Suspension isn't a big deal. The entire Opposition's united & we'll boycott the House session: Dola Sen, Rajya Sabha member, TMC
2:10 pm: The requirement of mandatory universal screening of all international passengers arriving in 21 airports in India for #COVID19 was implemented by Government of India w.e.f 4 March 2020: V Muraleedharaan, MoS MEA in a written reply in Rajya Sabha
2:00 pm: Therefore, during US President Donald Trump's visit to India, established norms and protocols for handling such high level visits were followed by the Government of India: V Muraleedharaan, MoS MEA in a written reply in Rajya Sabha
1:50 pm: At the time of US President's visit (24-25 Feb) there was no requirement of mandatory #COVID19 test for travellers from foreign countries. Pandemic status to diseases is given by WHO which declared Novel Coronavirus a pandemic on 11 March:MoS MEA in a written reply in Rajya Sabha
1:40 pm: One suicide case is being talked about for the last three months. Ignoring other issues is not right. Farmers are also dying by suicide, the government needs to focus on that too: NCP Chief Sharad Pawar
1:30 pm: Rajya Sabha passes the Banking Regulation (Amendment) Bill 2020
01:20 pm: The Companies (Amendment) Bill, 2020 passed in Rajya Sabha
1:16 pm: We will consider revoking suspension only after suspended RS members apologise for their behaviour: Union minister Ravi Shankar Prasad
12:50 pm: After Harivansh, NCP chief Sharad Pawar also announced a day-long fast in support of the eight suspended MPs of the Opposition.
12:49 pm: Rajya Sabha passes the Banking Regulation (Amendment) Bill 2020
12:32 pm: Parliament passes bill to remove cereals, pulses, oilseeds, edible oils, onion and potatoes from list of essential commodities
11:32 am: Rajya Sabha deputy chairman Harivansh writes to President Ram Nath Kovind.
Rajya Sabha Deputy Chairman Harivansh writes to President Ram Nath Kovind against the unruly behaviour with him in the House by Opposition MPs during the passing of agriculture Bills on 20th September https://t.co/T2fStyBmkC

— ANI (@ANI) September 22, 2020
10:13 am: The government should come to an understanding. Both the Opposition and the Government should sit together to help run the House. Democracy should work with cooperation: HD Deve Gowda, Former Prime Minister and Rajya Sabha MP
10:12 am: Opposition leaders stage walk-out from Rajya Sabha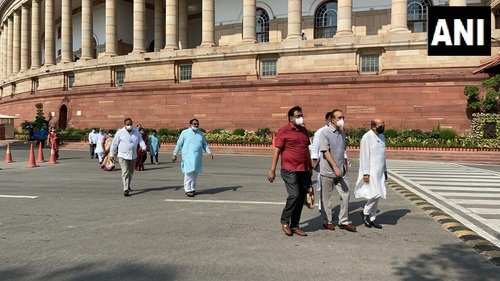 10:11 am: I am not happy about the suspension of the members. The action has been taken on their conduct. We have nothing against any member: Rajya Sabha Chairman M Venkaiah Naidu
09:51 am: Till our demands, which include revocation of suspension of the 8 MPs and Govt to bring another bill under which no private player can purchase below MSP, are not met the opposition will boycott the session: Ghulam Nabi Azad
09:50 am: Suspension of the eight MPs should be restored: LoP & Congress Rajya Sabha MP Ghulam Nabi Azad
09:47 am: In letter to RS chairman, Harivansh expresses deep anguish at "humiliating" conduct towards him in House, announces 24-hr fast. Harivansh says his fast begins from Tuesday morning, will end tomorrow on birthday of 'rashtra kavi' Ramdhari Singh Dinkar.
09:46 am: No one is happy with the incidents that have taken place in this House. The public wants their leaders should be heard. No one can put across their views in just 2-3 mins. There will be 90% de-escalation if MPs not constrained by time to speak, said LoP & Rajya Sabha MP GN Azad
09:25 am: Prime Minister Narendra Modi praises Harivansh Singh's gesture of offering tea to protesting MPs.
"To personally serve tea to those who attacked and insulted him a few days ago as well as those sitting on Dharna shows that Shri Harivansh Ji has been blessed with a humble mind and a big heart. It shows his greatness. I join the people of India in congratulating Harivansh Ji," he tweeted.
08:54 am: No one from the government has come to enquire about us. Many Opposition leaders came to enquire about us and to show solidarity with us. We are going to continue this demonstration: Congress MP Ripun Bora
08:52 am: Harivansh Ji said he came to meet us as a colleague & not as Deputy Chairman of Rajya Sabha. He also brought some tea & snacks for us. We started this sit-in demonstration yesterday as a protest against our suspension. We've been here all night: Congress MP Ripun Bora
08:34 am: Rajya Sabha Deputy Chairman Harivansh Singh offers tea to protesting MPs who refused it calling him "anti-farmer".
#WATCH: Rajya Sabha Deputy Chairman Harivansh brings tea for the Rajya Sabha MPs who are protesting at Parliament premises against their suspension from the House. #Delhi pic.twitter.com/eF1I5pVbsw

— ANI (@ANI) September 22, 2020
08:30 am: Shashi Tharoor has informed speaker Om Birla about the Congress lawmakers being "manhandled by Delhi police" in Parliament complex.
Posted By: Abhinav Gupta