Oppn shouts 'Goli maarna band karo' as Anurag Thakur begins argument in Parliament
The Opposition MPs raised slogans "Goli maarna bandh karo, desh ko todna bandh karo" in the Parliament against Anurag Thakur.
Updated: Mon, 03 Feb 2020 01:00 PM IST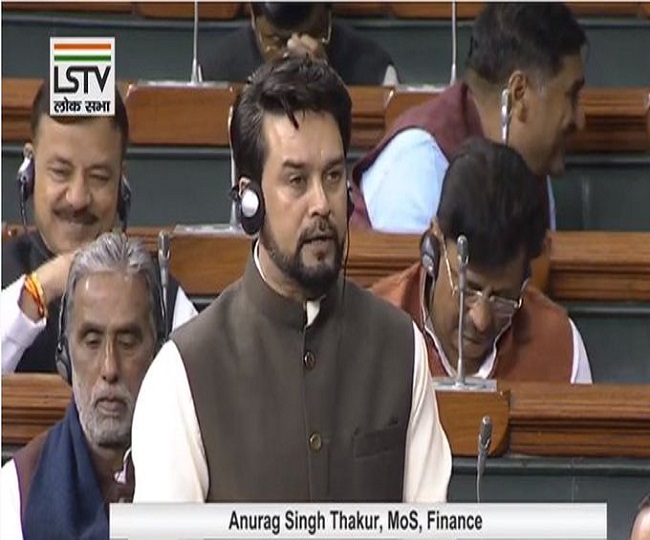 New Delhi | Jagran News Desk: BJP MP and Minister of State (MoS) for Finance Anurag Thakur on Monday came under heavy fire from the Opposition for 'goli maaro sa** ko' slogan at an election rally in Delhi.
As soon as Thakur started speaking in the Lok Sabha, the Opposition MPs started shouting "Goli maarna bandh karo, desh ko todna bandh karo" (Stop shooting people, stop dividing country).
Thakur while addressing a public rally in Delhi's Rithala Assembly constituency had chanted 'goli maro sa*** ko' (shoot down the traitors). His remarks came in wake of the protests at the Jamia Millia Islamia University and Shaheen Bagh where people have been protesting against the controversial Citizenship (Amendment) Act and the proposed National Register of Citizens (NRC).
Thakur had later said, "first you should watch the entire video. Then you should see the mood of the people of Delhi".
His remarks, however, were severely criticised by the Opposition. He was also banned by the Election Commission of India for 72 hours from campaigning. The EC had also issued a showcause notice to him.
Meanwhile, Jamia Millia Islamia Teachers Association blamed Thakur for the firing incidents near the university and said that nothing can be more 'anti-national' than a minister inciting citizens to indulge in violence from a public platform.
So far three firing incident have been reported in the Jamia Nagar area in a week.
On Thursday, a minor fired at anti-CAA protesters preparing to march from Jamia towards the Rajghat, injuring a student.
Two days later, a 25-year-old fired two rounds in air at Shaheen Bagh, where a protest against the new citizenship law has been going on. No one was hurt in the incident."Firing has taken place at Gate No. 5 of Jamia Millia Islamia...by two unidentified persons. As per report, one of them was wearing a red jacket and driving a red scooty having vehicle no. 1532 or 1534," the statement said.
Asim Mohammed Khan, a former Congress MLA from Okhla, said the incident
occurred around 11.30 pm.
"We heard the gunshot. That is when we stepped out to see and the two men left on a scooty," a student said.
"We have taken down the vehicle number and called police," he added.
Posted By: Aalok Sensharma