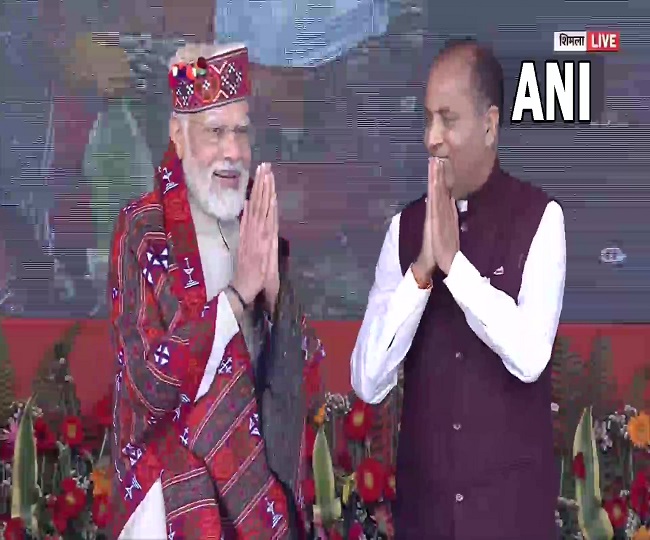 Shimla | Jagran Politics Desk: Taking a swipe at Congress over dynastic politics and corruption, Prime Minister Narendra Modi on Tuesday said that the Bharatiya Janata Party (BJP) is working to build a new India and not a vote bank as his government completed eight years in power at the Centre.
Attacking the Congress, PM Modi - in his mega rally at poll-bound Himachal Pradesh - said previous governments considered that corruption was an "essential part of the system", but the situation has changed now.
"(Earlier) talks used to be about 'atki latki bhatki' schemes, nepotism, scams but today talks are about benefits from govt schemes... Today India's start-ups are being talked about globally. Even World Bank talks about India's Ease of Doing Business...," PM Modi was quoted as saying by news agency ANI.
Recounting the major steps taken by his government in the last eight years, the Prime Minister said the Centre is planning to build a medical college in every district of India. He noted that poverty is also decreasing in the country as per international agencies.
"In last 8 years... not even once did I vision myself as PM. Only when I sign documents do I have responsibility of PM but as soon as file is gone, I'm no longer a PM... I'm just a Pradhan Sevak of 130 crore people who're everything in my life and my life is also for you," PM Modi said.
Earlier in the day, PM Modi interacted with beneficiaries of different government schemes at the event to mark the eighth anniversary of the BJP government at the Centre. The event was held at Ridge Maidan in Himachal Pradesh's Shimla.
Assembly elections are slated to be held in Himachal Pradesh in November or December this year.
During the Sammelan, PM Modi sought feedback about the various welfare programmes being run by the government from public representatives across the country.