'Nirbala' Sitharaman: Adhir Ranjan Chowdhary's jibe at finance minister over economic slowdown
Updated: Mon, 02 Dec 2019 05:37 PM IST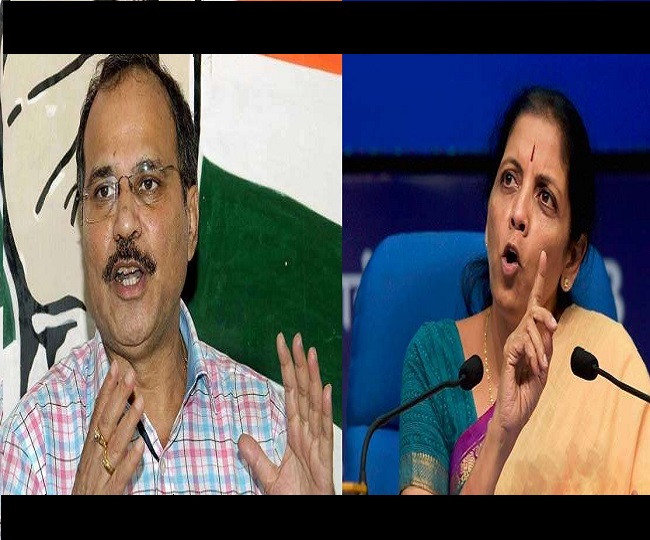 New Delhi | Jagran News Desk: Congress leader Adhir Ranjan Chowdhury on Monday took a swipe at Nirmala Sitharaman over the slowdown in the economy and addressed the Finance Minister as 'Nirbala'.
"We do have a lot of respect for you, but sometimes we wonder if it wouldn't be more apt to address Finance Minister Nirmala Sitharaman as 'Nirbala' Sitharaman instead. She heads the Finance Ministry, but we don't know whether you are even able to speak your mind on the economy," said Chowdhury while taking a swipe at Sitharaman.
The Finance Minister was responding to a debate on reducing corporate tax when Chowdhary attacked the finance minister and called a 'Nirbala'.
Chowdhary also claimed that the industraliats were reluctant to invest in the country because the credibility of the BJP-led government was in doubt.
Also Read | 'Fadnavis was made CM for 80 hours to save Rs 40,000 crore': Anant Hegde; former CM denies claim
Earlier in the day, Chowdhury also attacked Prime Minister Narendra Modi and Lal Krishna Advani and called them 'infiltrators', a statement which triggered a row in the Lok Sabha causing vehement reaction from tresury benches seekinghes 'unconditional' apology.
"Narendra Modi and Lal Krishna Advani are infiltrators," said the Congress leader during debate in the Zero Hour of Lok Sabha.
"I can say that Narendra Modi and Amit Shah Ji are infiltrators themselves. Their homes are in Gujarat but they have come to Delhi," he added.
The BJP sharply criticised Chowdhury and seeked an apology from him over his statement.
"It shows they are still not ready to realize the mandate of the people. His statement is an outright insult to the mandate of the people of the country who have elected Modiji with a resounding mandate," said Parliamentary Affairs Minister Pralhad Joshi.
"This is also the manifestation of the Congress side of federalism. I strongly condemn his statement. He (Chowdhury) comes from West Bengal. He is the leader of the Congress Party. Can we call him infiltrator? What is he talking about? He should talk responsibly," he added.
(With IANS inputs)
Posted By: Aalok Sensharma