'Modi hai mumkin hai': Priyanka Gandhi's taunt at BJP over economy, farmers' distress
Updated: Sat, 14 Dec 2019 02:06 PM IST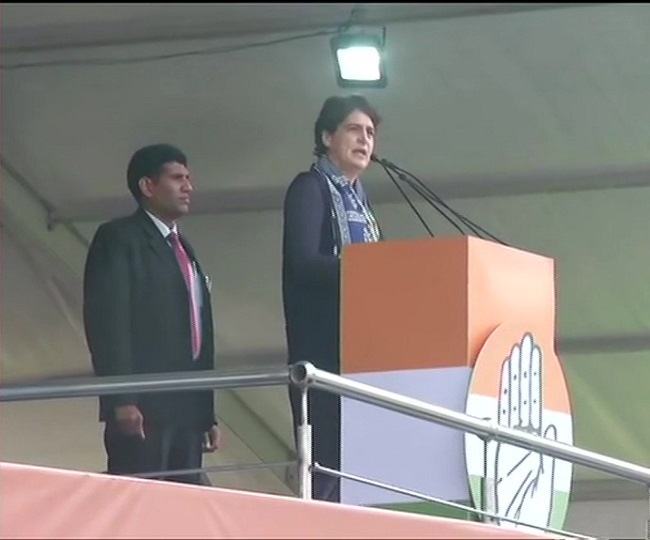 New Desk | Jagran News Desk: Congress General Secretary Priyanka Gandhi Vadra on Monday launched a scathing attack at the BJP and accused them of not caring for the people and their sentiments. She also mocked Prime Minister Narendra Modi's 'Modi hai toh Mumkin hai' slogan, saying 'Modi hai to unemployment hai'.
Speaking at the Congress' Bharat Bachao Rally (Save India Rally), Priyanka said that the country is all about brotherhood, a farmers pride, a soldiers dream of sacrificing his life for the country.
"BJP says that 'Modi hai to mumkin hai' but the reality is that if BJP is there then cost of onion is Rs 100 a kg," she said.
Also Read | 'My name is not Rahul Savarkar, will never apologise for truth': Rahul Gandhi at Bharat Bachao rally
"Our economy was developing at a rate that the world turned their attention to us, but in six years of Modi government, our economy has tanked, people are losing jobs, factories are shutting down," she added.
She further said that the country is surrounded by injustice today and the person who does not fight injustice, will be remembered as a coward by the history.
"I'd like to tell every citizen of this country - raise your voice. You love this country, become its voice. If we don't raise our voice, stay back in the darkness of fear and lies even in these circumstances and stay quiet then our Constitution will be destroyed," she said.
"What is this country? This is a country born of a movement that used the power of non-violence and love to defeat the greatest conquerors of the time. This is a country of love, non-violence and brotherhood," she added.
Also Read | 'This act will shred India's soul': Sonia Gandhi's scathing attack at BJP over Citizenship Act
Evoking her father's memory while talking about Unnao rape victim, who was burnt alive by five men in Uttar Preadesh, she said that she was reminded of her father Rajeev Gandhi's 'bloodied body' when she met the victim.
"I recalled my father whose dead body I brought home at the age of 19, when I met the family of the Unnao rape survivor and was told about her father's death," she said.
Priyanka Gandhi was addressing the Congress' Bharat Bachao Rally (Save India Rally) in Delhi's Ramlila Maidan.
The mega rally comes in the backdrop of the opposition's attack of the government on the state of the economy, the Citizenship (Amendment) Act, farmers' distress and unemployment.
Posted By: Aalok Sensharma