Karnataka Floor Test: Speaker adjourns House, debate on trust vote to continue on Friday
Updated: Thu, 18 Jul 2019 07:09 PM IST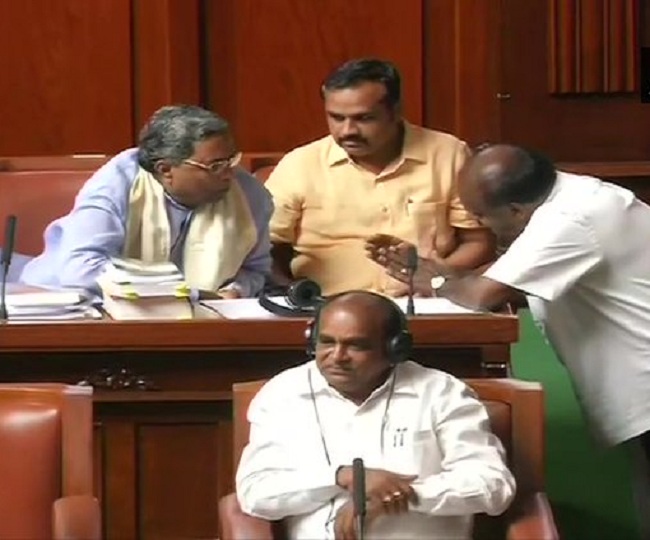 Bengaluru | Jagran News Desk: It will be the biggest test for the tattering Congress-JD(S) coalition government in Karnataka as it faces the trust vote in the Assembly today, after the resignation of 16 legislators and two Independent MLAs pulling their support.
The floor test comes a day after the Supreme Court, in a big blow to the Kumaraswamy government, directed that the rebel MLAs "ought not" to be compelled to take part in the proceedings of the Karnataka Assembly.
Following the top court's order, 12 of the rebels made it clear they will neither return to the Congress nor participate in the floor test.
The government may fall if the rebel MLAs do not vote for him in the floor test today. The Congress-JD(S) coalition government has 117 MLAs. With 16 members offering to quit the parties, the number will come down to 101.
Here are the hihlights on the floor test faced by Kumaraswamy government in the Karnataka Assembly:
17:56 pm: Governor shall not interfere in the proceedings of session as per the Constitution. I request governor not to intervene in the proceedings of the session: Congress MLA HK Patil
17:51 pm: Karnataka governor Vajubhai Vala on Thursday asked assembly speaker K Ramesh Kumar to complete the process of vote of confidence moved by chief minister HD Kumaraswamy by the end of the day.
17:34 pm: Even if it is 12 midnight, let the trust vote be held today: Yeddyurappa
17:33 pm: The BJP said the party petitioned the governor over the voting process being dragged.
17:08 pm: Motion of confidence is in consideration at the house. Chief Minister is expected to maintain confidence of the house at all times. Consider trust vote by the end of the day: Governor to Speaker
17:07 pm: Speaker KR Ramesh Kumar tells the house that the Vote of confidence process to be completed by end of day.
17:06 pm: BJP urges governor to direct speaker to take up voting on Thursday itself.
15:52 pm: Karnataka Speaker KR Ramesh Kumar to Karnataka Home Minister MB Patil: Please contact the family members of Shrimant Patil (Congress MLA) immediately. Give a detailed report to me by tomorrow, it does not look natural. If Home Minister can't ensure protection, I will talk to DGP.
15:51 pm: What kind of a Speaker I would be if I proceed with document (letter sent by Congress MLA Shrimant Patil informing about his ill health) which has no date or letterhead: Speaker Ramesh Kumar
15:43 pm: DK Shivakumar, Congress in Karnataka Assembly says, "There were 8 MLAs who travelled together, here is a picture of one of them (Shrimant Patil) lying inert on a stretcher, where are these people? I'm asking the Speaker to protect our MLAs." Uproar in the house after this.
15:33 pm: Senior Karnataka Congress legislator R Ramalinga Reddy withdrew resignation from his assembly seat. He attended the ongoing assembly session for a trust vote moved by chief minister HD Kumaraswamy to prove majority, reports IANS.
15:16 pm: Floor test not appropriate till we get clarification on apex court's order, says Siddaramaiah.
14:45 pm: MLAs missing in the Assembly -- ST Somashekar, Ramesh Jarkiholi, Roshan Baig, Byrathi Basavaraj, Munirathna, Srimanth Patil, Anand Singh, B Nagendra, R Shankar, K Gopalaiah, Narayana Gowda, MTB Basavaraj, BC Patil, H Vishwanath, Mahesh Kumthahalli, Prathap Gouda Patil, Dr Sudhakar, Shivaram Hebbar and N Mahesh.
13:46 pm: House adjourned for lunch. Proceeding will resume after 3pm.
13:37 pm: Being a former chief minister and leader of the opposition, BS Yeddyurappa is misguiding the nation and the court: Congress' DK Shivakumar
13:09 pm: Before taking up the trust vote, we must decide if rebels are members of the house or not. The dissident legislators are saying they have resigned but their resignations are not accepted. So we need time to get clarity on the issue: Congress leader HK Patil
12:55 pm: This House holds the Supreme Court in the highest esteem. Let me make it clear to the leader of Congress Legislature Party that this office is not restraining you from exercising any of your authorities. I've no role to play in that: Karnataka Speaker Ramesh Kumar
12:54 pm: When a member chooses not to come, our attendants will not permit them to sign the register of attendance. The concerned member will not be entitled to draw any emolument that is meant for the member to be drawn for being present in the House: Karnataka Speaker Ramesh Kumar.
12:52 pm: Congress is likely to seek an adjournment of the House in the guise of seeking clarification on SC verdict, reports Times of India.
12:43 pm: Issuing a whip is a right of every political party. It has not been struck down by any court of law or legislature. It is my job to issue a whip to all those who have given 'B form' and won the elections. It is also their duty to abide by the whip: Siddaramaiah
12:30 pm: While Speaker is trying to take up the trust vote, the Congress-JD(S) is trying to delay the process by insisting on holding debate on the isssue.
12:27 pm: I have self-respect and so do my ministers. I have to make some clarifications. Who is responsible for destabilising this government?: Kumaraswamy at Vidhan Soudha
12:08 pm: Apart from BSP MLA N Mahesh, 15 rebel MLAs and 2 independents, 2 Congress MLAs Nagendra and Srimanth B Patil, and 1 BJP MLA are also missing from the Assembly session.
12:00 pm: Karnataka Congress MLA Shrimant Patil who was staying with other Congress MLAs at Windflower Prakruthi Resort in Bengaluru, reached Mumbai last night, currently admitted to a hospital in Mumbai after he complained of chest pain.
11:52 am: It is unfortunate that opponents are suspecting speaker. People should know what the coalition government achieved in the last 14 months: CM Kumaraswamy
11:48 am: Rebel MLAs skip assembly session.
11:43 am: BSP MLA N Mahesh is not present in the House during trust motion, news agency ANI reports.
11:38 am: Chief minister HD Kumaraswamy lauds Speaker Ramesh Kumar, praises him for unbiased attitude. He also refuted the allegations levelled against the Congress-JD(S) government.
11:35 am: Karnataka Chief Minister H D Kumaraswamy moves confidence motion in the Assembly. In one-line motion, he says that the House expresses confidence in the ministry headed by him.
11:33 am: I haven't come just because there is a question on whether I can run a coalition government or not. Events have shown that even the role of the speaker has been put under jeopardy by some legislators: Karnataka CM HD Kumaraswamy in Vidhana Soudha
11:24 am: "We shall stick to our decision and will not take back resignations. We shall not follow Ramalinga Reddy," say rebel MLAs.
10:53 am: Karnataka Chief Minister HD Kumaraswamy arrives at Vidhana Soudha, his government will face floor test today.
10:40 am: BSP MLA N Mahesh abstains from voting.
10:30 am: This will be the third motion of trust vote moved in the Karnataka Assembly since the fractured alliance came to power in 2018.
10:23 am: BJP State President BS Yeddyurappa at Vidhana Soudha, Bengaluru: We are 101 per cent confident. They are less than 100, we are 105. There is no doubt that their motion will be defeated.
10:19 am: Congress leader Siddaramaiah arrives at Vidhana Soudha; Karnataka government to face floor test today.
10:18 am: BJP State President BS Yeddyurappa and BJP MLAs arrive at Vidhana Soudha in Bengaluru. Karnataka government will be facing floor test today.
10:08 am: 12 of the rebels said on Wednesday that there was no question of stepping back on their resignations or attending the session. Later in the evening, however, one of the rebel Congress legislators Ramalinga Reddy said he will withdraw his resignation.
10:05 am: Sixteen legislators - 13 from the Congress and three from JDS - have resigned in the last two weeks, while two independent legislators have withdrawn their support to the coalition government.
Posted By: Abhinav Gupta