Karnataka Cabinet Expansion: 29 ministers inducted into Basavaraj Bommai's new team; check full list here
Bommai also said that a total of 29 Ministers will take the oath, and in the previous cabinet led by BS Yediyurappa there were three Deputy Chief Ministers, but this time there will be none as per the high command's directions.
Updated: Wed, 04 Aug 2021 04:44 PM IST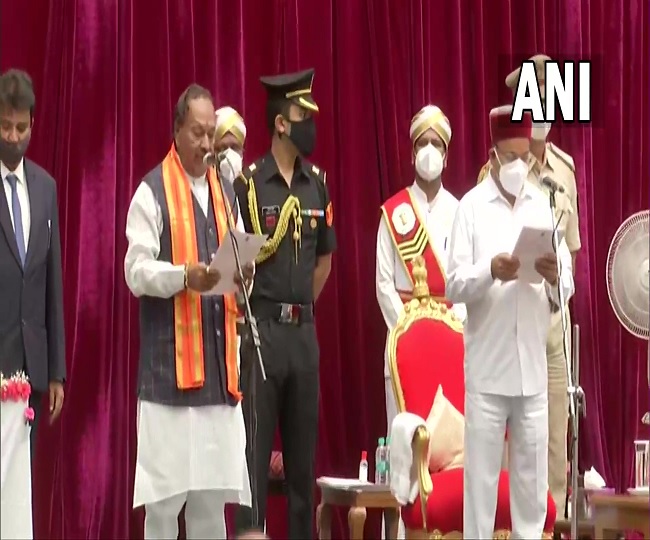 New Delhi | Jagran Politics Desk: Karnataka's new government headed by Chief Minister Basavaraj Bommai took shape on Wednesday when 29 ministers were sworn into the state Cabinet by Governor Thaawarchand Gehlot at Raj Bhavan in Bengaluru. The team is a mixture of senior and fresh faces. Chief Minister Bommai is expected to chair the first cabinet meeting in the evening.
It includes Govind Karajol, K.S. Eshwarappa, R. Ashok, V. Somanna, V. Umesh Katti and new faces V. Sunil Kumar Araga Jnanendra, Halappa Achar and B.C. Nagesh and others. There is a lone woman representative former minister Shashikala Jolle.
The prominent omissions include former deputy chief minister Lakshman Savadi, and former ministers S. Sureshkumar, Sreemanth Patil, C.P. Yogeshwar and Aravind Limbavali. The chief ministerial aspirants Basavanagouda Patil Yatnal and Aravind Bellad also missed cabinet berths.
The ministers in the new cabinet include:
Govind Karajol
K.S. Eshwarappa
R. Ashok,
B. Sriramulu,
V. Somanna,
V. Umesh Katti,
S. Angara,
J.C. Madhuswamy,
Araga Jananedra,
Dr Ashwathnarayan C.N.,
C.C. Patil,
Anand Singh,
Kota Srinivas Poojari,
Prabhu Chouhan,
Murugesh Nirani,
Shivaram Hebbar,
S.T. Somashekar,
B.C. Patil,
Bhyrathi Basavaraju,
Dr K. Sudhakar,
K. Gopalaih,
Shashikala Jolle,
MTB Naagaraju,
K.C. Narayana Gowda,
B.C. Nagesh,
V. Sunilkumar,
Halappa Basappa Achar,
Shankar Patil Munenakoppa
Muniratna
Though it was maintained that regional balance will be maintained, but as many as 13 districts went without representation. Six districts have been allotted two cabinet berths. Capital Bengaluru has been awarded with 7 cabinet posts.
Earlier today, Chief Minister Basavraj Bommai said that 29 Ministers will be inducted into his new cabinet this afternoon, and there will be no Deputy Chief Ministers this time.
"I've sent names to the Governor. 29 MLAs will take oath today. This time High Command has said that there'll be no Deputy CM. So, there will be no Dy CM. 7 OBCs, 3 SCs, 1 ST, 7 Vokkaligas, 8 Linagayats, 1 Reddy and 1 woman are part of the cabinet", Karnataka CM Basavaraj Bommai said.
On BS Yediyurappa's younger son and state BJP Vice President B Y Vijayendra's induction, he said the national President has spoken to Yediyurappa and the national General Secretary in charge of Karnataka Arun Singh spoke to Vijayendra personally. "I can only say, Vijayendra's name is not there in the list today."
In response to a question on still some Ministerial berths being kept vacant, he said the cabinet is usually expanded in stages, whichever regions have not got representation will be given, whenever it is done next.
Bommai was in Delhi on Monday to discuss Karnataka Cabinet expansion with Bharatiya Janata Party (BJP) National President JP Nadda. This was his second visit to Delhi. On July 30, he met Prime Minister Narendra Modi. He took oath as the 23rd chief minister of Karnataka on July 28, two days after the resignation of BS Yediyurappa.

(With Agencies Inputs)
Posted By: Talibuddin Khan