'India is thanking you': PM hails Bodo Accord in mega Assam rally; takes 'danda' jibe at Rahul Gandhi
Updated: Fri, 07 Feb 2020 02:50 PM IST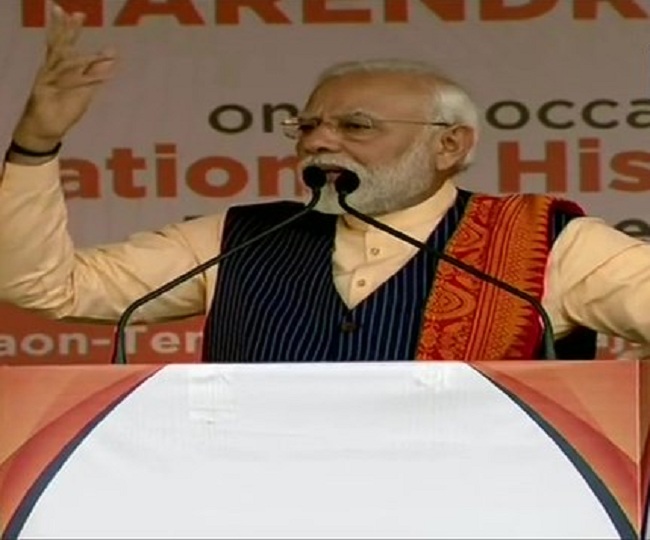 New Delhi | Jagran News Desk: Prime Minister Narendra Modi today thanked the people of Bodo region, days after the government signed a peace deal with Bodo insurgents.
"All of India is thanking you (Bodo tribes) and celebrating with you. It is because you all agreed to living in peace and contribute towards a stronger India," said PM Modi while addressing a mega rally in Assam's Kokrajhar, a Bodo-dominated town.
The Bodo Accord was signed on January 27 by the government with four factions of the National Democratic Front of Boroland (NDFB), All Bodo Students' Union (ABSU) and a civil society group, to bring an end to a three decade-long insurgency in the Bodoland Territorial Area Districts (BTAD), now rechristened as Bodoland Territorial Region (BTR).
Addressing the rally to celebrate the signing of the accord, that is expected to bring lasting peace to the troubled state, PM Modi said now the time was to work together for peace and development of the North-
East.
"We will not allow violence to return," he asserted.

The prime minister also sought to assuage the concerns of people of the region over implementation of the new citizenship law.
"Canard is being spread that lakhs of people settlers will come from outside after the enactment of CAA. Nothing of that sort will happen," he said.
"The Bodo accord is a victory for all communities and sections of society. There are no losers," he said.
The Prime Minister also took a jibe at Congress leader Rahul Gandhi's "danda" remark and said that some leaders talk about beating him with sticks but he is protected by the blessings of "all mothers of India".

"At times some leaders talk about beating me with sticks, but I'm saved by the blessings of all mothers of India. I pay my respects and thank all of you. I am here to instill a new belief in all Assamese people," he said.
Rahul Gandhi had said that youth will hit Prime Minister Narendra Modi with sticks if he is unable to address the issue of unemployment in the country.

"The Prime Minister is delivering speeches now, but six months later, he will not be able to even leave his home. The youth of India will beat him up with sticks and make him understand that this country will not be able to make progress until jobs are provided to them," the Congress leader had said while addressing a rally for the party candidate in Delhi polls.
Posted By: Abhinav Gupta