'Govt obsessed with blaming opposition': Manmohan Singh attacks centre over slowdown
Updated: Thu, 17 Oct 2019 02:38 PM IST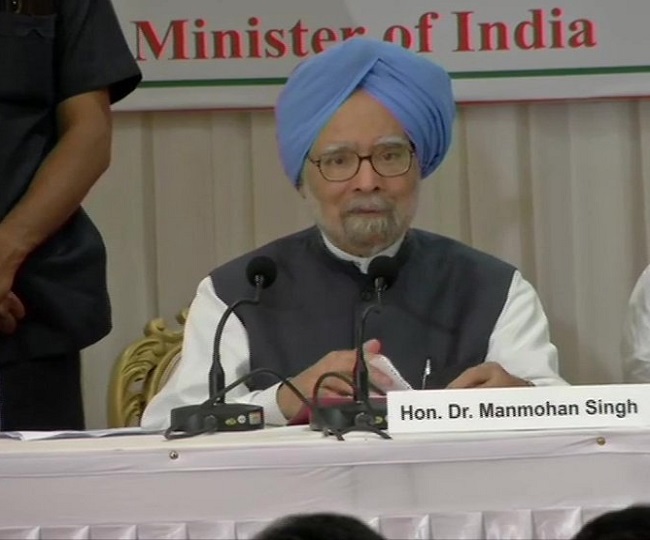 Mumbai | Jagran News Desk: Former Prime Minister Manmohan Singh on Thursday slammed the government for blaming the opposition over the economic slowdown and it needs to find a solution to fix the issue.
"I have just seen the statements by Finance Minister Nirmala Sitharaman. I won't like to comment on that statement, but before one can fix the economy, one needs a correct diagnosis of its ailments and their causes. The government is obsessed with trying to fix blame on its opponent, thus it is unable to find a solution that will ensure the revival of the economy," said Singh at a press conference in Mumbai on Thursday.
Singh was referring to Finance Minister Nirmala Sitharaman, who recently blamed Manmohan Singh-Raghuram Rajan combination for subjecting public sector banks to their 'worst phase'.
Also Read | Maharashtra Assembly Elections 2019 | History will take note of those who ridiculed J-K move: PM Modi
"When I was in office what happened did happen. There were some weaknesses. But you can't claim that the fault lies with the UPA always. You have been in office for five years. Mainly passing buck to UPA is not enough," the former Prime Minister added.
Talking about the Assembly Elections in Maharashtra, Singh said that the state is facing the biggest issues due to economic slowdown which is triggered by a sharp slump in demand.
"Much advertised double-engine model of governance on which BJP seeks votes has utterly failed. Maharashtra has faced some of the worst effects of economic slowdown. The manufacturing growth rate of Maharashtra has been declining for 4th consecutive years," said Singh, who was the Prime Minister from 2004 to 2014.
Also Read | India, a 'capitalist-respecting country'; investors won't find better place than it: Nirmala Sitharaman
Speaking about the PMC bank matter, Singh asked the finance minister and the state government to look into the matter.
"I expect the government of India, RBI and the government of Maharashtra to put their head together and provide a credible, pragmatic and effective solution to this case where 16 Lakh depositors are trying for justice," he said.
He also spoke about the government move in Jammu and Kashmir and said that the Congress voted in favour of the bill to abrogate Article 370, not against it.
"Congress party voted in favour of bill to abrogate Article 370, not against it. We believe Article 370 is a temporary measure but if a change has to be brought, it should be with goodwill of people of Jammu and Kashmir. Manner in which it was implemented is what we opposed," he said.
Posted By: Aalok Sensharma