Gandhi ji and Godse cannot go hand-in-hand': Prashant Kishor's stinging attack on Nitish Kumar
Updated: Tue, 18 Feb 2020 12:14 PM IST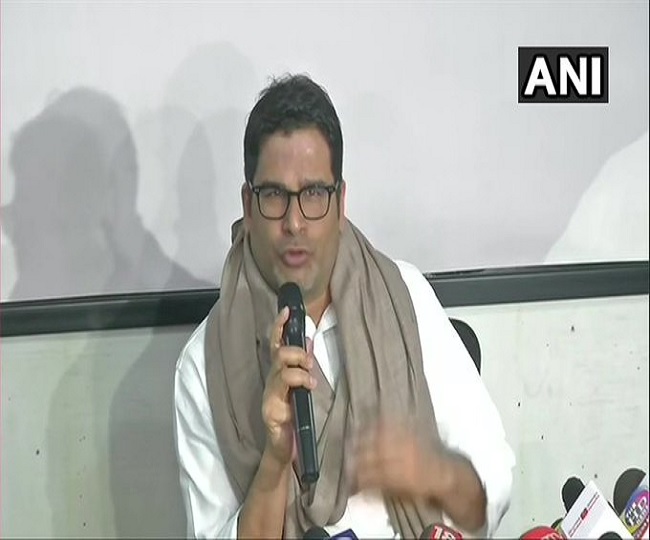 New Delhi | Jagran News Desk: Political strategist and former JD(U) leader Prashant Kishor on Tuesday launched a scathing attack on his former mentor Nitish Kumar and said that 'For me, Gandhi Ji and Godse cannot go hand-in-hand', accusing JD(U) chief of supporting those who have soft corner for the killer of father of the nation despite saying that the party can never leave the ideals of Gandhi Ji.
Also Read: Kasab would have died as Samir had Lashkar succeeded in it's 'Hindu terrorism' plan: Ex-Mumbai top cop's stunning claim
Launching 'Baat Bihar Ki' programme in Patna to reach out to thousands of Bihar's young voters which will start from February 20, poll strategist-turned-politician Prashant Kishor questioning Nitish Kumar's ideological compromise to stay in the alliance with the BJP said that JD(U) chief had on several occasions discussed with him about following the ideals of Gandhi Ji, but now supporting those who follow Nathuram Godse.
"There have been many discussions between me and Nitish ji about the party's ideology. Nitish ji always told us that the party can never leave the ideals of Gandhi ji... But now the party is with those who are soft on Gandhi's killer Nathuram Godse... For me Gandhi ji and Godse cannot go hand-in-hand".
Challenging Nitish Kumar and any of his ministers to have a debate with him regarding the slow pace of development in Bihar from last 15 years and said, "I urge Nitish Kumar or any of his ministers to debate with me in open forum on data points pertaining to Bihar's development".
Highlighting Bihar's progress, the 43-year-old poll strategist compared the state's development with other states and said, "while Bihar has made progress, we must also see things from the perspective that compared to other states, Bihar is lacking even today... Why is that? It stands where it was in 2005. Except for Jharkhand, Bihar is still the most backward state in India", he said.
"I keep repeating that Bihar was most backward in 2005, and is still the most backward when compared to other states," Kishor added.
Talking about his expulsion by Nitish Kumar from the party last month, Prashant Kishor said that he considers Nitish Kumar as his father and he will not question any of his decision to expel him or keep him in the party and said, "Nitish Kumar saw me as a son and I always saw him as a father. It is Nitish Kumar's prerogative to take me into the party or expel me, I will always respect him. I will not question his decision".
Also Read: 'Begani Shadi Mein Abdullah Dewaane': Smriti Irani snubs Rahul Gandhi's accusation
Prashant Kishor along with former Rajya Sabha member Pavan K Varma, once the closest aides of Kumar, last month was expelled from JD(U) by the party chief for their stance against the Citizenship Amendment Act (CAA) and National Register of Citizens (NRC).
Posted By: Talib Khan